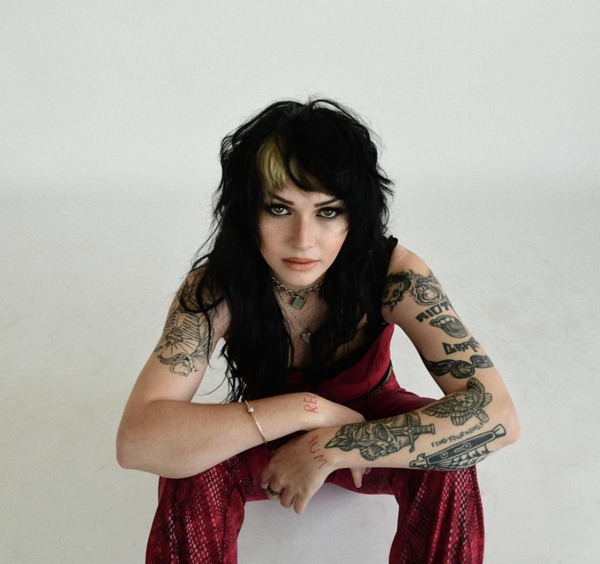 @skopemag news – tuesday – september 13, 2022 @ 12 pm est
@skopemag HQ – http://smarturl.it/skope
RUBBLEBUCKET release 'Cherry Blossom' single + video
This bright breezy happy go lucky number is a simple love song that suggests the ineffable union of flowers and sunlight reaching for eachother, challenging each other, making meaning of each other. The scaler lead melody descends like a waterfall over the thundering timpanies and shaker-driven Fleetwoodian country-disco groove. We are guided to a place where lovers hold hands and run down lanes, pausing to pull out their magnifying lenses and inspect insects on the greenery they pass. In the bridge the repeated phrase "I know what's underneath" (referring to passers by "with their masks on") points to an playfulness and vulnerability the main characters share, perhaps aided by the lushness of their environment, but the line also sharpens an edge: what are the ways in which we hide ourselves from the world? And alternately, what are the ways in which we use masks to tell important stories that aid in our survival and evolution. Kalmia Traver of Rubblebucket
Evangeline returns with end of summer anthem "Windansea"
Written by Evangeline and produced with Dillon Casey, "Windansea" is fresh – a musing on time and escapism masked as a love song, with a nod to the iconic San Diego surf spot of the same name. The video was directed by the same artist behind "Will," Mary Ludwig, and features actor Roby Attal (Netflix's Partner Track, Bob Dylan's Shadow Kingdom).
A.O. GERBER shares tender new single 'Only Mystery' | New album 'Meet Me at the Gloaming' out 14th October 2022 via Hand In Hive / Father Daughter Records
TAIPEI HOUSTON Announce 'Once Bit Never Bored' – New Single "The Middle" Out Now
Today, two-piece Taipei Houston, comprised of Myles and Layne Ulrich, are thrilled to announce their debut project Once Bit Never Bored out November 4th via C3 Records. With the project's announce, the duo share their newest single, "The Middle" a track continuing the band's invigorating sound rooted in sharp drums and voltaic basslines. The track is the first from the band after their electric Lollapalooza performance earlier this summer.
PHIL THORNALLEY releases amazing new album 'Now That I Have Your Attention'
A quick scan of the many records Phil Thornalley has worked on, and you'll quickly spot some of the biggest names in popular music, including Bryan Adams, Thompson Twins, The Cure, Psychedelic Furs, XTC, Duran Duran, and even Paul McCartney! He also co-write 'Torn' by Natalie Imbruglia!
TREY MIRROR LAUNCHES EYE-OPENING MUSIC VIDEO OF 'MOMENT' AHEAD OF REMIX EP
An audiovisual journey into the short-and-intense milestone moments that could be anyone's, the music video portrays people from all corners of society experiencing life to its fullest. Beautiful yet eye-opening, the visuals mirror the track's existential and spiritual nature and perfectly match the EP's theme of looking deep into one's self to find understanding.
Ahead of their new album, watch the video for Rubblebucket's breezy new single, "Cherry Blossom" – Earth Worship is out October 21st on Grand Jury
"I've been coming a thousand years / you could call me the endless fuck," goes the memorable opening line of Rubblebucket's Earth Worship, a groove-forward, joyously layered collection of songs which work to dissolve the imaginary lines between the natural world and its human inhabitants. The prolific group's newest record, it's an album with renewed shimmer, showcasing Rubblebucket's intricately sparkling beats, hushed-yet-hooky vocals, and irresistible melodic complexity—a celebration of togetherness, environmental curiosity, and the pleasure in doing what you love.
WARLUNG: "Return of the Warlords" video available!
Houston occult and heavy riff-rockers WARLUNG unleash a new single taken from their upcoming fourth album "Vulture's Paradise", to be released this fall on Heavy Psych Sounds. Behold the mighty "Return Of The Warlords" now!
WOLF! ft. Scott Metzger Returns w/ 'Adult Entertainment' | First Single "Ratso" Out Now
"We had WOLF! up and running pretty hard back in 2016. There were two really great albums, a bunch of sold out shows, a few songs licensed to film and television and then for a laundry list of reasons, some still even unclear to us as a band, our attention got pulled towards other endeavors," explains Metzger. "In 2018, we ducked back into the studio and put down some tracks, but again life pointed us in other directions and the recordings wound up on the back burner. As things started to open up following the pandemic, it quickly became apparent that it was time to finish up the EP and get the band back out playing shows again."
Dan Mangan shares "Just Know It"
Mangan arms the rebels in the crusade for tenderness. The album is a combative plea for mercy from a manic world and its effects on the psyche. Whittling his sharpest pen to date, Being Somewhere is marked by Mangan's singular wit and a respectful deference to the quagmire of existence.
THE BLACK ANGELS — Release New Single: "Empires Falling" || New Album out this Friday
THE BLACK ANGELS share electrifying new single "Empires Falling" and announce EU / UK tour dates | New album "Wilderness of Mirrors" out Sept 16 via Partisan Records
This Friday, September 16, Austin's psych-rock legends The Black Angels will release their brand new album Wilderness of Mirrors via Partisan Records, with acclaim spanning BrooklynVegan, Clash, FLOOD, Gigwise, Guitar World, Louder Than War, NPR All Songs Considered, Premier Guitar, SPIN, The Times, and Under The Radar and more. Today, they share the electrifying final single from the collection, "Empires Falling," alongside an official music video.
The new sound of British R&B – Diedrick arrives with powerful debut track 'Better'.
On the 9th of September – emerging R&B singer, Diedrick released his second single 'Great Escape'. With a more upbeat sound, Diedrick sings about the trials and tribulations of being used as an escape from a toxic reality, living in secret and hiding true feelings. Throughout the song, Diedrick's vocals create a moody yet warm vibe. Like his debut, 'Great Escape' was co-written and produced by J Warner (Stormzy, Snoh Aalegra and Joy Crookes), another exciting collaboration that once again showcases their great partnership.
HOT TRACK: Melodious Producer CONFLUENCE Shares 'Azul' (FFO: Tinlicker, RÜFÜS DU SOL, CamelPhat, and Ben Böhmer.)
Blind Channel release 'Alive Or Only Burning (feat. Zero 9:36)'
Chart-topping Finnish post-hardcore collective Blind Channel have released an alternative version of their latest single 'Alive Or Only Burning' taken from the new album Lifestyles Of The Sick & Dangerous out now via Century Media.
SKINNY LISTER — Release Heart-Warming New Video For: "Embers" || + UK Tour This Autumn
R.A.M.B.O.: Philadelphia Hardcore Punk Legends Sign To Relapse Records And Announce New Album, Defy Extinction, Out November 4th; Title Track Video/Single Playing + Cover Art And Preorders Issued
JESTERS OF DESTINY Announce New Album 'Distorting Everything' – Release Video for New Single "Your Lord Good God"
Jesters of Destiny have announced the details of their upcoming new studio album! The Los Angeles heavy metal outfit will release the follow-up to their 2017 comeback LP (The Sorrows That Refuse to Drown), titled Distorting Everything, on October 25th, 2022. To celebrate the announcement of their fourth full-length, the band has dropped a music video for their new single "Your Lord Good God," directed by Kent Holmes, which can be seen below.
Kat Leigh Announces Debut EP + Shares "Criminal"
"'Criminal' to me is a very personal song believe it or not," shares Kat. "I'm from a conservative, religious family so my darker style was not something they took lightly for much of my life. They would throw away certain decorations I had in my room if they felt it was 'anti-religion' or even 'anti-republican.' They would say I only liked these movies and listened to this music because I 'hadn't found God.' One day I came home with 'red rum' (The Shining) tattooed on the backs of my wrists and that was their last straw. My step-mom called me a murderer/an advocate, they said it was evil, etc. I've always kind of been the 'devil's daughter' in their eyes and for no reason other than I like scary movies, tattoos, and loud music. So to be literally called a murderer for simply having my own style was my last straw. 'Criminal' is an ode to that time and also poking fun at adults who take kids finding themselves and their styles so seriously."
Popular R&B Pop Artist K-Victoria Drops New Single "DJ MY BODY"
K Victoria's strength and confidence on stage is palpable. The connection to her music is almost tangible and was on full display during her Toronto shows. Respected by her peers, K-Victoria has opened for acts that include, Wyclef John, Maxie Priest & Gyptian. She's had two #1 hit singles on the Top Ten Network Caribbean Countdown for 15 consecutive weeks and the privilege to perform at the famed Apollo Theater on two occasions. K Victoria strives to be a strong role model for young women, "proving that if you reach you can achieve."
IMAAD WASIF debuts mysterious and reflective "So Long Mr. Fear," second single from sixth album OUT NOW
Filming the new video for "So Long Mr. Fear" wasn't an easy job for director Jeff Hassay, but it also inspired the film takes throughout. "My infant son was literally strapped to me throughout the entire shoot adding a tinge of chaos that was fun to navigate," Hassay says. "In a way, he was the co-director. I'm sure he thought that Imaad was singing the song to him. Was he going to scream or sleep?" As Imaad adds, "The camera was on a tripod and through every take I danced to the song to pacify the little visionary."