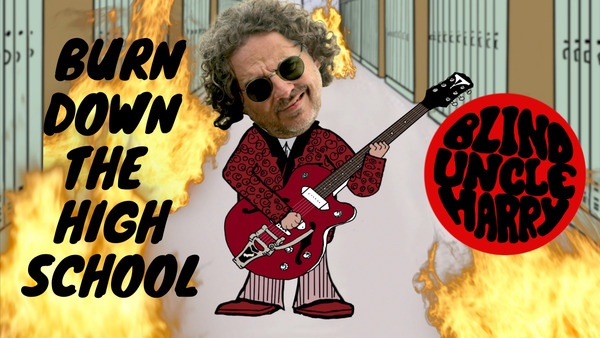 Blind Uncle Harry immediately captures your attention with his earlobe-raising single titled "Burn Down The High School". One will be thinking to themselves what in the world is this "Burn Down The High School" all about and then you push play and find out. What the listener experiences from Blind Uncle Harry is an intoxicating blend of eccentricity that will tantalize your sense of hearing. I can honestly say, without a shadow of a doubt, that I have never heard anything quite like Blind Uncle Harry and his recent song, "Burn Down The High School".
Blind Uncle Harry actually resides from my neck of the woods in Bloomington, Indiana and he is one unique singer/songwriter to say the least. This Bloomington, IN-based artist was inspired by his Great Uncle Harry who was, in fact, blind and played the fiddle. This is how the name Blind Uncle Harry came about and the rest is history! His music has been described as "hillbilly hippie shreddin' folk rock" and I would say that is a fair assessment. With so many elements of surprise and vibrant energy, "Burn Down The High School" will keep you engaged from beginning to end.
Right away on this original track, I pick up on a very unique musical approach and quirky style that certainly sparks my interests. Blind Uncle Harry's vocal delivery is one-of-a-kind and causes one to be heavily involved with the music whether you like it or not. "Burn Down The High School" offers up very interesting lyrics that will make you think and listen twice. I also picked up on a witty side to Blind Uncle Harry as he appears to have a funny bone or two and a few, silly tricks up his sleeve. Additionally, "Burn Down The High School" provides cool melodies, nice harmonies and solid instrumentation.
If you're looking for something fresh and polar opposite of mainstream, then look no further! Blind Uncle Harry will blow away your senses and make your ears spin with his latest release, "Burn Down The High School".
You can SKOPE out the official video for "Burn Down The High School" right here: https://www.youtube.com/watch?v=8j0IL9U3roM.
https://blinduncleharry.bandcamp.com
https://twitter.com/BlindUncleHarr1
https://www.facebook.com/BlindUncleHarry
By Jimmy Rae