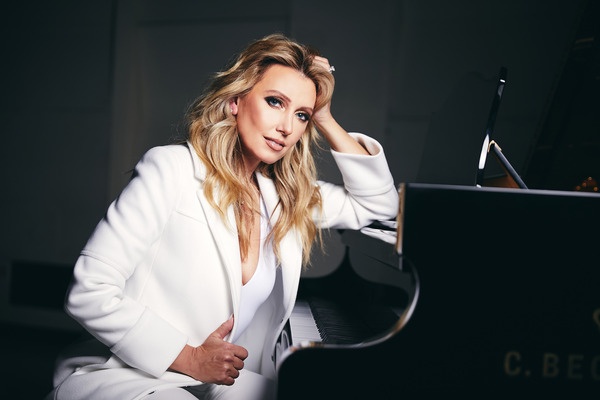 @skopemag – Where are we talking from today and how's your summer going so far?
Thanks so much for this interview piece from my home studio. I have to be honest, that my summer took a sudden turn when my mother in law passed away unexpectedly at the beginning of June and the world within our family turned upside down, especially since my husband is an only child. I put my music on hold to focus on stepping up to help manage the details of her life and funeral. I realize it's not glamourous but grief is a process and I'm so grateful for her life. I tried my best to honor her legacy through this process. I spent days at her apartment going through all of her things because it was too much for my husband to process in person. It's really humbling to sift through a loved ones belongings. It puts everything in perspective. Truly. I never saw this coming and if it weren't for her, I wouldn't know my husband or children. For that I'm eternally grateful.
@skopemag: Did you get to attend or play in any music fests this summer or have plans for the fall?
After the loss of my mother in law at the beginning of the summer, I really turned to yoga, meditation and sound healing to process her loss and it's effect on our family. I have always found healing and comfort in crystal bowl sound baths and was drawn to study the practice of sound therapy to begin offering it in addition to the music I write.
@skopemag: How many hours per week do you put into playing and writing music and creating your art for music?
Being an artist thankfully isn't a 9to5 where you clock in and out. I actually thought about getting a time card machine to clock in on the various roles in my life to see where my focus is going…clock in on "mom", clock in on "wife", clock in on "work", clock in on "volunteering" but I didn't pull the trigger on it…it's practically another job to track my hours. Plus, my artistic brain is always on. So much of living influences my writing.
@skopemag: Tell us about your latest EP project that you have out now and how can readers from Skope Magazine watch any videos or listen to your music online?
Yeah, I actually started recording my latest EP SHOWIN' UP at the end of 2019 and intended to release the first single Rainbow in June 2020, but when the pandemic turned the world upside down, production of the album came to a halt.
It was difficult as an artist going from creating to suddenly assisting my two children with online learning. So, the first time I entered the studio, after being vaccinated, to pick up where I left off, I was overcome with so much emotion I just started laughing and crying at the same time. And once Brendan Dekora finished the final mix, we went into production on the music video for Rainbow, directed by my longtime collaborator and friend, Michelle Bossy. She has directed and received several awards for my Horrified music video as well as Rainbow, which has been exciting. But, my band and I were so grateful to be back together and bring all of Michelle's creative ideas to life using green screen. And it's been so rewarding receiving so many positive reviews on this project since it was the first I self-produced.
All of my music and videos are available across all streaming platforms, and the music video for my single, Rainbow, is not only on YouTube but is on several cable music channels as well as the Ruko channel ROCKTV.
You can also access all of my music, videos and merch directly on my website – http://www.brookejosephson.com
@skopemag: What kind of mood and/or environment do you feel most creative in?
Even though I am at home on stage, I'm actually a highly sensitive empath that needs alone time to connect with myself in silence. I tend to add lyrics in the notes of my phone when inspiration hits in the chaos of life and then run with it once I'm by myself.
@skopemag: When you are not making music – what other hobbies and work/school/family do you have going on?
I love hitting Hannah Frankson and Kendall Toole's Peloton Spin classes with their inspiring playlists that put me in a good place. And when I need to have some grounding time, I love Mia Togo's online yoga classes. My kids are super athletic too and love to surf, skateboard, swim, ski in the winter and play ice hockey. My daughter just recently got into flag football so it's fun to watch her games. We also love time with our two dogs, Deekaboy and Oreo. Oreo is a little Boston Terrier that just joined our family and has brought so much spunk and joy into our home. I'm also very involved volunteering with my children who are Children's Hospital Los Angeles Jr Ambassadors. They raise money each year for the CHLA WALK and then on their own. My daughter started an online website and channel in 2017 where she makes videos of her reading books to the patients at the hospital too sick to have visitors and also has written a children's book each year and donated all proceeds to the Children's Hospital Los Angeles Literally Healing Program that provides a book to each patient when they are admitted to the hospital. She's been so inspiring and it's been a joy to be her mom and help make her ideas come to life. You can visit her website www.shirasstorycorner.com
@skopemag: What artist/band has had the most profound inspiration on you and why?
I have been inspired by any female artist who is using their voice and music as a beacon for women. Brandi Carlile, Alanis Morrisette, Annie Lennox, Chrissie Hynde, Sheryl Crow, Dolly Parton, Bonnie. Raitt, Lori McKenna and Lizzo, is the current music obsession for my daughter and I. I love her music, message, all of it!
@skopemag: What would you like to accomplish for the remainder of 2022 and what do you plan to do next year?
I am really excited to be producing sessions this fall with students from my children's schools who are aspiring musicians and wanted the opportunity to go into the studio
for a professional recording session. And then I also will return to the stage once the dust settles after throwing my daughter's Bat Mitzvah in October.
@skopemag: Where can readers of @skopemag follow you on social media?
I love hearing from listeners on my socials! I'm @brookejosephsonmusic on Facebook and Instagram and then, @thebrookles on twitter. My mom nicknamed me "Brookles" as a kid and it just stuck. I have to correct people sometimes when they say "Brooke Less" and explain "Brookles rhymes with bubbles."