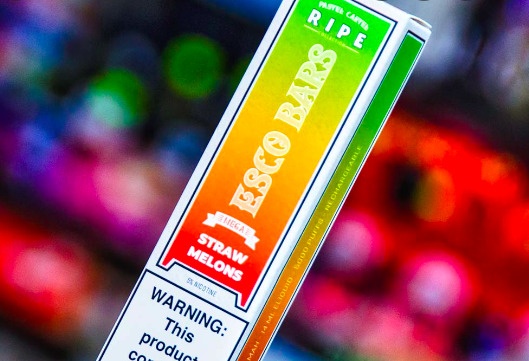 Vaping has become an easy yet exhilarating experience, thanks to the increasing popularity of disposable vapes. Compatibility with a myriad of long-lasting flavors is what most vaping enthusiasts prefer. If that is something you are looking for, Esco Bar is where your search ends.
Their Ripe collection is here to make vaping all the more exciting. With captivating artwork on the packaging and a firm cylindrical exterior, this collection stands out!
3 Esco Bar Must-Try Flavors
The disposable vapes and flavors offered in the Ripe collection of Esco Bar are truly impressive. The slim metallic structure gives the same feeling as holding a cheroot. The dainty form also makes it easy to carry around. 
But to get the best of these disposables, you must have the right flavor. So, here are the top 3 flavors you must take a shot at.
Peachy Mango Pineapple Ice
Most disposables nowadays are compatible with many fruity flavors. Esco's Ripe collection has ensured it well with this vape flavor. 
The three fruits, i.e., peach, mango, and pineapple, have their unique taste and flavor. And it can be perfectly felt in each hit of this flavor. 
A solid mix of the most popular fruit-based blends in the vaping world, you can sense the scent of pineapple even before going for a puff. 
The equal aftertaste of each fruit lingers, making it a great flavor, which is often missing in most vapes. Besides, the iced version of this flavor is also recommended since it is more flavorful and sweet.
A puff count of about 2500, combined with this flavor, can significantly enhance your vaping experience. With each puff, the fruity flavors mingle in absolute perfection. The taste of peach hits first, quickly followed by mango and pineapple. The fruit flavor mix is the bulls' eye in this one!
Kiwi Dragon Berry

It's a great combination of uncommon fruits! Fusion of kiwi, dragon fruit, and berries, this flavor will kick your taste preferences up a notch. 
The authentic taste of kiwi in vapes is often not found, with the other components overshadowing it. But this is not the case in Esco's Ripe collection! Instead, the sweet taste of kiwis, dragon fruit, and fresh berries leave an incredible sensation behind. 
Kickstarting the effect of the puff is the taste of kiwi, accompanied by that of dragon fruits. And the true essence of berries is felt when you exhale.
So, experimenting with quirky flavors like Kiwi Dragon Berry on a vaping device from the Ripe collection having an e-liquid volume of 6mL is worth the try. With each fruit adding its essence, the throat hit of each puff is satisfying. Fruity flavor fans should definitely give this one a go!
Blue Razzleberry Pomegranate 

Candy lovers, this one is for you! This Esco flavor is here to give your taste buds the much-needed candy-fueled sugar rush. Throw in some blue raspberry, and voila! The uniqueness of this vape flavor lies in the spot-on fusion of fruity flavors.
The sweet taste of berries and pomegranate, blended with icy coolness, sets it apart from the usual ones. The candy element interweaves with the tang of juicy pomegranates to give an out-of-the-world taste that sticks around your taste palate.
The device from Ripe Collection comes with an integrated battery with a capacity of about 1000mAH. This, along with the mesh coil, makes each puff packed with intense flavor. And longevity goes without saying. 
But the credit is how the Ripe collection has got this flavor right! Pomegranate is a tough element to work with, but this flavor retains the true taste of all the fruits.
Conclusion 
The sophisticated design and impressive features of Esco Bar's Ripe collection vapes are bound to capture your attention. Offering some of the best, zesty flavors, this should make it to your list of vapes to experiment with. So, why not give any of these flavors a try?