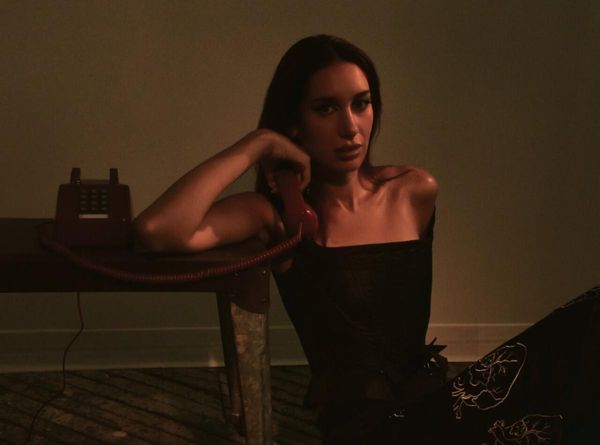 @skopemag news – thusday – august 25, 2022 @ 5 pm est
@skopemag HQ – http://smarturl.it/skope
ORM: Danish Atmospheric Black Metal Band Releases Second Teaser For Impending Intet • Altet Double LP Nearing September Release Through Indisciplinarian
Danish black metallers ORM recently announced their new album, Intet • Altet, and shared a three-minute excerpt visualizer from the epic album opener, "Fra Dyden" ("From Virtue"). Today, the band shares the second excerpt visualizer by Cold North Creative, this time with the album's second track, "Floden, Som Kan Skabe" ('The River, That Can Create').
Out now: LA indie-pop quartet, Atta Boy, share new single + video, "Spring Seventeen"
"Spring Seventeen" is a smooth, slow tune that captures the parts of nostalgia that are undesired as certain memories begin to fade and change with time. Lead vocalist Eden Brolin softly sings, "Caught in a brief memory / Like a song you get used to / Loosen the grip of reverie / From distractions I've been to / I don't know you like I used to / Already forgetting you" The track explores the idea that memories begin to take on new shapes and spaces in one's mind when time creates distance from them.
Scout Gillett Debuts New Single/Video "slow dancin'" via FLOOD, Captured Tracks' Debut LP Out 10/28
Of "slow dancin,'" Scout adds, "I wrote this ironically – taking a dig at the games of love. People too often play games. My take is: let's just cut to the chase. Originally, I had written this as a downtempo country song. During recording, Nick [Kinsey] and I agreed it could evolve to something different. He had the idea to make it ironically fast and pulsing, juxtaposed against the title itself – 'slow dancin'.'
Izzy Spears Announces Debut EP, Shares "FIST" Single + Video via PAPER | Tour Dates Supporting Yves Tumor | 'Monstar' EP Due November 11 via KRO
Today, Izzy Spears announces his forthcoming debut EP entitled Monstar, due November 11 via KRO Records. To celebrate the announcement, he has shared the EP's first single, "FIST," alongside an accompanying video. Speaking on the new single, Izzy writes that it is "sealed with a kiss."
BRYANNE TIENE SENTIMIENTOS ENCONTRADOS CON SU NUEVO TEMA Y VIDEO MUSICAL "NO SE"
Hoy Bryanne , la joven de Miami de raíces cubanas , vuelve a dar que decir con el estreno se su tema "No sé". Con tan solo 15 años , es capaz de manejar su voz en diferentes estilos musicales y hoy nos regala una bella balada pop que forma también parte de su Album y su tercer sencillo del EP .
Indie punks Shutups release single + video "Televised Hit & Run"
Today, the Bay Area indie-punk band Shutups are proud to share the music video for "Televised Hit & Run", the second single from their forthcoming album, I can't eat nearly as much as I want to vomit. Driven by a propulsive krautrock rhythm with Moog sub bass and gang vocals that soar over distorted punk riffs, the track is one of the most aggressive cuts on the LP – while still highlighting the power-pop melodies that tie all of the band's wild ideas together. I can't eat nearly as much as I want to vomit was mixed and mastered by Grammy nominated engineer / producer Jack Shirley (Deafheaven, Jeff Rosenstock, King Woman), and will be released via Kill Rock Stars on October 21st, 2022.
Liz Cass releases video for new single 'Near Miss'
Liz Cass has released the video for her brand new single 'Near Miss', the latest song to be taken from her forthcoming debut album The Words out on October 21st via Ultra Records.
The video premiered with Clash who described the song, "A jewel of a single" praising it's "refined, finessed electronic pop", which comes in addition to the great further press support the track has received from the likes of Notion, Wonderland and many more.
Blake Rose Releases New Single 'Magazine'
Blake Rose returns with a brand-new single, 'Magazine,' out today via AWAL Recordings. The song debuted earlier today on Triple J in his native Australia. Drenched in nostalgia, and beach-boys-esque harmonies, the up-tempo track tackles the serious subject of addiction.
2RARE REVEALS MUSIC VIDEO FOR BUZZING VIRAL BANGER "Q-PID" WITH LIL DURK
Termanology x Conductor Williams "The Look of Love" (VIDEO) off 'Determination' Album Out 9/2
Future Teens share new single "Team Sports" feat. Dan Campbell (The Wonder Years) ahead of third LP 'Self Help' + Fall U.S. tour
"Team Sports" gracefully encapsulates the album's message, as the heavier track concludes with "We're all just looking for a safe place to spiral / Why not make a team sport out of survival?" It embodies the process of asking for help–from the moment one realizes they need it, to the self-doubt, fear and hesitation, to perhaps the occasional sudden change in appearance, to the value of leaning on friends and getting professional help. There's a renewed understanding of what it means to ask for help, one that clearly displays the growth of the band both musically and as people in their own lives.
MOTHICA Shares 'Nocturnal (lofi beats to fall asleep to)' EP
In July, Los Angeles-based alt-pop multimedia artist MOTHICA released her dynamic and emotionally charged sophomore album Nocturnal, via Heavy Heart Records – her imprint with Rise Records/BMG. The album garnered support from Billboard, Spin, MTV, Ones to Watch, Alternative Press, Rock Sound, and has amassed over 20 million global streams to date.
BLACK MATH HORSEMAN: Self-Titled Comeback EP Set For Release October 21st Via Profound Lore Records; "The Bough" Video Unveiled + Preorders Available
In 2009, BLACK MATH HORSEMAN released their debut album, Wyllt. The band's music was unlike almost everything that existed at the time. It was hypnotic, heavy, sonic alchemy that seemed to emanate from another time, another place. The members — vocalist/bassist Sera Timms, guitarists Ian Barry and Bryan Tulao, and drummer Sasha Popovic — had somehow tapped into heavy music's collective subconscious. A European tour, along with appearances at Roadburn and Primavera Sound, solidified BLACK MATH HORSEMAN's reputation as a mesmerizing live band. Then, just a few years later, they were gone.
new Trupa Trupa video
MIGHT: The Obelisk Streams Entire Abyss LP By German Ethereal Post-Rock/Doom Duo; Album Sees Release Tomorrow Through Exile On Mainstream
Hannover, Germany's ethereal post-rock/doom duo MIGHT will release their second LP, Abyss, tomorrow through their allies at Exile On Mainstream. Preceding its official unveiling, trusted music portal The Obelisk is hosting an exclusive stream of the entire album.
Gutsaw – Release Lyric Video For "The Flavor of Flesh"
Effortlessly cool rnb-laced pop single from THEO TAMS with confident bassline
"Kick Back"'s confident bassline and interweaving melodies underlie Tams' message that we need to stop trying to convince others that we are worthy of their time.
This song is a reminder to show up and be yourself, trusting in the knowledge that the right person will love the magic you have to offer.
"Circle" The Repeat Button – Toronto Proggers POLARITY Shares Video Off New EP "Live Off The Floor at Jukasa Studio"
Toronto proggers POLARITY are offering fans a little taster in the form of a new EP entitled "Live Off The Floor at Jukasa Studio". The EP was recorded in collaboration with JUNO Award-winning producers Darren Magierowski and Jill Zimmermann (Alexis on Fire, Protest The Hero). During the live-off-the-floor recording sessions, the band was filmed by renowned videographer Mike Filsinger (30 Seconds to Mars, Three Days Grace) who captured the intensity and finesse of the band's performance.
RISING ARTIST BER UNVEILS "SUPERSPREADER" VIDEO – WATCH HERE
If Not For Me Release New Single and Announce 'Eulogy' Deluxe Edition LP
Today Metalcore/Post-Hardcore band If Not For Me release their newest single "Better Days – Reimagined" from their upcoming LP 'Eulogy Deluxe'.
Get The Shot Premiere New Single/Video "Divination of Doom" via Knotfest
Mother Sun Share "Orange Colossus" Single + Video via CHORUS.FM | 'Train of Thought' LP out 10/28 via Earth Libraries
Canadian psych quartet Mother Sun recently announced a brand new LP entitled Train of Thought, due October 28 via Earth Libraries, as well as the band's own small label, Kamloops BC-based Divine Bovine Records. Today, they have shared "Orange Colossus," the second single off the record, in addition to the track's accompanying music video.
MICHAEL KIWANUKA "BEAUTIFUL LIFE" VIDEO OUT NOW; ALL POINTS EAST THIS WEEKEND
Toronto Rockers A SHORT WALK TO PLUTO Embraces The Right To Happiness In "You Are Not The Only One"
Toronto-based four-piece rock band, A Short Walk To Pluto, dissatisfies social norms with a high-energy track about the inability to be emotionally satisfied in a relationship on the electrifying new single "You Are Not The Only One" — available now!
Julia Wolf Captivates On Her Deeply Personal New Single "Virginity"
New York indie-pop darling Julia Wolf has released her deeply vulnerable new track "Virginity" (BMG). While "Virginity" marks Julia's third song of the year, it is also the first track she has co-produced. It was written when she was 19 and put aside until now. Steeped in relatability and sincerity, "Virginity" aims to offer hope and strength to other young women who have also harbored anger and sadness after their own "first time" experiences.