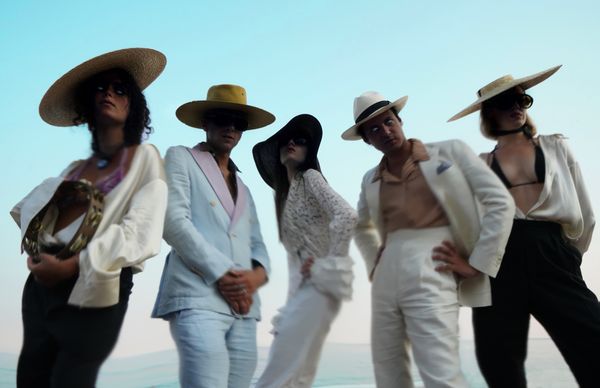 @skopemag news – wednesday – august 24, 2022 @ 6 pm est
@skopemag HQ – http://smarturl.it/skope
This contemplative and sorrowful narrative-based song is one that Pallotta finds hope in. Smerage's life is not forgotten. His story is being heard and a new legacy is being built for him by Harvard's current students, helping to develop a more just society.
Bajan Charm Fuses Old School Hip Hop With Laid Back R&B With New Single "Vapors" FT. Oxzilla & Milinko Coren
Bajan Charm has been quietly putting in the work behind the music scene for the past two years. After her recent collaborative album T.I.M.E–Tapped Into My Energy with OxZilla, she has now brought her musical stylings together with 2020 Boston Producer Of The Year Nominee Dephrase to create a new single Vapors FT. Oxzilla & Milinko Coren. "Vapors is a fusion of old school Hip Hop and laid back R&B for the grown and sexy. I wanted to pay homage to the music I grew up on while layering in my own flavor with a fresh upbeat vibe" says Bajan. Check it out now on your preferred digital streaming provider.
Alt Rockers Big Rick Energy Release Debut Single "Tired Of Me"
With an alt rock flavor that fans of Pearl Jam, Muse or Foo Fighters would dig on one track, to a pure pop-rock sensibility in the vein of Fountains of Wayne or Barenaked Ladies on another, versitility is a strong suit for Rick and his various musical musings.
Don't Sleep On // Elizabeth M. Drummond – "I Tried" (Out Today)
Elizabeth M Drummond returns with her cathartic, new single was penned and produced in just 24 hrs titled "I Tried." There is a clue in the title for what this song is about, and anybody who has ever cared enough to try to make a relationship work in the hardest circumstances will relate, and will know how much sadder it is when it ends. This song is out immediately via Young Poet. Elizabeth has also announced her debut EP "Congratulations" will be released November 18th.
THE OTOLITH: SubRosa members return with new project on Blues Funeral Recordings
Rising from the ashes of Salt Lake City's beloved avant-garde and symphonic doom juggernauts SubRosa comes THE OTOLITH, who will release their debut album "Folium Limina" on October 21st through Blues Funeral Recordings. First single "Sing No Coda" is available on all streaming platforms, with album preorders now online!
THE DEARS — Announce 'Return To Lovers Rock' Expanded Album || + New Single: 'I Know What You're Thinking And Its Awful (Acoustic)'
The Dears' Natalia Yanchak said: "We originally released Lovers Rock in 2020. It was an album we were, and are still, very proud of. Murray and I recorded an acoustic session just before we released the album. Again, back in 2020 we spent the day at Hotel2Tango studio in Montreal — we put out the videos of some of these sessions, but now can finally share the audio on this deluxe upgraded version of the album, Return to Lovers Rock. It's kind of like Return to the Planet of the Apes: we can't not go back there. There's unfinished business down on Lovers Rock, so it's time for a spin off!"
EVERDAWN: Ghost Cult Premieres "The Last Eden" Lyric Video From Symphonic Metal Quintet; Dan Swanö-Mastered Cleopatra Out Now Through Sensory Records + Third Album Under Construction
Formerly known as Midnight Eternal, EVERDAWN is embodied by lead vocalist Alina Gavrilenko, guitarist/vocalist Richard Fischer, bassist Alan d' Angelo, drummer Dan Prestup, and keyboardist Boris Zaks. The band's first album under the EVERDAWN moniker, Cleopatra saw release through Sensory Records in early 2021, delivering eleven epic new movements minutes of epic, progressive, symphonic metal.
Daisy The Great Share "Aluminum"
"'Aluminum' was actually the last song we wrote for the album," say Daisy the Great's Kelley Nicole Dugan and Mina Walker. "We wrote it with our pal Gabe Goodman, and it is about self-perception. It's the feeling of time moving forward and taking a version of you with it that you don't feel connected to – as if your social persona or personality, some shinier version of you, has taken over, and you don't know how to be your real self anymore.
The Midnight Release Romantic and Moving Ballad "Heart Worth Breaking" Today! New Studio Album Heroes – due out September 9th via Counter Records
The first step on The Hero's Journey is "the call to adventure" and in literature and film this usually means a visit from a stranger, a treasure map is found, or a secret passage is revealed. In my life however, the call was so subtle I could barely hear it. For me, it came by way of a breakdown in my early 20s when I realized (maybe stoned in my friend's dad's minivan) that even if I got everything I ever wanted, that I probably wouldn't be able to hold on to it. I didn't know how to love myself. My life was elsewhere – all projection and filler. Shortly after that realization, I bought a plane ticket and left my hometown for the first time to find an adventure that I'd been missing. – Tyler Lyle, The Midnight
Satsang releases single w/ Unlikely Heroes to support victims of human trafficking
Montana's Satsang, led by singer/songwriter Drew McManus, has just released "Coming Together," the latest single off their new album 'Flowers From The Fray,' out September 9th. Released in partnership with Unlikely Heroes, a Texas based non-profit that provides safe homes and restoration services for victims of human trafficking worldwide, "Coming Together" is a reflective track about growth, maturity, and balancing professional success with personal turmoil. It's the latest in a series of releases from Satsang, all of which have been released in partnership with a different organization that's having a positive impact in the world.
FREDO BANG RELEASES NEW SINGLE AND VIDEO 'ADDY'
MO'YNOQ Release New Single "Penance"
Listen To Ali McGuirk's Groovy R&B Ode To Past Lovers, "X Boyfriends"
In a stack of dense, soulful harmonies, Ali McGuirk kicks off her upcoming album, Til It's Gone, by singing, "On the nights when I love all my ex-boyfriends…" Before too long, McGuirk's expressive voice rides a wave of vintage-tinged, bass and drums-led R&B, keeping the new tune, "X Boyfriends," lighthearted and groovy. McGuirk wants it that way.
CHRIS BROWN LINKS UP WITH WIZKID FOR "CALL ME EVERY DAY" VIDEO — "BREEZY (DELUXE)" ALBUM OUT NOW!
NAV DROPS NEW SONG + VIDEO FROM UPCOMING ALBUM
Chart-topping rapper, producer, and XO artist NAV has dropped a new single "Wrong Decisions," from his forthcoming album Demons Protected By Angels. Produced by Nav, the introspective track comes with a Nav-directed video and follows the album's first single, "Never Sleep" ft. Lil Baby and Travis Scott. Demons Protected By Angels, his first studio album since 2020's Good Intentions, is coming soon.
BOUNDARY-PUSHING POP STAR GUS DAPPERTON JOINS THE WARNER RECORDS FAMILY
Gus Dapperton, the boundary-pushing, Platinum-selling singer, songwriter, and producer, is now bringing his vibrant approach to pop music to Warner Records. The 25-year-old, who broke big in 2019 with a star-making feature on Benee's smash single "Supalonely," has been steadily amassing a passionate following since launching his music career as an independent artist in 2016. Now, forming a partnership with Warner Records, Dapperton is poised to take his creativity to a new level with music slated for later this year.
Left Coast string band Hot Buttered Rum announces new album, shares first track
Like a long, dark piece of music, the pandemic started small, then got big, and loud, and painfully dissonant. Hot Buttered Rum did their best to cope with its indignities, as most did, and much of that coping was done through the business of making lots and lots of noise. The songs that emerged from all this noise-making are a little louder than any the band has released to date in what became the latest album, Shine All Night. Hot Buttered Rum hopes to help provide some cheer in the times ahead, whether those times are brighter, darker or, as so often, somewhere in between.
LA FEMME Announce New Album 'Teatro Lucido'
Along with the album announcement, La Femme has shared a new music video for "Sacatela," the first single taken from Teatro Lucido. A very classy and colored video shot in Nice, South-West of France, that features many members of the band. The video for "Sacatela" was directed by french director Ilan Zerrouki and is about unacknowledged desires and unpursued dreams also called 'Sacatelism.' "Sacatela" has been played all summer long on radio stations across the US, Mexico, and France and is already a streaming success for the band.
BLOOD OF INDIGO Stream Dawn of the Shaded World In Full Ahead Of Release
Canadian symphonic gothic metal band BLOOD OF INDIGO are streaming the entirety of their album Dawn of the Shaded World. The album will be released on CD and all digital platforms this Friday August 26th, 2022.
Norweigan dream pop band Marbles release music video for "Heading Out"
Jay Fizzle – Donafizzo [Clean and Dirty DJ Pack]
Sunshine Makers Share "Got to Be Good" featuring Aquakultre
The opening lyrics for "Got to Be Good" starts off by stating "We've got to bring some loving here today for our friend Marvin Gaye who'd say what's going on." It's a nod to Marvin Gaye and his message in the classic track "What's Going On." Love is what the world needs and Sunshine Makers want to remind people through their music that the message is just as relevant today as it was back in 1971.
Komodos Announces Debut EP | Shares New Single "Narcisse" | Headlines Mercury Lounge TONIGHT
Today, Brooklyn-based alt-rockers Komodos announce their debut EP, K.O. (due out this November 3rd) and share the lead single "Narcisse," an alt-rock anthem. A powerful and undulating blend of uninhibited lyrics and passionate vocals, "Narcisse" is the lead single that perfectly introduces the band's unique sound. Their work is inspired by experiences and observations gathered while living in New York City in their 20s, and aims to transform intense, raw emotions into a rush that brings you to your feet.