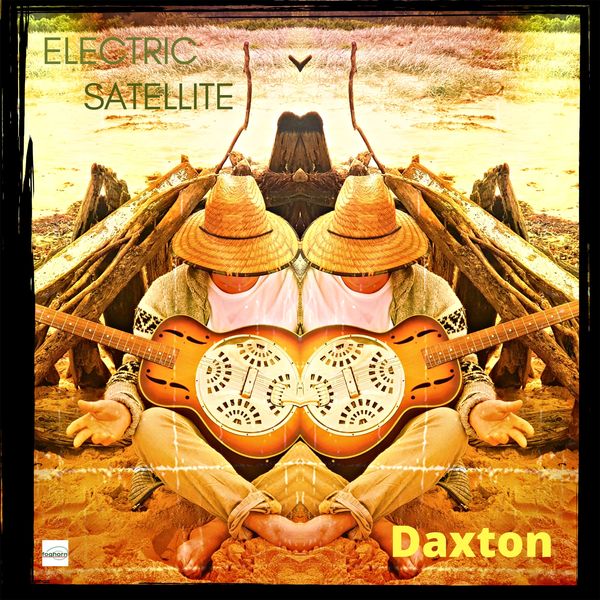 Daxton is a driven musician who had a true vision in mind and that would be his latest project titled 'Electric Satellite'. This is the seventh album release for Daxton, who hails from Sydney, Australia. What Daxton brings to the table is an original mix of electric blues to go along with a rustic vibe. Throw in some elements of psychedelic rock/pop and you have yourself one 'Electric Satellite' ready for orbit!
Daxton comes across as a very authentic artist with an original sound on 'Electric Satellite'. There is a genuine quality that shines through when Daxton performs and this special ingredient will be heard loud & clear on the new record. With 12 unique tracks on the new release, each song has its own flavor and the entire album is a true joy to listen to. Get ready as 'Electric Satellite' is about to take off!
Daxton kicks it off with a killer groove on "High As A Kite" where trippy, southern blues combines with a splash of alternative rock. Next, we hear Daxton pouring out "Groovy Love" and he can also be heard digging deep on this track. The listener receives a comfortable ride and comfortable vibes on the following number titled "Spaces". Daxton is exploring imaginative "Spaces" here with cool, guitar chords that will rock your world. Track four, "Otherside", offers a downright gritty style vocally & musically where Daxton is in full control. We head into the title track next, "Electric Satellite" where the stars align perfectly! On "Electric Satellite", Daxton delivers a fiery performance overall and the song is raw & edgy on the whole. The Sydney native is certainly heading in the right direction on "End Of The Road" where this song will lead you down a windy path complete with heavy blues hooks along the way. Track seven, "Devil's Train", provides standout guitar strumming and stone-cold singing. Prepare yourself for a "Magic Morning" next where Daxton provides a magical sound that offers no tricks but rather plenty of wonderful surprises. Let "Freedom" reign right through your speaker box on track nine and I can honestly say it sounds oh so sweet! The listener will get hit with an interstellar, trippy sensation on "Constellation" as this song proves to be out of this world and as they used to say FAR OUT! Track 11, "Bad Times" makes for a good listen and good time where Daxton proudly delivers edgy blues that is beyond raw. Time to end the trip and head to "Memphis" courtesy of the bluesy rocker Daxton where his deep, southern spirit is bursting out here.
Daxton supplies an invigorating performance on his latest release, 'Electric Satellite', which makes for one enjoyable listen. Daxton has an original groove that can't be matched and his bluesy, rockin' style is a real treat to witness. I can't wait to hear new material from Daxton, but right now 'Electric Satellite' has landed and the mission was a success!
https://open.spotify.com/album/0ixyHEFA4P69PJ0OmCiXRD?si=b7QzaqJOQWGw4cbxMKhfcg
https://ffm.to/electricsatellite
https://www.facebook.com/Daxton6/
By Jimmy Rae