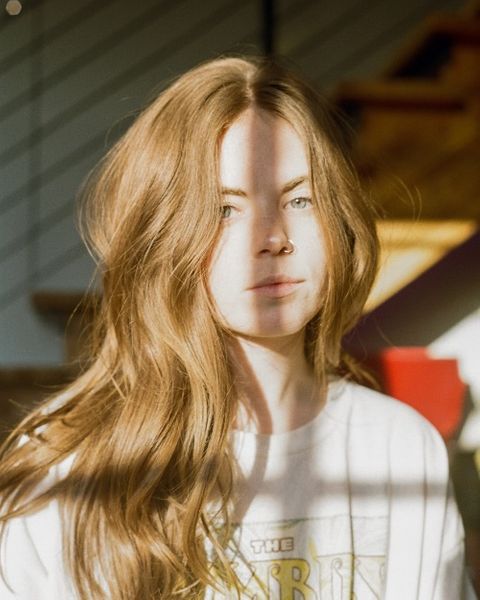 @skopemag news – wednesday – august 10, 2022 @ 12 pm est
@skopemag HQ – http://smarturl.it/skope
REX ORANGE COUNTY RELEASES NEW SINGLE "THREAT"
The release of "THREAT" comes just days before Rex's biggest show to date. On Saturday, August 13, he plays a sold-out hometown performance to 20,000 people in Gunnersbury Park, London. This follows a two-month multi-city run in North America that saw Rex performing sold-out shows at iconic venues including The Hollywood Bowl, Forest Hills Stadium, Red Rocks Amphitheatre, and more.
Skopemag x Bony Macaroni: first album single 'Hollow' out tomorrow!
In the beginning there was nothing, and then there was the tragicomical emo-pop that is 'Bony Macaroni'. With songs this fast and loud, you wouldn't expect their musical baptism to be any different. Their first full year as a band was one that was filled to the brim with 'certified rock shows', with over 50 shows in The Netherlands, Germany, and Belgium. Playing festivals like Sniester, Mildtfest, the Dutch – traveling festival – Popronde, one of Berlin's beloved sexy night clubs, and many MANY grimy bars.
Watch King Von and OMB Peezy in "Get It Done" Video from 'What It Means to Be King'
AMY RAY shares topical video from her new album IF IT ALL GOES SOUTH, out September 16
Today, Amy Ray announces the release of her tenth solo album, If It All Goes South, out September 16 on Amy's own Daemon Records, and shares a peek into the album sessions with a DIY video for her upbeat song "A Mighty Thing" featuring Sarah Jarosz. The song, which captures the fervor of a tent revival meeting and features the propulsive banjo picking of Alison Brown, deals with how Jesus figures into the identity of gay Southerners raised surrounded by the Christian faith — "they taught me how to hate myself" Amy sings — but also explores the comfort offered by the "true gospel of love."
FRENCH-CANADIAN SINGER-SONGWRITER ÉLODIE ORSEI SERVES UP DEBUT EP – 'FRENCH TOAST'
Written and produced by Élodie Orsei 'French Toast' features Élodie Orsei's first single 'Crème de la crème' as well as 'You're delicious' with three additional tracks 'Un p'tit café', 'Guilty love' and 'Baby Purée'.
Evan Klar Releases New Single 'Party Hard'
Evan Klar is a pop artist who spends all his time writing and producing music for both himself and other artists. Currently living between Berlin and Melbourne, Evan claims his self-confessed "muddled identity" might lend a hand in understanding his music.
Watch Kiwi Jr.'s 'The Sound of Music' video | New album 'Chopper' out Aug 12 via Sub Pop
In celebration of Kiwi Jr.'s Chopper, the band's third album out later this week, you can now watch the official video for "The Sound of Music," directed by Laura-Lynn Petrick (who has also directed videos for Weyes Blood and Jessica Pratt). The song features backing vocals from Canadian singer Dorothea Pass (U.S. Girls, Jennifer Castle).
SNOW COATS Reveal Second Album Details 'If it wasn't me, I would've called it funny' Released 9th September 2022 (Alcopop! Records)
Dutch indie-pop quartet SNOW COATS are delighted to announce details of their second album If it wasn't me, I would've called it funny set for release on 9th September 2022 via Alcopop! Records.
"Ahora Me Toca A Mi" lo nuevo de Edwin El Calvito Reyes & Joe López
En los pasados años, hemos tenido la dicha de conocer a varios artistas quienes continúan su recorrido, sin miedo al qué dirán, trayéndonos temas que de inmediato se convierten en nuestros favoritos; por eso mismo, por su diferencia. También se dice, que cada artista, debe atreverse a triunfar, con versatilidad, apostando a su visión y si es posible, colaborar para con un fin común; llevar alegría a un público exigente quien pide Salsa Nueva, sin olvidar sus raíces.
Este es precisamente uno de esos casos, pues Edwin "El Calvito" Reyes, en esta ocasión, une fuerzas con el Ex-Vocalista de la Corporación Latina de Puerto Rico, Joe López, para con un tema atrevido, que nos lleva a esos tiempos que el salsero tanto atesora, presentando su nuevo tema llamado "AHORA ME TOCA A MI".
Indie-pop riser Alex Amor releases new single "Casually Cool"
(10th August) Rising London-based, Glaswegian indie-pop artist Alex Amor today releases new single "Casually Cool", lifted from new EP 'The Art Of Letting Go', out 14th October via Young Poet. The new single follows previous EP tasters "Colour Me" and "Bad Tattoo" and arrives ahead of Alex's debut London headline show at Laylow on 16th September.
RUSSIAN CIRCLES RELEASE FIRST EVER MUSIC VIDEO + NEW ALBUM COMING NEXT WEEK
Russian Circles have released their first ever music video for the title track of their forthcoming LP Gnosis, available next week, August 19th, via Sargent House. The Centerpiece of the album "Gnosis" begins with a slow-build exercise in krautrock methodologies—drones, guitar arpeggios, cosmic synth, hypnotic drum patterns—that eventually explodes into the wall-of-sound bombardment Russian Circles are known for. The accompanying video, directed/edited by Joe Kell, is full of dark imagery driving towards the actual definition of the word "Gnosis." The band explains:
RISING ARTIST BER SHARES THE NEW SINGLE 'SUPERSPREADER'
The rising artist Ber has earned praise for her heartfelt songwriting and angelic vocals heard in her early releases such as 'Meant To Be'. That song has already exceeded 50 million streams, leading to airplay from Radio 1 as well as Zane Loweand Travis Mills at Apple Music 1. She has also been embraced by a community of singer-songwriters, most notably when she performed as part of a supergroup at Barn On The Farm with Holly Humberstone, Maisie Peters, JP Saxe, Dylan Fraser and Flyte's Will Taylor.
Solene brings the pop punk & emo roots back in new EP "Available to Fall"
The idea of ​​transition to authorship comes because the Pop Punk scene is coming back with force, this return is due to Travis Barker, Yungblud and Machine Gun Kelly who have been presenting this new Pop Punk Revival to the younger generation and winning more and more space, having received, for example, praise from Mick Jagger and sequentially winning the award for best rock album on Billboard
Colorado-Based Producer jackLNDN Drops Electrifying Single 'In My Mind'
Anti-Flag Share Video for "THE FIGHT OF OUR LIVES" featuring Rise Against's Tim McIlrath & Bad Religion's Brian Baker
BROKEN BELLS: FIRST OFFICIAL SINGLE "SATURDAYS" OUT NOW, NEW ALBUM OUT OCTOBER 7TH
Broken Bells is the musical partnership between James Mercer (The Shins) and Brian Burton (Danger Mouse). At the foundation of this mutually magnetic, incredibly close friendship is its origin: a shared love of music, and more specifically the many influences the two have in common. This diverse sonic array makes their 3rd album, INTO THE BLUE, a kaleidoscopic genre and decade spanning ode to those influences — From The Beatles to Pink Floyd, from '60s psychedelia to 70s rock and AM Gold, from '80s New Wave to '90s Trip Hop… and of course the formative Elephant 6 collective. The first Broken Bells album to feature samples in addition to James and Brian's own organic sounds, INTO THE BLUE finds Broken Bells in uncharted territory. James and Brian venture into bold new directions while retaining their signature glistening pop perfection with just a hint of the sinister.
TONES AND I SHARES NEW SINGLE "CHARLIE"
Elaborating on the new track, Tones And I explained, "'Charlie' was a song that came out of nowhere, it was done in three hours and we wrote the bass line first. It's about missing my dog Charlie and other things. It's a funky jam and I just wanted to have some fun with it."
NANCY announces 'English Leather' debut LP details & shares new track 'Would You Be My Judy?' | out today via BLAME RECORDINGS
Bizarro-pop provocateur NANCY announces the arrival of debut LP 'English Leather', set for release October 28th via Blame Recordings, and shares second single reveal 'Would You Be My Judy?', out today (10th August).
Disq share new single 'If Only' | New album 'Desperately Imagining Someplace Quiet' out Oct 7th on Saddle Creek
Disq shares the new single, "If Only," from Desperately Imagining Someplace Quiet, their new album out October 7th on Saddle Creek. "I would rewind and fix it all, but if I had the chance to // I I'd probably still hurt you, and you me," songwriter Isaac deBroux-Slone confesses on "If Only" before unleashing a cathartic scream atop skittering guitars.
Titus Andronicus share "Give Me Grief" with official music video, tour starts 9/30
Last month, revered rock veterans Titus Andronicus came roaring back onto the rock scene with the announcement of their seventh studio album The Will to Live, and the release of the raucous first single, "(I'm) Screwed," which immediately inspired feverish anticipation and rapturous accolades from fans old and new alike.
The Neverlutionaries Release New Lyric Video From Highly Anticipated Sophomore LP
The soulful psychedelic track features Wells on Vocals, bass and guitars along with Brian Jonestown Massacre guitarist Enrique Maymi on rhythm and ebow guitars. Drum phenom Nick Baglio plays masterfully on this epic track while creating a unique tribal groove. The track finds the band medling as one for a wonderful ride through jazzlike, soulful and psychedelic textures and colors. The track was co-produced by Wells and mixed/produced by #1 Billboard charting rock producer Jaimeson Durr known for his work from everyone from supergroup Chicken Foot, Sammy Hagar and the Circle, Train's Pat Monahan to The Grateful Dead's Mickey Hart and other amazing artists.