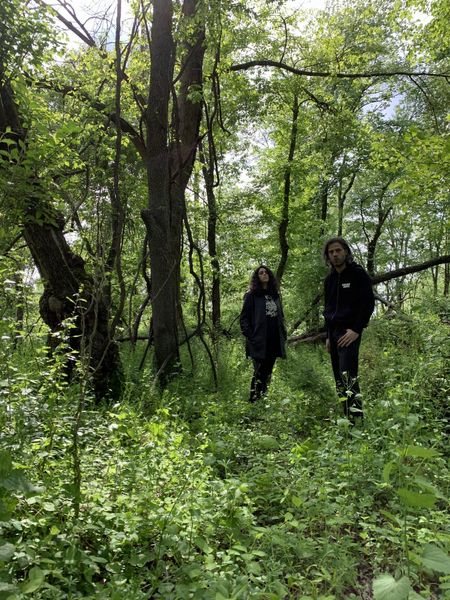 @skopemag news – tuesday – august 9, 2022 @ 5 pm est
@skopemag HQ – http://smarturl.it/skope
RUBBLEBUCKET announce new album 'Earth Worship'
Kalmia Traver and Alex Toth, the group's front persons, co-writers and co-producers, first began a friendship as jazz students at the University of Vermont. Soon after, they formed Rubblebucket, using the project to delve into pop, funk, dance and psychedelia; performances have spanned Bonnaroo to Glastonbury to their self-curated Dream Picnic Festival, and they've collaborated with kindred genre-blenders including Arcade Fire and Scissor Sisters' Jake Shears. But before their musical relationship, Traver and Toth initially bonded over another shared passion: the two were part of UVM's Sustainable Community Development program.
DISILLUSION release first single and details of new album
DISILLISION have released an epic journey of many twists and turns that spirals into an ever-growing darkness. The avant-garde metal pioneers' first single 'Am Abgrund' ("At the Abyss") is taken from the Germans' forthcoming fourth album "Ayam", which has been scheduled for release on November 4.
Symphonic Metal Veterans DELAIN Present New Singer and Release New Single "The Quest and the Curse"
The wait is finally over! DELAIN, the brainchild of keyboardist, founder and main songwriter Martijn Westerholt, returns with full power, presenting themselves with a new lineup featuring the terrific Diana Leah as their next singer! Her powerful, heart-wrenching voice fits perfectly with the band's style and adds a new strength to their sound. Rejoining the fold and bolstering the band's continuity are original guitarist Ronald Landa and original drummer Sander Zoer, while new members Diana and bassist Ludovico Cioffi continue the evolution of the band's sound. The multi million-streaming leading Symphonic Metal outfit sets off into their next era, creating the perfect symbiosis of tested strengths and new influences.
Ghosts of Our Former Selves Share New EP Golden
London-based band Ghosts of Our Former Selves have shared their stunning new EP, Golden. The band, which consists of singer Theo Brehony, guitarist Sanderson Rocha and producer Fred Ala, have been steadily rising on the music scene for a number of years now, and they look set to keep their momentum going and reach new heights with this latest release – arguably their best to date.
Latex Performer/Vocalist ASHLEY BAD Seduces With Her New EP & Tantalizing Video For Her Cover Of "EROTICA"!
When we last caught up with New York City performer and Lords Of Acid burlesquer, Ashley Bad, she had just released her second single, the sultry atmospheric "The Gun," alongside a smokin' hot video. Now, Bad returns with an even more scintillating track and video that is sure to get the blood pumping! "Erotica" is Bad's cover of the controversial Madonna song from 1992, which marked Madonna's foray into the world of fetish and BDSM imagery. Unlike Madonna, Ashley is no interloper to the fetish world, having been a performer in the scene for years including performances just this year at the Dallas Fetish Ball and Minneapolis's RubberBall USA.
IMAAD WASIF Explores Atmosphere and Intimacy on Enigmatic and Gorgeously Layered So Long Mr. Fear"
To hear Wasif lay it out: "We built a tunnel through the goddamned pandemic… Though we never saw each other during the making of this, we were connected in the ether, sending songs back and forth to arrive at their completion." The result is a sublimely intimate record that blends Wasif's essence as an artist with sophisticated, timeless arrangements and his characteristically masterful playing – all of which combine to resonate as if the project were recorded in a velveteen cave.
Anna Mieke Announces New LP 'Theatre' Out 11/18 (Nettwerk), Shares New Single/Video "For A Time"
Anna Mieke has announced her new album Theatre will be released on November 18th, 2022, via Nettwerk. The stunning eight-song collection envelopes listeners in the warmth of her world, radiating with an intense heat that lies closer to the desert or the jungle than her hometown of Wicklow, Ireland. Theatre is the surreal soundtrack of a vast personal plain steeped in nostalgia, family, memory, death and dreaming—where gritty reality and romanticism meet. Lush new single "For A Time" and its accompanying Louise Gaffney-directed video, featuring a Disco Yeti, are the perfect showcase of the album's dream-like visions. "It's a song of humid heat, burning summer, a pool. Rotting fruit, flies, the density of a greenhouse in August, carpeted stairs, a diving board. But also loss, and that feeling of fading and forgetting, of passing on," explains Anna Mieke. "It reflects that feeling of nostalgia for a time you never actually experienced, or a person you never had the chance to meet, but feel you know well."
Thrash/Groove Metal band Makunaybah release new single "Break The Chains"
L.A.'s NEXT DOOR TO HEAVEN Release Music Video For Emotional Metalcore Track "Disguise"
BLACK SPACE RIDERS To Release New Album 'We Have Been Here Before'.
Progressive, heavy psychedelic outfit BLACK SPACE RIDERS have unveiled a teaser for the upcoming full-length We have been here before releasing on October 21st, 2022 via Cargo Records. An out of this world voyage awaits as BLACK SPACE RIDERS journey through an array of thrilling musical offerings.
David Barbe pre-Sugar Athens, GA punk band share 2nd song/video; long-lost album out in Sept
MuMu Shares "Wrapped Up (Post Roe)" Single | Watch the Live Video | More New Music Coming Soon via InKind Music/The Orchard
With the recent, abhorrent overturning of Roe v. Wade at the hands of the U.S. Supreme Court, NYC singer-songwriter MuMu felt a responsibility to share a live session of her track "Wrapped Up," a song that retells the challenges of unplanned pregnancy. It expresses the vitality of one's right to choose, and the detrimental effects of those rights being taken away.
Dungen Share Hazy, Sun-kissed New Single From First LP In Seven Years Out 10/7 (Mexican Summer)
"Om Det Finns Något Som Du Vill Fråga Mig" follows the album's lead track "Nattens Sista Strimma Ljus," which earned praise and support from Pitchfork, NPR Music's #NowPlaying ("scorching guitars, thunderous drums and reverb dialed to 11"), SPIN, Stereogum, Under the Radar, Brooklyn Vegan, and more.
New Music – Silky smooth R&B gem from vi0let
DISILLUSION release first single and details of new album
DISILLISION have released an epic journey of many twists and turns that spirals into an ever-growing darkness. The avant-garde metal pioneers' first single 'Am Abgrund' ("At the Abyss") is taken from the Germans' forthcoming fourth album "Ayam", which has been scheduled for release on November 4.
R&B/POP ARTIST/DANCER AMBER RENEE ANNOUNCES NEW SINGLE (FOLLOWING WORK WITH T-PAIN ON DEBUT EP)
The multi-talented artist came out swinging with her impressive EP Unfold; the lead single "Never Drink Again" featured Grammy award-winning artist T-Pain, and her previous single "Through to You" reached over 100,000 views on YouTube in the first few days alone.
THE BLACK ANGELS — Debut New Single: "Without A Trace" || + New LP 'Wilderness of Mirrors' Out 16 Sept
The band shares, "We have always said that if you can rob a bank to our music then we are in the right ballpark. And while we don't condone robbing a bank – the idea alone creates an anticipatable, adrenaline inducing soundtrack for your mind." The new song follows acclaimed lead single/video "El Jardín," which features Austin Amelio from The Walking Dead and stars his son Lev, and experimental single "Firefly", a '60s French pop homage which features Thievery Corporation's LouLou Ghelichkani.
SARATTMA: Echoes And Dust Streams Escape Velocity Debut LP From Post-Metal Duo With Current/Ex Brian Jonestown Massacre, John Zorn, Cleric Members; Album Drops Friday On Nefarious Industries
Escape Velocity sees SARATTMA delivering an entrancing, psychedelic, apocalyptic journey through extraterrestrial landscapes. Drummer Sara Neidorf (Mellowdeath, ex-Brian Jonestown Massacre, Aptera) and guitarist Matt Hollenberg (Cleric, John Frum, John Zorn) weave an intricate fusion of modern improv, punk, jazz, djent, avante-psych-rock, and prog, evoking Frank Zappa, John Zorn, Mahavishnu Orchestra, Dysrhythmia, Don Caballero, and Stinking Lizaveta. Their visually arousing music is a cinematic space punk anthem for those grimy enough to have survived the end of days.
THE BLACK ANGELS share new single 'Without A Trace' | New album 'Wilderness of Mirrors' out Sept 16 on Partisan Records
The most impactful music reflects a wide-screen view of the world back at us, helping distill the universal into something far more relatable. The Black Angels have become standard-bearers for modern psych-rock that does exactly that, which is one of many reasons why the group's new album feels so aptly named. It has been 5 years since fans have been treated to an album from the band and Wilderness of Mirrors marks a triumphant return with their foot on the pedal. The new collection expertly refines the Black Angels' psychedelic rock attack alongside a host of intriguing sounds and textures while political tumult, the pandemic, and the ongoing devastation of the environment have provided ample fodder for their signature sound and fierce lyrical commentary.
Ghost Light announces sophomore studio album, shares new song 'Take Some Time'
Ghost Light is thrilled to announce their sophomore album The Healing, due out Oct 7 via Royal Potato Family.
"The story is less the fallout as it is the recovery," says Tom Hamilton. "Sticking with it. Staying the course in the face of adversity, uncomfortable conversations or situations. The path to health and healing is often not the path of least resistance but the path of perseverance and doing the work."
TENSION SPAN: No Echo Premieres "Cracked Society" By Oakland Dark Punk Act With Neurosis, Dystopia, Asunder Members; Debut LP, The Future Died Yesterday, Nears Release Via Neurot Recordings
TENSION SPAN unites Noah Landis (Neurosis, Christ On Parade) on vocals, Geoff Evans (Asunder) playing guitar and synth, and Matt Parrillo (Dystopia, Kicker) providing bass, guitar, synth, and additional vocals. During the isolation of Covid, the newly formed trio crafted The Future Died Yesterday, an album that sounds both varied and cohesive, combining musical and emotional heaviness with melody, samples, and synth. Sonically unique and riveting, The Future Died Yesterday sees the band ripping through thirteen doomed anthems.
Dro Kenji Rages With DC The Don in "So What" Video From LOST IN HERE EP
[Video] Rico James ft. Rhinoceros Funk – When I Spit prod. by Rico James
On "When I Spit," Rico James sets the scene for the man they call Rhinoceros Funk. Utilizing heavy drums, and the truly epic sounding backdrop of choirs and tones, Rhinoceros Funk weaves rhyme patterns and shines with his strong vocal tones and powerful delivery. Comfortable and confident, Rhino floats over the ever building landscape of harmonies and percussion that really shows its boom bap essence and shows you exactly what Rico James is here to do. Make noise, and keep your head nodding. The single can be found on Rico's album "Language of Spirits" Out Now on Man Bites Dog Records.
EDDY BORGES CALIENTA CON EL SENCILLO Y VIDEO MUSICAL DE "QUE CALOR"
Eddy Borges es un cantante cubano de música Pop Urbana que nació en Camagüey, provincia del centro de Cuba, y ahora reside en la ciudad de Miami en la Florida. Sus influencias musicales son aquellos artistas que defienden el espectáculo y tienen una posición digna de impulsar todo lo positivo dentro y fuera de la música.
Rising Artist BabyRay Release "TAKE YOU AWAY"
"Take You Away" from upcoming Toronto R&B/Hip-hop/Pop artist, BabyRay dropped this week. The Canadian artist turned up the heat with her highly anticipated single. After making and promoting her own music, BabyRay is stepping up to take her place in the Canadian music industry. Fans of BabyRay are loyal and many. She brings them into her world and makes them comfortable there. From her successfully released singles, videos and on-stage performances, her music and lyrics have made an impact on audiences across the country. Music is the artist's escape from reality and "Take You Away" brings you along for the ride.