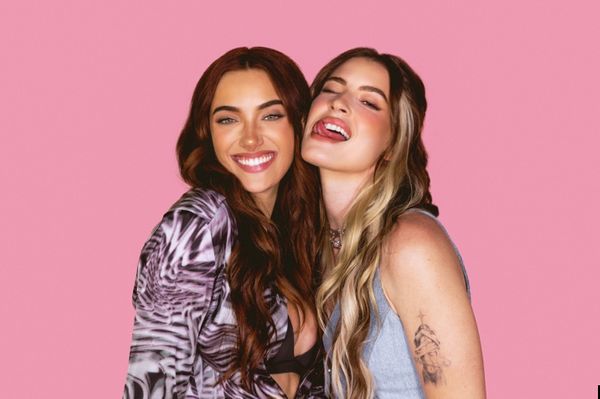 @skopemag news – friday – august 5, 2022 @ 1 pm est
@skopemag HQ – http://smarturl.it/skope
Dark Folk artist Sowulo reveals new single and lyric video "Eaxlgestealla"
Acclaimed Nordic Dark Folk artist Sowulo reveals the second single and music video "Eaxlgestealla", from the upcoming new studio album "Wurdiz", set for release on September 9th through By Norse Music.
ERIKA SIROLA UNVEILS STUNNING DEBUT EP WHO?
JERSEY CLUB X DRILL PIONEER BANDMANRILL DROPS INTENSE NEW TRACK "REAL HIPS"
YUNGBLUD Releases 'The Emperor.' Selected At ESPN's College Football Season Soundtrack. Self Titled Album Set For Release September 2
"It's a massive honor to have my song The Emperor chosen as the anthem for ESPN's college football season. I wrote this song when I was seventeen, it was just an outburst of unfiltered energy that I knew would have its moment one day. I played it live for years but never found the right time to release it until now. College football is such a massive part of American culture and all I ever want to do is bring energy to people, so I can't wait for the song to bring that energy to the fans and the players at the games all season." – YUNGBLUD
Brilliant new single from Marcus King & huge acclaim for new album
Marcus King today announced the release of 'Blues Worse Than I Ever Had', the final preview track ahead of his forthcoming solo album, Young Blood, due August 26. The track, co-written with Dan Auerbach, has a laid back groove and saturating slide guitar which soundtrack King's visceral vocal, reflecting on a moment of despair and the hope that lies beyond it.
KAYE reclaims her throne in new EP 'Neon God'
Beginning with the title track, KAYE kicks off this project on a high note, shredding her way through the worship of rock and roll. Then moving into "Respect Me," she allows her bass skills to shine through on the funk-driven anthem. Driving listeners through the rest of the five-track offering, KAYE wears her heart on her sleeve lyrically while maintaining an utterly danceable experience.
YBN NAHMIR RELEASES NEW SINGLE & VIDEO "WHERE I'M FROM" VIA DEF JAM RECORDINGS
The Happy Fits share new single "Around And Around" ahead of third LP out Aug 26
"Around And Around" is the forthcoming album's opening track, one that sets the tone and speaks to how life, in the midst of a pandemic and beyond, can often feel like an endless loop–mirrored by the track's magnetic circular guitar riff written by guitarist Ross Monteith years prior. Explaining how the track came to be, lead vocalist and cellist Calvin Langman says, "It works two-fold to me; during the dog days of the pandemic, it felt like the world was just going around and around and nothing changed. Yet, there'd come months or weeks when it felt like the world was changing so rapidly and violently that I couldn't keep up."
SHOFFY REVEALS STUNNING NEW SINGLE 'LOVE YA'// LISTEN HERE
LA based multi-million streaming artist makes a triumphant return today with the reveal of stunning new offering, 'Love Ya.' Taken from his upcoming album '…Onward', the track is the follow up well received recent single, 'Nightmares In NYC. 'Love Ya' showcases Shoffy's dreamy combination of intricately crafted electronic production and gorgeously rich vocal tones. Speaking on the release, Shoffy states:
WHOKILLEDXIX UNLEASH NEW SINGLE "ATTENTION!"
GLOBAL SENSATION JNR CHOI UNVEILS NEW SINGLE & MUSIC VIDEO "AMUSED" FEATURING FIVIO FOREIGN!
DANCE & "FALL IN LOVE" WITH PASCAL LETOUBLON x MAXÉ x QUIZZO
Pascal Letoublon, the producer of the mega-hit single "Friendships," which amassed over 100 Million stream on Spotify alone, returns with the new track "Fall In Love." Accompanied by the Italian-German multi-talented artist MAXÉ and the top line writer and singer Quizzo, the young and talented French DJ delivers on "Fall In Love." Not just a love song, the club track immediately puts one in the right mood to dance just in time for the summer. Listen HERE via Astralwerks.
Pop-punk band On Your Nerves release debut album Brace for the Best
Parker McCollum Battles Heartbreak With A Bottle In Latest Single "Handle On You" Available Now
Recently, McCollum made another childhood dream come true by opening for Country music legend, George Strait, at his show in Kansas City, MO on July 30th. Alongside Chris Stapleton and Little Big Town, McCollum fired up the crowd for one unforgettable show with "The King" of Country.
Kramer Shares "Stars Will Die Tonight" Single + Video via ECHOES
Today, iconic musician and producer Kramer shares "Stars Will Die Tonight," the latest single off his recently announced LP, Music for Films Edited by Moths, out August 26 via Shimmy-Disc/Joyful Noise Recordings. The new track comes alongside an accompanying video, part of a video series that will be slowly revealed alongside the LP release.
Panic! At The Disco Release "Local God" + Announce VMA Performance
"Local God" follows the release of singles "Middle of a Breakup" and "Viva Las Vengeance," off the band's upcoming seventh LP, Viva Las Vengeance, due out August 19th on Fueled by Ramen/DCD2 Records. "Viva Las Vengeance" scored the band their third #1 song on the Billboard Alternative Airplay Charts, the fastest song to climb to #1 in over a year!
Primus releases official video for "Follow The Fool," vinyl edition of new EP
Primus announced the 'Conspiranoid' EP in April with the release of its epic, 11-minute opening track, "Conspiranoia." "I'd been itching to record an opus–basically a long, winding, bastard of a song, reminiscent of some of the compositions I cut my teeth (or ears) on, in my music-hungry adolescence," bassist Les Claypool said. ""Conspiranoia" was sprouted from a seed I had planted in my notebook a year or so ago–a few lines commenting on the mental state of the contemporary world."
Aussie Indie-Rockers LAST DINOSAURS Announce Fall Tour Dates with Bad Suns; Release New Song "Auto-Sabotage" 
"Self-sabotage. Everybody does it, everybody is puzzled by it," he explains. "I wrote this song at a time when living through the pandemic in Mexico, the sheer surplus of time that I had firstly got me facing my demons and disciplining myself. But it's as if the other things in life which generate difficulty or tension that require some sort of self-sabotage to deal with them. To dabble in the dark side of things even if they are mundane (alcohol, lust, addictive video games, gossip) is somewhat necessary to existence. We can't be hyper controlled and all entirely pure, at least in most cases. But it is the fact that this self-sabotage is so prevalent in everybody, that it seems disproportionately high. Whether it was me, my own mind, my best friend in Mexico or anybody really, the sense of self-destruction at the time was infinitely infuriating. I don't wish to make a song which simply makes it okay to destroy yourself and your goals, but rather to point it out a problem, to expose it as a sly and clandestine condition of the mind."
Katja Glieson Channels Marilyn Monroe in New Single "Starseed"
A sultry jazz ballad, "Starseed" finds Katja faced with the difficult decision of whether or not she should leave the man she loves, despite knowing he'll never fully reciprocate those feelings and they may never be together. The track's sparse instrumentation enables Katja's vocals to work as "Starseed"s centerpiece. In the music video, this unreciprocated love is escalated even further. Katja, dressed as Marilyn, is confronted by her lover as he threatens her to get her little red diary, which contains all the evidence she has against him. The confrontation between the two eventually erupts into a physical altercation, with Katja at one point being pinned down to the floor and threatened by the man she loves. A heartbreaking tale of deadly romance that explores the conspiracies surrounding the death of Hollywood icon Marilyn Monroe, the music video demonstrates Katja's artistry fully realized and leaves the door open as to what she'll do next to further her artistic creativity. "Starseed" and "Diamonds" have already won awards, including Best Song at LAFA.
BRYNN CARTELLI UNVEILS NEW SINGLE "GIRL CODE"
WHO ON EARTH Premiere Music Video for New Single "Down & Out"
WHO ON EARTH is a band with stories to tell and experiences to share and they once again deliver them with groove and melody. Bassist and songwriter Pete Rizzi explains, "This is a song about alcoholism and drug addiction. It's about a guy who wakes up after being in a blackout. Something terrible has happened, people are screaming and crying. He doesn't know exactly what he's done and we don't actually find out but he knows that he is to blame and that the jig is finally up; he's hit bottom."
The Interrupters' Release Empowering New Album 'In The Wild' and Drop Video for "Raised By Wolves"
Today, Los Angeles band, The Interrupters has released their eagerly-awaited fourth studio album In The Wild via Hellcat/Epitaph Records. In The Wild arrives alongside the video for single "Raised By Wolves."
bLAck pARty Releases New Album 'Hummingbird' via Wolf + Rothstein/RCA Records
YLYN Announces Debut Full-Length Album 'The Sixty90s,' Shares Fearless Anthem "Liberate Me" 
With influences that range from Blondie to Black Sabbath, DYLYN (aka Gwendolyn Lewis) has created a unique style that pulls together raw, rock n' roll energy with brilliant pop hooks. Today, the alt-rock power force is excited to announce her debut full length LP, The Sixty90s, an homage to the grit of the 90s and the warmth of the 60s, which will be released on October 28, 2022, via Nettwerk. "I'm referencing two of my favorite eras, it's not confined or boxed into one or the other. The fusion revealed itself as the songwriting and production developed. It naturally took on a darker vintage yet futuristic edge" shares Gwen.
DAYSHELL Releases New Single "Letting Go"
"Letting Go" is a song written for the ones who find themselves in a toxic relationship. A relationship running on empty with no clarity in sight. Sometimes finding the strength to leave can be very difficult. But when you do find that strength, Leaving on civil terms can also be difficult. The resentment for each other can do more harm then the entire relationship itself. This song is a reminder to let it all go. To remind yourself it's ok to forgive and move forward. To wish them well in their quest for love.
– DAYSHELL
OUT NOW: HoneyLuv Releases Official Remix Of Diplo & Seth Troxler's 'Waiting For You (feat. Desire)'
Tapped by the Mad Decent label head for an official remix, HoneyLuv has put her spin on the Diplo and Seth Troxler collaboration featuring vocals by Desire. Kicking it up a notch with her classic four-on-the-floor bass stabs and rhythmic percussion, HoneyLuv's 'Waiting For You' remix is a tantalizing house heater perfect for sweaty dancefloors and festival mainstages. HoneyLuv's remix arrives as part of the deluxe edition of Diplo's self-titled album.
Out Now: French pop/rock trio OAKMAN shares brand new single "All The Way Up"
Silversun Pickups Share Music Video For New Single "Alone On A Hill"
Abounding authenticity // ANN KING releases "It comes and goes"
ANN KING offers listeners a truly unique blend of pop and R&B. Currently residing in the Netherlands, the incredibly talented singer-songwriter blends cinematic influencers with compelling creative narratives to produce music that showcases personal growth and an unapologetic appreciation for being true to who you are.
JASON BUELL RELEASES DEBUT COUNTRY SINGLE
"Light Me Up" was written by Kyle Campbell and captures Jason's love for his wife, along with their love for fireworks and fireflies. With dazzling lyrics like aren't you a sight for sore eyes, the woman of my dreams, you're the crack in my blinds that lets in the beams, listeners are sure to fall in love with Jason's debut single.
OMAR APOLLO SHARES NEW SINGLE "HIGHLIGHT"
Released to widespread acclaim, IVORY takes Omar's songwriting to the next level – crossing genre lines as well as language barriers as it showcases even greater musical diversity from the budding superstar. The album features the Pharrell Williams and Chad Hugo produced single "Tamagotchi," as well as previously released singles "Killing Me," which debuted with a television performance on The Tonight Show Starring Jimmy Fallon, "Invincible" featuring Daniel Caesar, the Teo Halm-produced single "Bad Life" with Kali Uchis and "Go Away," produced by Omar himself alongside Carter Lang and Chromeo.
Carousel Kings Release New Single "Not Settling Yet" featuring AJ Perdomo to all digital outlets!
Carousel Kings released their new emo rock collaboration track titled "Not Settling Yet" featuring AJ Perdomo (Dangerous Summer) to all major platforms! This is the fourth single leading up to their independent full length release titled Untitled Mixtape that was co-written, produced, engineered, mixed, and mastered by Grant McFarland and Carson Slovak at Atrium Audio, in Lancaster, PA.
OLIVIA O'BRIEN DROPS NEW SINGLE + VIDEO, "BITCH BACK" FT. FLETCHER
"I wrote this song after one of my best friends went through a breakup," Olivia says of the new track. "I wanted to remind her of how much fun we had together when we were both single and get her out of that breakup funk. It's a fun, carefree, and empowering song about having fun with your girls no matter what you may be down about."