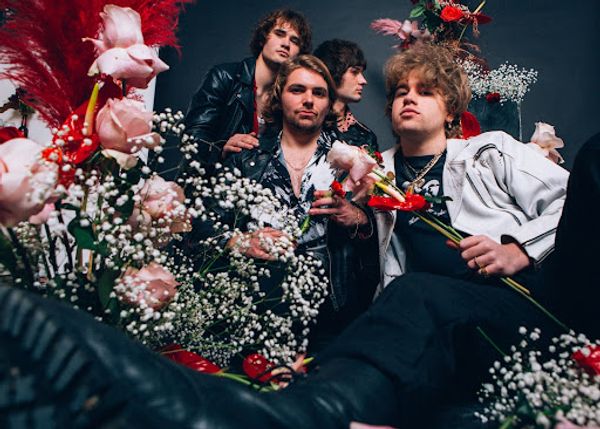 @skopemag news – wednesday – july 6, 2022 @ 8 am est
@skopemag HQ – http://smarturl.it/skope
BLUR drummer DAVE ROWNTREE releases his debut single "London Bridge"
"London Bridge" is an enticing opening statement. Deceptively bright and upbeat, with its staccato 'la-la-la-la' hook line, the music belies a lyrical sense of dread. As proficient with a synth or guitar as he is behind the drum-kit, Rowntree's innate ear for a melody is given free-reign on this scuzzy but impactful, lo-fi number.
Colyn Cameron Shares New Single "Deepfakes"
His latest single, "Deepfakes," is about this form of AI technology but also tackles the veil of capitalism that we already exist under and how this particular corner of the near future relates to the mega-marathon of consumption and distorted nature of our current priorities.
London-Based Contemporary Soul Singer MEGA Releases 'Colour My World' EP (Out Now Via Nettwerk) 
Much like rest of the tracks it features alongside on the new EP, the stunning and comforting "If Not My Heart" is empowering, specifically addressing self-trust and belief, and rising above doubt. Speaking further about the song Mega says "Often when we take on negative beliefs and opinions from others, they become our own. Learning to believe in yourself starts from within, blocking out the noise and negative voices of others and trusting and having faith in your own capabilities. This song is about the process of overcoming self-doubt and making courageous steps in the direction that we want to go in. Our opinions of ourselves are extremely powerful, and the one thing that truly matters when implementing change for ourselves."
Dylan James releases new single "Let's Talk" produced by Matt Owens of Noah and the Whale
ICYMI: BROOKLYN'S OWN LOLA BROOKE RELEASES HIGHLY ANTICIPATED MUSIC VIDEO "ON MY MIND"
easy life And BENEE Release New Single & Video, 'OTT'
'OTT' is a song about extremes, moderation, and keeping each other in check. Recorded remotely over lockdown by Murray and New Zealand pop star BENEE, it's the talk you long to have with someone who's on a self-destructive streak. While dealing with the album's central themes of regret, excess and opening up, "like most things easy life," comments Murray, "there is still that element of optimism: that perhaps with enough care and attention, something can be done. BENEE crushed it – her voice is like water and she's a real queen of melody."
Key Glock Releases Video for New Song "Diapers"
Paul Payne837 releases new music dubbed "What If" featuring Zambian female Artist Chisomo.
"What If" is a song inspired by that doubtful thought we all have when we want to take a step to greatness. Let's say you want to start a business, a podcast, a YouTube channel, create a song, maybe it's going to the gym, or telling your testimony, maybe telling your crush what you feel for them, I can go on and on!
Life is always a tussle between what you are doing and what you really want to do. Often considering that life is uncertain and because of fear of the future we do not pursue our passion. "What If", we fail. This is what stops us from taking a step further towards our dreams, career, love, and more.
Verticoli rev the engine with alt-rock single 'True Love'.
Verticoli, the three piece alternative-rock band from Tassie need no introduction. Known for delivering an absolutely killer live set, they are the perfect combination of invigorating, raucous and delightful.
B.O.B "Scenic Route" New Single!
THE VELVET HANDS — Release Video For New Single: "Holiday In My Head" || Summer Festival Shows
Arriving with a playful new video made by Callum Scott Dyson of CSD Videography, it sees animated imagery and blasts of fuzzy static nod to the band's DIY sensibilities. Reminiscent of a cut-and-paste punk zine plucked straight from the 1970s, the video sees two floating heads and hand-drawn, cataclysmic visuals put to music as The Velvet Hands deliver a broiling barrage of live-ready rock riffs. Watch the official video here:
THE MOBILE HOMES Release Music Video for Albin Myers Remix of "The Sorrow Stays For Good"
The Mobile Homes are releasing a music video for Albin Myers' remix of their track "The Sorrow Stays for Good" featuring Johan Renck. The track is taken from the Swedes' remix single 'trigger-HAPPY', which was released earlier this summer. In addition to the Albin Myers remix of "The Sorrow Stays for Good", the single also includes a remix by Pete Gleadall (Pet Shop Boys, Robbie Williams, David Bowie) on the track "Once Upon a Time I Was Handsome".
Kóboykex share new single 'Cake', a song about equality
Today, having recently returned from playing their first UK shows at The Great Escape Festival, Faroese western/electro duo Kóboykex have shared new single 'Cake'. The pair, who are set to perform at Iceland Airwaves this year, are both prominent musicians within the Faroese music scene. Sigmund Zachariassen is known for his many punk projects, notably critically acclaimed punk band Joe & The Shitboys and Heiðrik á Heygum is known for crafting the melancholic indie pop that has made him a household name on the islands. Coming from two very different musical backgrounds, together the pair create music that draws inspiration from the unlikely combination of country and electronica as well as artists like Beck, Ennio Morricone, Patsy Cline, The White Stripes, Mirwais.
The Lounge Society share new single "No Driver" | Debut album "Tired Of Liberty" out Aug 26 on Speedy Wunderground
"No Driver" follows last month's lead single "Blood Money", and once again sees the band push their sound with foot-to-the-floor intensity. It also broadens the scope of what we have previously heard the band write about. Where "Blood Money" set its sights on the disintegration of integrity in the corridors of power, "No Driver" looks at how far the mind can be pushed before it collapses and envisages a curious elation in the freedom that comes with abandoning any fear of consequences.
M(h)aol return with new single 'Bored Of Men', plus confirmed for Latitude Festival, Pitchfork Paris, and more
After releasing their critically acclaimed debut EP Gender Studies last year, today M(h)aol return with new single 'Bored Of Men'. They also announce they're set to play further festivals including Latitude Festival and Pitchfork Paris.
Muttering release the 'Modern Living' music video ahead of Debut Album, Great
Leading the way for Muttering's Debut Album, 'Modern Living' is an alt-rock anthem about all the beautiful things in life we miss because we are too busy staring at our phones. Influenced by emo and indie rock, it's a shout to millennials to live life fully.
PLASMAS – Release glimmering "See It Though" Today || + Plot New EP
Blending gauzy guitars with woozy pop vocals and glittering like a sudden beam of sunlight on a dreary day, "See It Through" is the first glimpse of new music from PLASMAS in 2022 and arrives as an alluring and infectious track well-worthy of a late-night summer singalong.
Portsmouth Indie Surf Rockers DUTCH CRIMINAL RECORD Sign To Alcopop! Records
Portsmouth, UK indie surf rock band Dutch Criminal Record are delighted to announce they have signed to Alcopop! Records and will release their new single 'Light Up' on 6th July 2022.
The single is the first peek at new material from the band since the release of their August 2021 EP It's Gonna Be OK on frtyfve records.