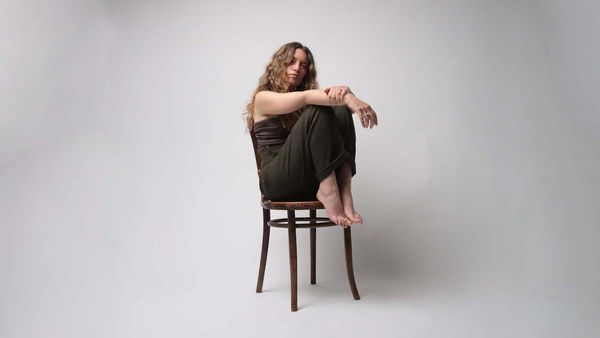 @skopemag news – wednesday – july 6, 2022 @ 3 pm est
@skopemag HQ – http://smarturl.it/skope
MEG MAC REVEALS NEW ALBUM, 'MATTER OF TIME' SET FOR RELEASE SEPTEMBER 16TH// RELEASES GORGEOUS NEW SINGLE, 'LETTER'// LISTEN HERE
Today, Australian polymath Meg Mac reveals spellbinding new single 'Letter', a gorgeous melodic pop offering showcasing Meg Mac's beautiful vocals atop a pensive piano led arrangement, produced by Dylan Nash (Dean Lewis). Building to a swelling chorus, the track serves as a wondrous testament to the soul-stirring talents that have seen Meg Mac develop a passionate fan base over the better part of the last decade.
DUTCH SINGER-SONGWRITER GILDOR INTRODUCES HIMSELF TO THE UK WITH THE NEW SINGLE 'THINKING BACK'
The folk-pop singer-songwriter Gildor writes songs with an enchanting timeless quality. Drawing on influences such as JJ Cale, Crosby, Stills, Nash and Young, and Nick Drake, Gildor proves that breezy melodies, reflective lyricism and a warm, organic live sound are qualities that still remain equally as captivating today.
UMBILICUS (Cannibal Corpse/Deicide members) release video for new single; album details revealed
DUBINSKI SHARE VAPORWAVE-INSPIRED VIDEO FOR ANTHEMIC NEW SINGLE 'MTSB'
'MTSB' is about an alternate reality, where things can be felt, heard and seen, though only understood with a shift of consciousness into another dimension. "It was inspired by the idea of a parallel reality not too dissimilar to our own", explains lead singer Eugene Gaine, adding that, "It's a world not easily accessed, with strange subtle differences that make it both familiar and otherworldly." Once in the studio the four brothers "were able to create a dreamlike sound that ultimately inspired the lyrics" by playing around with odd chord progressions, synthesizers, delay and reverb pedals, and a drum machine pattern created "on a Yamaha electone organ that we bought for £3.50," admits Eugene.
EXIT KID release new track 'Sura'
Following on from the release of May's alt-rock stomper 'Out Of Time' and their acclaimed 'Basis' EP in late 2021, 'Sura' provides another stark reminder of the group's relentless grunge-pop capabilities, with frontman Emre Türkmen's soaring vocals taking centre stage throughout.
Indie-pop rising star Alex Amor announces new EP and shares new single
(6th July) Up-and-coming London-based, Glaswegian indie-pop artist Alex Amor today announces her new EP 'The Art Of Letting Go' will be released via Young Poet (WOOZE, Khartoum, Conor Albert) on 14th October. The EP announcement coincides with the release of new single "Bad Tattoo", released today in collaboration with Manchester outfit The Deep Blue.
DAY1 unleashes his infectious summer offering "MBAPPE"
Boasting a swaggering beat and unrelenting energy, Day1 and Kahukx's collab is tailor-made to be your soundtrack for summer. As the pair mix multi-lingual bars seamlessly, Day1's signature accented sound uses his mixed Maori and Australian heritage as inspiration, blending contemporary hip-hop and melodic rap in a confident, sleek style. Dropping new visuals alongside the track, Day1's fast-rising rep is on full display as scenes of his packed-out, high-energy visualiser loop in with the party aura.
Mesmerizing Kate Bush / Cocteau Twins-esque celestial new Ruby Tingle single 'Familiars' out today!
On 1st July 2022 Audio-visual artist Ruby Tingle releases her new single 'Familiars' with No Such Thing Records, in conjunction with a solo exhibition at PAPER Gallery Manchester (11.06.22- 06.08.22).
Camp Cope Share First Ever Music Video for "Running with the Hurricane"
Melbourne trio Camp Cope are releasing their first-ever music video today for the title track of their celebrated new album Running with the Hurricane, out now on Run For Cover Records.
DEAD KENNEDYS deliver fresher "Fruit"… Classic album remixed by Chris Lord-Alge
Dead Kennedys' classic 1980 album Fresh Fruit For Rotting Vegetables has been remixed from the original multitrack tapes by Chris Lord-Alge (Chaka Khan, Green Day, Bruce Springsteen). The band's debut album (original release date: September 2, 1980) is politically incendiary while also wholly musically adept – provocative and often idiosyncratic agit prop lyrics bouncing off of careening, adrenaline-infused musicianship. So it's only natural that the 40th anniversary re-release of this classic album is revisited by the GRAMMY winning mix engineer Chris Lord-Alge. Fresh Fruit For Rotting Vegetables – 2022 Mix will be available September 30, 2022 via Manifesto Records and available for pre-sale.
Carmody releases debut album 'Imperfect Constellations'
Imperfect Constellations follows Carmody's 4 previously released EPs and her 2014 collaborative EP with Tom Misch, 'Out To Sea'. Tom Misch returns to feature on Imperfect Constellations alongside Alfa Mist and Laura Misch, as well as co-writes and co-productions with Rahm Silverglade (of altopalo), Avi Barath (Berwyn, Priya Ragu, Pa Salieu) Calum Duncan (Rachel Chinouriri, Alaskalaska) and Conor Albert.
WITNESSES Release "Cloistered In Purfleet" Lyric Video At Decibel Magazine
WITNESSES, the cross-genre project of multi-instrumentalist Greg Schwan, has released a lyric video for his haunting song "Cloistered In Purfleet" via Decibel Magazine. The track is from the upcoming The Holy Water EP which will release on July 15th, 2022.
Greg comments: "Cloistered in Purfleet is the complement to Borgo Pass, and it's my take on Stoker's Mina Harker character. This song pushes further into the atmospheric side of Witnesses, which was a goal for the EP overall. I hope you enjoy it."
Tommy Newport New Single & Tour w/ LIME CORDIALE
Tommy Newport is known for his irresistible falsetto-steeped indie anthems, garnering a substantial buzz with his 2018 debut, Just To Be Ironic, while he was still a teenager. Following the paramount success of 2019's Tommy Gun EP and 2021's Ultra Mango EP and Liquid EP, Newport continues to develop his euphonious sound.
HARRY & THE KANES Reveal New Women's Euros 2022 Anthem 'I Wanna Be A Lioness'
International supergroup Harry & The Kanes are pleased to reveal their new single 'I Wanna Be A Lioness' set for release on 6th July 2022 via Alcopop! Records.
Mayday Parade Share "Thunder"
Alternative mainstay Mayday Parade have shared their new energetic single "Thunder," ahead of kicking off touring festival Sad Summer this Friday. The track, produced by multi-Platinum music producers Zack Odom & Kenneth Mount, is an outtake from the band's 2021 studio album What It Means To Fall Apart.
Multi-Platinum songwriters Banx & Ranx and JP Cooper bring the heat with sensual summer single 'Fire'
Ottawa Rockers TAMING SARI Get Vulnerable in a Hyper-Exposed World with Supercharged "No Shelter"
Canadian rock/blues band Taming Sari releases their rippin' new song about being vulnerable in a hyper-exposed world where there are fewer places to hide with the supercharged new single, "No Shelter" — available now!
Reckling (mem Paramore, FIDLAR, Together Pangea) Announces New EP, Shares "In My Hair" Single + Video via Buzzbands.LA | 'Human Nature' EP Out 8/12
Los Angeles punk-leaning four-piece Reckling (led by Kelsey Reckling) is back with the announcement of their forthcoming EP, Human Nature. The new project is introduced with the release of its first single, "In My Hair," released alongside an accompanying music video directed by Ambar Navarro.
OUT NOW: GRiZ Releases New Single 'Feel No Pain' Ahead Of GRiZMAS In July
First debuted last month during GRiZ's headline set at Electric Forest, 'Feel No Pain' is a vibrant combination of GRiZ's classic funk and dubstep influences. Riddled with groovy basslines and lush saxophone melodies, "Feel No Pain" is highlighted by the iconic 'Trenchtown Rock' line "One good thing about music, when it hits you feel no pain". Capturing the energetic essence of the dancefloor, 'Feel No Pain' takes fans on an enchanting sonic journey.
Claude Premieres New Single/Video "roses" via FLOOD Magazine — Debut Album 'a lot's gonna change' out August 12 via American Dreams
Claude—the Chicago based existential dream pop solo project of Claudia Ferme—today shared "roses", their second and final single off their upcoming debut full-length, a lot's gonna change, produced with Michael Mac (Tenci, Tasha, Devin Shaffer, Mia Joy) and out August 12th, 2022 via American Dreams Records
Consciously Dying Releases New Single "Denial" + Official Music Video; Debut Album 'Bereavement A Guide To Loss & Grief' Out Now!
Stand Still announce In A Moment's Notice EP out July 20th on DAZE / Triple B Records
Today, Long Island, NY-based band Stand Still have announced their sophomore EP, In A Moment's Notice, set for release July 20th on DAZE and Triple B Records. Sitting somewhere between melodic hardcore, emo, and pop-punk, the band puts forth an enticing sound and high-energy on the three songs found on the record. Lead single "Loose Ends" perfectly captures Stand Still's persona, highlighted by infectious hooks and textured guitars. The video for the track takes cues from those released by alternative bands in the 1990s, cutting through surreal imagery and a lively performance.
Liz Cass releases 'Shaken' lyric video
26AR SAMPLES STYLES P IN NEW TRACK 'WALK EM'
MR WA7T RELEASES NEW SINGLE "GIMME SOME OF THAT HIGH"
Today sees MR WA7T release his latest single "Gimme Some of That High" taken from his recently released debut solo album "No Thread Leads Back to the Heart".
The new single is another slice of electronic pop perfection from the breakthrough artist – produced, composed and performed solely by MR WA7T. The single is taken from his debut album which made a splash this spring after peaking at #5 in the Alternative Albums Charts on iTunes as well as climbing up to #32 on the albums chart.
THUY TAPS R&B STAR RINI FOR NEW SINGLE "TRUST" FIRST TRACK OFF UPCOMING PROJECT
Today, Vietnamese singer-songwriter thuy (pronounced twee) and RINI join forces to create the perfect soundtrack for a summer romance with "trust" – her second release this year, following the deluxe edition of her critically-acclaimed debut EP, i hope u see this. "trust" comes on the heels of her show-stopping performance at the Unity March in Washington, D.C. last month.
Homeboy Sandman & Aesop Rock – Lovin' It
Homeboy Sandman announces the deluxe edition for his 2021's Anjelitu is due out July 29th on Mello Music Group. Sand reunites with his Lice affiliate to revitalize the acclaimed project with two bonus tracks along with the Aesop Rock-produced instrumentals. With the announcement, Homeboy Sandman unveils one of the bonus songs, "Lovin' It."
Arthur King Shares New Video "Caminando" via Foxy Digitalis — LP Changing Landscapes (Mina Las Pintadas) out 07.22.22
The video, filmed deep inside a Chilean mine, was shot by Aaron Farley and was edited by Oliver Franklin Anderson. Of the video Anderson states, ""I wanted to find a way to give the photos a holographic feel, and project them into what feels like the physical space of the mine shaft using the simplest techniques possible. After some experimentation I landed on a method that elicits the right psychedelic effect, and lets the song pull the images and hopefully the viewer through the bedrock."
Nu-punk band Cherie Amour shares ambitious single & video "Love's Not Your Thing"
Today, Baltimore-based quartet Cherie Amour released their new single and video "Love's Not Your Thing" via Equal Vision Records. Their second follow up to acclaimed 2021 debut EP Internal Discussions, the band is back flexing their signature "nu-punk" sound, expertly combining elements of pop-punk, R&B, hip-hop, and metal. Produced by Alan Day (Four Year Strong), the track stands out with huge, radio friendly production and bombastic electronic elements.
SAM ASTAROTH Releases "Demoncore"
SAM comments: "Demoncore is the definitive song I have written to represent me, my music and my message. Combining my favorite genres from Dark Trap to Industrial to Black Metal and influenced by some of my favorite artists from Ghostemane and $uicideboy$ to Ho99o9 and Ic3peak to Slipknot and Mayhem, Demoncore is my statement for unapologetically being yourself. No matter what gender you identify as, what your sexuality is, which race you are, what the color of your skin is, what's the size of your body, where you stand in society and what culture you are a part of. I stand with you to let you know to be proud of who you are. No matter what opposition you face, I encourage you to spawn the dark nature within and shine your unique light upon the world."
Alivenique's "Cachaça", Out Today via Lightning Studios
Cachaça, Alivenique's latest single, bridges Alivenique's passion for a late night party, and her sense of wanderlust we heard in her debut record Legends under her own name, only more extroverted and sonically standing you on your ear (as well as if you've been following her fun and meandering adventures on Instagram).
Tino – New Album 'interpreting clouds' out July 15th on sound as language / New Single "For The Stratus Family" Streaming Now
Santino Gonzales, who records music under his nickname "Tino," is an artist from Los Lunas, New Mexico. Moved by the landscape of his childhood, Tino uses ufology, adobe, & radio to investigate cultural attitudes around the fear of alienation & the desire for connection. Lately, Tino has been exploring how these interests relate to ideas about home.
dayaway (mem. CLAVVS) Share "beach 90th" Single + Video via CHORUS.FM | 'dayaway' Debut EP Due August 3
Today, NYC-based dream pop band dayaway (mem. CLAVVS) share their newest single "beach 90th." The track comes off their forthcoming self-titled debut EP, due August 3.