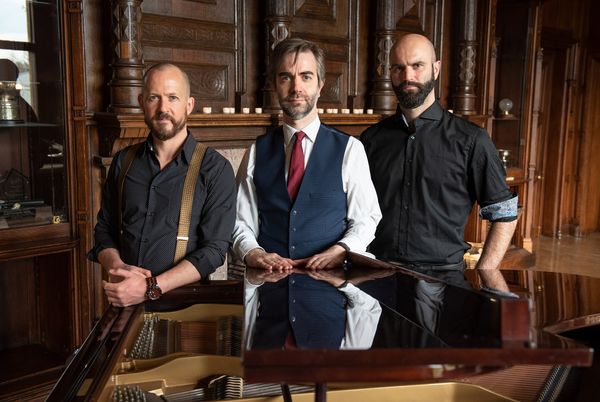 @skopemag news – monday – july 4, 2022 @ 12 pm est
@skopemag HQ – http://smarturl.it/skope
Belgian Dream-Pop Single, Released Today
Turquoise are a young band from Brussels, Belgium. They have grown up with nostalgia for an era they did not know: the '80s. The persistent visions of The Durutti Column and Cocteau Twins have instilled memories among Turquoise's members, of a blue-tinted VHS nostalgia — a little faded but still romantic, which leads to the name of the group.
Guided By Voices Share New LP | Read the UPROXX, The AV Club, Brooklyn Vegan, Grammy Features | 'Tremblers And Goggles By Rank' LP Out Now via GBV Inc
Today, Guided By Voices share their second album of 2022, Tremblers And Goggles By Rank, out now via GBV Inc.
Tremblers And Goggles By Rank marks a new phase in Robert Pollard's songwriting evolution. His songs have always included non-traditional approaches to form and song structure, but with this album, he has pushed it further than ever. While the familiar Guided By Voices pop-craft and melodic virtuosity always occupies center stage, the first-time listener will never be able to predict what's coming next in a song.
HUGEL Bridges the Gap Between House and Reggaeton on New Single "Tamo Loco" With Lorna and Jenn Morel on Insomniac Records – Out Now
Portugal-based producer HUGEL returns to Insomniac Records with his sophomore single "Pra Nao Dizer." On his follow-up single "Tamo Loco" he teams up with Panama singer Lorna and Dominican Republic-based reggaeton artist Jenn Morel on a Latin house record fueled by sultry Spanish lyrics, slick drums, bouncy basslines and sexy sax melodies filling out the breakdown. Lorna's big hit "Papi Chulo" break into the top 10 in France, Italy, Belgium, Netherlands. Jenn is a platinum-certified rapper from her single "Ponteme." Hugel broke into Latin house space w/ singe "Morenita," which has amassed close to 40 M streams
Passing along the assets below in case you're interested in covering this one for us.
Artist: HUGEL, Lorna, and Jenn Morel
Title: Tamo Loco
Label: Insomniac Records
Genre: Latin House
Release Date: July 1
Near Beer Shares "Dead Drummers" Single via Beats Per Minute
Los Angeles-based indie rock band Near Beer — Joey Siara (vocals, guitar), Brent Stranathan (drums), Jeremy Levy (bass, backup vocals) — have shared a brand new single entitled "Dead Drummers." It comes off their self-titled album, due July 15, 2022 via Double Helix Records. The band describes their forthcoming album as a set of "mini-anthems about insomnia, drinking, and human connection. Sometimes cynical. Sometimes romantic. Always with loud guitars."
Near Beer memorialize friends lost via the divinely raucous "Dead Drummers"
Prolix Digs Deep Into Desire on Furious Drum & Bass Single "Everything" on Bassrush Records
UK-based producer Prolix returns to Bassrush Records after his previous single "Mind Rush" in 2020. On "Everything," the venerated drum & bass artist assembles a mental neuro-fueled track powered by haunting vocals, cinematic pads, breakneck drum patterns, and lysergic synth riffs that growl and gurgle in a furious manner. Prolix has collabed with top-tier talent Noisia, Misanthrop, Icicle, as well as remixes for Chase & Status, Black Sun Empire, Ed Rush & Optical. Repeat support on BBC Radio 1.
Artist: Prolix
Title: Everything
Label: Bassrush
Genre: Drum & Bass
Release Date: July 1
MILE Release New Single & Video "Dear Mr. Sandman"
Swedish Melodic Metal band MILE proudly release their second single "Dear Mr. Sandman", which is taken from the upcoming album "A Shattered Mind" due for release via Wormholedeath.
The band, speaking of the single: "Have you ever wished that you lived in a dream? This song is about asking the Sandman for a place where everything is clear and happy but then realizing that it is the real world and your real life that really matters. It is time to break free and live your life."
PROJECT RENEGADE – single "Bloodwitch" from upcoming album "Ultra Terra"
"Bloodwitch" is the second single by Project Renegade from the upcoming album "Ultra Terra", released on June 10th, 2022.
Following Jazz FM Track Of The Week, Rich Meehan Trio Return With New Single 'Gymnopedie'
Jazz newcomers, Rich Meehan Trio return with the stunning new single 'Gymnopedie'. The second single to be taken from the upcoming EP 'Suite Antique', 'Gymnopedie' follows the trio's debut release 'Prelude' which saw them gain major support from Jazz FM (Dinner Jazz track of the week) as well as support from the likes of Backseat Mafia and BBC Introducing.
Mexico City's Todd Clouser releases "So Far From God, So Close to the USA" produced by Jesse Harris (Norah Jones)
For his Secret Sun release "Time is a Healer", Mexico City's Todd Clouser, called "a fascinating musician" by NPR, returns to his voice as singer/songwriter, offering a collection of 10 pieces that run deep into introspection and new love. "Whole Bunch of Drugs", featuring indie hero Tōth, recounts the trials of maintaining sobriety while songs like "So Far From God, So Close to the USA" find Clouser reflecting on his adopted Mexico City home. The final track, "On Our Own" sees Todd "waiting out the waves to make you my man", illuminating what this record was all along – a love story. "Time is a Healer" was produced by Jesse Harris (Norah Jones, Willie Nelson) and recorded in Testa Studio in Leon, Guanajuato, Mexico.
ELIZZA DROPS NEW SUMMER SINGLE 'DOWN FOR THE RIDE'
Judah The Prince (Krumbsnatcha) – Saint Judah [Album]
In an era of ego fuelled vanity projects Judah The Prince [Krumbsnatcha] delivers an introspective view of life from an artist who recovered from rock bottom. In preparation for the overdue release of Iron Lion of Zion, Judah The Prince releases Saint Judah an album continuing his mission of spreading uplifting, thought provoking Hip-Hop to a world in need of positive energy and healing. Judah The Prince was baptised on Feb 27th this year, this is his testimony…
MEDIA RELEASE:: KAV TEMPERLEY SHARES NEW SINGLE AND VIDEO 'GRADUATION DAY' FEAT. KATY STEELE + ANNOUNCES PART 1 OF EPIC AUSTRALIAN REGIONAL TOUR
Two Aussie music legends collide in stirring fashion via Eskimo Joe frontman Kav Temperley's latest solo outing, with Kav teaming up with Little Birdy's very own Katy Steele for the charming new single Graduation Day. Releasing today alongside an equally blissful accompanying music video, Graduation Day is a sparkling addition to Kav's impending new solo album Machines of Love & Grace which is set for release in September. And new music isn't the only surprise for fans in 2022, with Kav also revealing part one of a huge regional Australian tour kicking off in Exmouth, before hitting Bendigo, Tallarook, Warrnambool, Newcastle, Gosford, Illawarra and Canberra.
Killer Mike's "RUN" [Feat. Young Thug and Dave Chappelle] First Single in 10 Years on Loma Vista/Concord
Killer Mike has released his first solo music in over ten years with "RUN"; a song and video that reframes American history to include Black history as a part of the nation's history. The song, which features a verse from Young Thug and an iconic production by NO I.D., arrives paired with a stunning visual, portraying the fight for freedom in a captivating, visceral context, augmented by an intro monologue from Dave Chappelle inspired by the song's themes. Directed by Adrian Villagomez, "RUN" represents the Just against the tyrannical, Black people and allied people up in arms together rising against the Nazi-esque secessionists that want to take the country back into the confederacy.
ALMA RELEASES NEW SINGLE 'EVERYTHING BEAUTIFUL' – WATCH THE VIDEO HERE
Back with a crunchy bass-line and her stunning trademark synths, Alma's all-new single "Everything Beautiful" is indeed a moment of pure, light-headed bliss, a powerful summer anthem and the ultimate soundtrack for painting the town red: "Everything beautiful dies is my way of saying that I care and I'm here to learn – but I also sometimes just wanna close my eyes and be naive and stupid. Cause that's life," says Alma.
MIYA MIYA for SKOPE: Rising UK pop band release anthemic new single
Adding to their catalogue of epic anthemic tunes, this latest track is an explosive guitar-pop banger exploring the frustration built from a toxic love. Since first giving fans a taster of the single over on TikTok, the much demanded release of "H8 Me 2" has run up 11M+ views from teaser videos. Fresh, creative and uniquely talented, this powerhouse group continue to build their reputation as the ultimate pop band, matching stunning vocals with undeniably catchy tunes.
Lasse Matthiessen brings a 'Stranger Things' vibe to summer indie hit 'Emotional'
The song thrives on a modern, sensuous-driven electronic production that beats with an 80's heart. There's a constant sense melancholy seeping into the track – contrasted by Lasse's intimate baritone voice. It's amazing!
OUT NOW // Coventry rap riser Mugun returns with new single 'Old Testament'
Coventry is quite the city, isn't it? An unsung goldmine of the music world, the city has spawned many coveted rappers and musicians alike. From rappers Pa Salieu and JAY1 to the band Easy Life and legacy acts like Y2K star Punjabi MC — the stonework-laden city clearly has lots to offer. That's where Mugun comes in.
WYLDERNESS – Swirling New Single: "Chet Chat" – out now || Second Album – out 15 July
Arriving as a third and final glimpse into their upcoming sophomore album, Wylderness have unleashed a scintillating new shoegaze cut: "Chet Chat".
Boasting their knack for creating sprawling soundscapes and deeply textured instrumentals, Wylderness' latest offering arrives as the band gear up to release their long-awaited second album 'Big Plans For A Blue World' (out 15th July, via Succulent Recordings).
AISHO NAKAJIMA RELEASES NEW SINGLE "DLB"
Today sees the Japan's multidimensional uprising pop sensation Aisho Nakajima release his new single "DLB", out now via Avex Entertainment. The hip hop, rap and hyperpop-inspired single is taken from many more of the upcoming songs throughout the year by the rising sensation. Coinciding with Aisho's 25th birthday, DLB music video is out to be served, too.