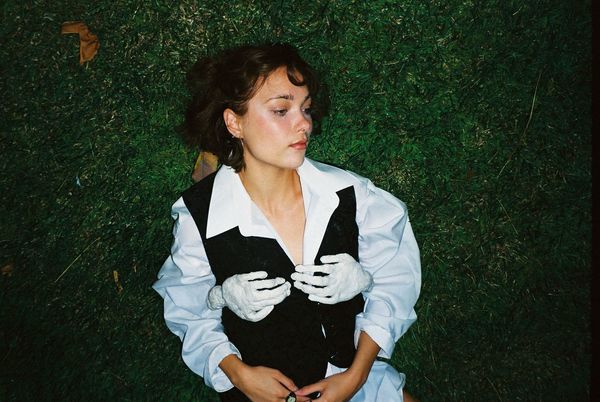 @skopemag news – wednesday – june 29, 2022 @ 5 pm est
@skopemag HQ – http://smarturl.it/skope
m8riarchy releases sex-positive dance floor banger 'Body'
Aptly named Naarm/Melbourne based artist and producer m8riarchy commands the speakers & stage with her enrapturing vocals and extensive resume.
Her latest single 'Body' journeys through sexuality, self-expression and freedom. It's an invigorating and playful celebration of all things vulnerable. Channeling the likes of Calvin Harris & Robyn, 'Body' signals the high energy & spirit of classic dance-pop anthems.
Newcastle's dust return with new single 'The Gutter'
Threading moments of frustration, introspection and catharsis through wickedly arranged post-punk sounds, Newcastle's dust have been taking strides in solidifying their presence since breaking out at the beginning of 2021.
The band continues to show their evolution with new single 'The Gutter', out now. Full of captivating rhythmic moments and driving guitars, 'The Gutter' is a great insight into dust's take on contemporary Australian post-punk.
Moonshade Unleash "Artemis" Single
After releasing the singles 'Epitaph' and 'Blood Of The Titans' and 'Everlasting Horizons', 'Artemis' is the fourth single from Moonshade's sophomore album. The song features lyrical singer Sandra Oliveira (Blame Zeus, Perennial Dawn) and is be available on all major streaming platforms.
Matt Mitchell & The Coldhearts Release "Someone New" Music Video, The Voice Of Pride, Furyon & Colour Of Noise
UK classic rockers MATT MITCHELL & THE COLDHEARTS have released a music video for their new single 'Someone New', the track is taken from the sophomore album 'Mission', which will be out on July 29th, 2022. MATT MITCHELL is the former singer of PRIDE, FURYON and COLOUR OF NOISE. The YouTube video can be viewed here:
DERMOT KENNEDY ANNOUNCES BRAND NEW ALBUM 'SONDER'
The announcement of 'Sonder' has been highly anticipated by fans and critics alike since the global success of his million-selling, number 1 debut album 'Without Fear'. The title 'Sonder', the encapsulating phrase for "the realisation that each random passerby is living a life as vivid and complex as your own", instantly resonated with Dermot and transformed into the perfect way to tie up a feeling in a record.
Quinn Christopherson shares song & joins Sharon Van Etten, Angel Olsen, Julien Baker on The Wild Hearts Tour
The news is perfectly timed with the announcement of his highly anticipated Bullion produced debut album, Write Your Name In Pink, to be released by Play It Again Sam Records / PIAS on September 16th. It's a groundbreaking record and a masterclass in songwriting and storytelling alike.
Richie Quake releases hotly anticipated debut album, 'I Want Some!,' out today via Mass Appeal
The modern mouthpiece of the New York indie renaissance, singer-songwriter/producer Richie Quake today releases his debut album I Want Some! via Mass Appeal. Deeply ingrained in the creative scene of his Lower East Side neighborhood, this project functions as a portrait of creative collaboration and pulling up your community. I Want Some! is available for streaming today on all DSPs.
Juli Chan gives us powerful POP on "Not A Crime"
Polish rising pop name Juli Chan has just delivered her fresh new anthem "Not A Crime".
The sepia-tinged music video gives an air of mystery to Juli, who wrote the song in collaboration with Swedish producers, giving the song an irresistible Euro-pop energy. An iridescent track with larger than life synths and blissful vocal deliveries, fans of the likes of Zara Larsson and Anne-Marie will relish Juli's chart-worthy sound.
Ambient Producers Psycho & Plastic Release Mystifying 'Fragile Targets' Video (FFO: Brian Eno, Ólafur Arnalds and Nils Frahm)
NYC's much-tipped Momma share "Motorbike" | New album "Household Name" out this Friday, July 1st on Lucky Number
Brooklyn-based band Momma – led by singers/guitarists Etta Friedman and Allegra Weingarten – today released their latest anthemic earworm "Motorbike", the final single ahead of Friday's release of their highly anticipated new album "Household Name" on Lucky Number.
Alt-Pop Artist Abby Sage Shares New Single "Pool Party" + Music Video 
Today, LA/London based alt-pop artist Abby Sage shares her new intimate and thought-provoking single "Pool Party," accompanied by an experimental music video directed by Aidan Dick. The visuals exemplify how often young adults must hide behind an invisible mask to get through the day-to-day runnin' around that no one prepared them for. Both honest and utterly relatable, Abby Sage arrives with a new perspective on the contemporary world, for better or worse.
DAGR x Rebecca Black x LVL1
"Cafe Racer" opens with LVL1's Spanish rap verse over a thumping filtered house beat as they beg for a ride on a motorbike. The chorus makes a sharp turn with stark 808s & engine revs as queer pop icon Rebecca Black takes control like we've never heard her before, leaning into her Mexican-American heritage in the spirit of the bilingual track. The buzzing, ever-building DAGR production pierces even the most fried brains at the club. "Cafe Racer" is an unapologetically sexy anthem that is set to become a staple on the dance floor this summer.
CAESAR SPENCER – Releases New Single: "Waiting For Sorrow" Today || Announces Autumn Album
Today, CAESAR SPENCER announces the Autumn release of his new album: 'Get Out Into Yourself'. Primed for release on the 4th November 2022 (via New Radio Records), it will present 11 tracks of cinematic baroque-pop and classical songwriting imbued with a warm feeling of familiarity while also defying easy categorisation.
Danny Elfman Announces Bigger. Messier.
Today, Danny Elfman has announced Bigger. Messier. – a brand new genre-defying album of remixed and reimagined versions of songs from his acclaimed 2021 record Big Mess. Comprised of collaborations and guest vocal features from a sprawling array of artists including Trent Reznor, Iggy Pop, HEALTH, Kaitlyn Aurelia Smith, Zach Hill of Death Grips, Xiu Xiu, Squarepusher, Ghostemane and many more, the 21-track project brings the songs of Big Mess to life in a completely new light while marking the first time Elfman has ever released a remix collection of his work on this scale. Available in vinyl, CD and digital formats, with two exclusive bonus tracks featured on the digital edition, Bigger. Messier. will officially be released August 12th, 2022 via ANTI- / Epitaph Records.
Momma Share "Motorbike" Single Ahead of New Album Out Friday via Polyvinyl Record Co./Lucky Number Music
Brooklyn-based band Momma—led by singers/guitarists Etta Friedman and Allegra Weingarten— today released their latest anthemic earworm "Motorbike," the final single ahead of Friday's release of their highly anticipated new album Household Name via Polyvinyl Record Co. in North America (Lucky Number Music for the R.O.W.). The track is accompanied by an Emma Penrose & Zack Shorrosh-directed video, which mirrors the song's themes of romantic fantasy. "I wrote this song about a boy I had a crush on who really wanted nothing to do with me," explains Weingarten, who sings lead vocals on "Motorbike." "The song is basically just fantasy—even though it's about a real person, it's also about how we can make up elaborate ideas of who other people are in our heads, and get so caught up in these fake scenarios that they kind of end up feeling real. I wanted the song to feel like you're escaping something, because my daydreams about this boy and his motorcycle were definitely an escape from my life at the time."
SAM ASTAROTH Releases "Demoncore"
Sam Astaroth (Formerly of Astaroth Incarnate) has released his new single "Demoncore" on all streaming platforms today. Drawing influences from a wide array of sources including GHOSTEMANE and $UICIDEBOY$ to HO99O9 and SLIPKNOT. "Demoncore" explodes with an inhuman savagery entwined into the dynamic cross-genre sound.
Sam comments "Demoncore is the definitive song I have written to represent me, my music and my message. Combining my favorite genres from Dark Trap to Industrial to Black Metal and influenced by some of my favorite artists from Ghostemane and $uicideboy$ to Ho99o9 and Ic3peak to Slipknot and Mayhem, Demoncore is my statement for unapologetically being yourself. No matter who is against you and what opposition you face, I encourage you to spawn the dark nature within and overcome all that stand in your way."
Fiery transatlantic Mauvey delivers shimmering new alt-pop single 'CURFEW'
Julian Rose Drops "How Deep" Music Video
Fresh off the release of his debut EP, Los Angeles-based artist, songwriter and multi-instrumentalist Julian Rose is back with the music video for the EP's title track, "How Deep."
Julian broke out last month with his 3-track debut EP, 'How Deep,' which he made with producer extraordinaire, Bret Epic Mazur. While many know Epic from his band Crazy Town, many don't know that Bret is not only an artist himself but also a producer who has helped develop some of the biggest names in music (Black Eyed Peas, New Edition, BBD). Speaking about his working with Julian, Bret writes, "there is something timeless and iconic about Julian Rose, something just as bright and unique as any of the mega stars I have been involved with. The kids got it."
ELISSA MIELKE ANNOUNCES NEW EP 'MOUSE'
Canadian singer-songwriter Elissa Mielke has announced her new EP Mouse, coming August 26 on slashie / Mom + Pop. The news arrives alongside the first single, "Paper Moth Flame" , a tender, emotional offering equipped with an intimate video directed by Canadian filmmaker Laura-Lynn Petrick. Elissa's vocals, both heart-wrenching and graceful, complement a series of intimate & vulnerable shots of her life shot on film –– also featuring Merlin, a young boa constrictor she befriended in Toronto. The end result paints a bravely transparent image of the rising songwriter, a reflective image that exudes beauty and growth.
CAKES DA KILLA UNVEILS NEW SINGLE & VIDEO
Cakes Da Killa is back with a new single "Sip of My Sip" (featuring "Break My Back" rapper Sevndeep), his first new music since MUVALAND, Vol. 2 which came nearly a year ago. On the new track Cakes brings a flow that is dizzyingly complex, packed tightly with brags, insults, and punchlines. He notes:
ZYAH BELLE UNVEILS NEW SINGLE "DND"
Of the single, Zyah shared, "This song reminds me not to care too much! Living life on 'DND' means being carefree and always accepting of myself! It just feels good! I believe that the energy I invoke while creating can be transmuted to whoever is listening. So, whether you twerk or two-step, you can't listen to this song and not move your body!"
The Paranoyds announce LP & share first track + video: "Lizzie" via Third Man Records; Upcoming shows with Jack White
Soulful, KaiL Baxley, Releasing New Single "Coyotes"
"He could literally sing the phone book and bring you to tears." The warm, raspy, honey-soaked voice of a troubadour lived well beyond his years. His is a story with many layers and moving parts. The classic breed of the folk hero born poor in the rich southern soul of a small South Carolina town. But Baxley would have none of that. A humble quiet type that sums his accolades up to over sensationalism. The outlaw parents, the impoverished youth, the golden glove medals, the gunshot wounds. He refers to them as over-glorified and "not much worth looking back on." It's the sap at the core of a solid oak. A well that runs deep and plentiful. And the curse and blessing of those true songwriters that come ever so seldom a generation.
MISS MAY I Premieres "Earth Shaker" at Metal Injection Today – The Curse of Existence Tour Starts September 1
"'Earth Shaker' is our self description on the ones who are motivated to get themselves out of the 'mayhem' they are experiencing. Everyone out there has reached the breaking point where enough is enough and the time comes to make a change. Sometimes that change can make ripples in your life and redirect you to a new path, but its still forward and that's what matters. Even when it feels like there is no where to go you can become an 'Earth Shaker' and make your own quake in your life." – Levi Benton
Dallas Riser Numbaa 7 Recruits Babyface Ray for Soulful "Difference" Single
Following the footsteps of the late Mo3, Dallas rapper Numbaa 7 impresses with his Texas-fried brand of soulful trap. Echoing his mentor's famous sentiment–"everybody ain't your friend"–Numbaa 7 shares "Difference," his new single. Produced by Dallas stalwart Rob Stovall, "Difference" combines mournful piano with guitar, organ, and wailing saxophones to provide an ideal canvas for Numbaa 7's drawly croon. Numbaa 7 counsels listeners to watch the people close to them for signs of their true intentions, while guest Babyface Ray warns aspiring VIPs to watch out for "cool-ass n****s." "Difference" is the newest glimpse of Diary Of A Steppa, 7's next album, coming July 15th via EMPIRE.
Dawson Fuss Inspires Confidence With New Single "Upper Hand"
18-year-old indie-pop singer-songwriter Dawson Fuss has released his newest single, "Upper Hand." With bright vocals and powerful, catchy guitar riffs, the track is a rock-tinged anthem for staying above petty disagreements. "Upper Hand" is available to download and stream on digital platforms worldwide.