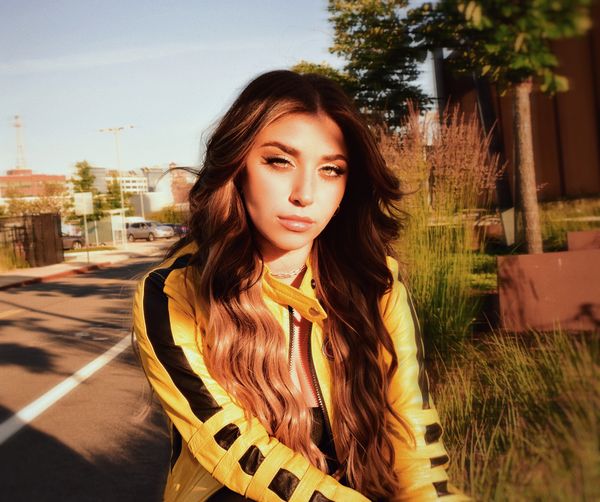 @skopemag news – monday – june 27, 2022 @ 2 pm est
@skopemag HQ – http://smarturl.it/skope
Sub-X drop remix of Marvel Riot & Celina Sharma single 'Say You Want It'
Mysterious production duo SUB-X have remixed Marvel Riot and Celina Sharma's collaborative single 'Say You Want It', out now via Lift Me Up Records.
Pumped up and positively fizzing with dancefloor energy, the Sub-X remix of 'Say You Want It' has serious potential to become one of the biggest tracks of summer 2022. Following on from Henry Daniel's tech bomb 'Shake That', the original was the second in a series of tracks that Lift Me Up plans to release. With its founding mission to put amazing dance music in front of people – from crossover dance records to club focused tracks – the label will be a positive place for like-minded individuals to come together and collaborate.
VIDEO: Isobel Campbell's honey-like vocals feature on aching SON PARAPLUIE French pop masterpiece!
SUSPYRIA ERUPTS CAPTIVATING VIDEO FOR ENTRANCING SINGLE "THE DAMAGE"!
Toronto based indie-rock juggernauts MONOWHALES release "StuckintheMiddle"
The Toronto based band, made up of vocalist Sally Shaar, guitarist Zach Zanardo and drummer Jordan Circosta, let rip a tiddle wave of catharsis on this explosive track exploring lead singer Sally's complex relationship with self-identity. Through the unrelenting guitars and thumping drums, Sally screams out her spite, angst, and rage in hopes of growing self-aware enough to set herself free.
Ambient Producers Psycho & Plastic Release Mystifying 'Fragile Targets' Video (FFO: Brian Eno, Ólafur Arnalds and Nils Frahm)
Derry Punks PARKER Reveal Debut Single 'Never Miss' Released 27th June 2022
Derry-based Northern Irish punk newcomers PARKER are pleased to reveal their debut single 'Never Miss' which is set for release on 27th June 2022.
OUT NOW: Johnny Hunter release their triumphant debut album 'Want' + music video
Johnny Hunter are the all-singing, all-dancing Australian outfit dwelling at the intersection of punk and cabaret. Their debut album 'Want' is a journey through suffering to solace, learning to accept and welcome the tentativeness of life.
New Music: "Go Girl" ft. Jim Jones, Dyce Payso and Keen Streets
It's about to be a ByrdGang Summer! Jim Jones and ByrdGang 2.0 members Dyce Payso & Keen Streetz are starting things off with their new single "Go Girl" off the forthcoming Byrdgang 2.0 full-length project. "Go Girl" is a classic uptown NY record sure to make the streets go wild and the strip clubs go crazy as the weather gets hotter. Dyce sets the tone with an easy-breezy chorus, while Jim & Keen kick cool bars like running under a hydrant on a hot summer day. "Go Girl' is produced by Cover Cod (Fat Joe, Benny The Butcher, Maino).
RACHEL GRAE DROPS HER EAGERLY AWAITED VIRAL SENSATION 'FRIEND LIKE ME'// LISTEN HERE
Rachel Grae has unapologetically exploded to the forefront of global attention in recent weeks on TikTok. The New York based artist recently dropped a snippet of a song idea on Tiktok which rapidly caught fire after fans sent the singer's post viral, racking up 7.3M views and 1.5M likes to date.
NEW MUSIC: Pop Songstress Sabrina Monique Unveils New 'Sideshow' Video [FFO: Dua Lipa, Ariana Grande and Bebe Rexa]
Spring Summer Shares New Single/Video Ft. James Iha (The Smashing Pumpkins) "Show Yourself Out," New LP 'T.E.A.R.S' Out 7/15
Spring Summer, the musical moniker of San Francisco-based artist Jennifer Furches, today shared her soaring, infinitely catchy new single "Show Yourself Out"—co-written and produced by James Iha (The Smashing Pumpkins), who also played guitar and additional instrumentation on the track. "The song came from learning about a helpline The New York Times had set up for exhausted parents during the pandemic," explains Furches. "I listened to some of the calls and they were so desperate—mostly mothers but some fathers, wailing in this primal way—and I channeled some of that feeling into the song." She has also shared an accompanying video, directed by Fernando Cardenas and featuring a cameo by Iha. "I moved to LA in my early twenties and have so many memories of driving through the hills with a car full of friends, windows open, searching for the next fun place to go. It's a life so removed from where I am now, but that freedom you feel with the wind in your hair, back in a familiar place, never really goes away. (Is that why so many mid-life crises culminate in a convertible purchase?)," Furches says. "In some ways this record is an ode to that time, so driving around the Hollywood hills with my old friend Fernando—in the car of my old friend Tennessee—felt like a proper tribute."
postcards from new zealand release video for "inana"
"inana" is the new single with visualizer from anonymous project postcards from new zealand. Landing ahead of the new release nik-an-ak, the second instalment of their tripart collection. Formed of three albums, the betwixt and between collection dives into genre-crossing territory. Releasing on July 8th, 2022, nik-an-ak beckons listeners into haunting realms.
Pink Blob (ex-Weaves members) share new single "Friday Rocker" / Debut album out this Friday (ffo Connan Mockasin, Panda Bear)
Speaking about the new single, which finds Pink Blob tapping into a straight-up rock aesthetic, Waters explains: "The lyrics started with a Melissa Etheridge reference and unfolded from there, a song about aging but not wanting to grow up. A song about finding common ground with my dad who loves smoking weed and turning up the stereo till his eyes water."
babychaos Signs to Cleopatra Records and Releases "Babylon" Video
babychaos is the creation of 21 year old model Lyzzie Larosa. Using influence from industrial, metal, rock, pop and club music, she hypnotizes with her words on her personal experiences and the world she creates through her music and expression. Born and raised in witch city Salem, Massachusetts, babychaos has now arrived.
Los Angeles-based independent record label Cleopatra and babychaos have now joined forces to present the creation and video for "Babylon".
babychaos is learning to dance her way through the dark model and musician babychaos has released her fifth single 'Babylon', and the video has just arrived to the party.
Franklin Gothic announces debut LP & shares first single/video, "Mr. Hangman"
PACKS Share "iknowiknow"
Earlier this month PACKS announced a new EP entitled WOAH, the follow up to their acclaimed debut LP Take The Cake which came out on Fire Talk Records and Royal Mountain Records in 2021. While the album was a collection of what The FADER described as "reluctantly anthemic slacker rock" that earned comparisons to Pavement and Speedy Ortiz, the new EP showcases a more stripped-down version of Madeline Link's project, a collection of songs written between tours in support of the band's last album.
Darren Hayes of Savage Garden Releases "Poison Blood" Music Video
FORTRESS UNDER SIEGE – single "Love Enforcer" from album "Atlantis"
FORTRESS UNDER SIEGE formed back in 1992 by Fotis Sotirpoulos (Guitars) and John Vasilakis (Guitars) after the split up of the traditional heavy metal band GLADIATORS. With the addition of Michael Smeros on vocals and Nick Dedes on drums and guest musician Aris Matheakakis on bass, on December 1996 released their debut, self-titled mini CD, a release that had a great impact at that time and still considered to be one of the best progressive power metal releases from a Greek band.
Housewife Share New Single "Bones (God Like You)"
Toronto duo Housewife are sharing a new single, "Bones (God Like You)" today, following an earlier single "Patrick Bateman" which was praised by press including FLAUNT and Exclaim! The band is Brighid Fry (she/her) and Pascale Padilla (they/she), two queer Toronto-based songwriters who are only just getting started at 19 and 20 years old. These two new singles follow their 2017 self-titled debut EP and a 2020's Better Daughter EP, which the CBC named one of the "22 Albums You Need to Hear". They've already won a Toronto Independent Music Award, the Canadian Songwriting Competition in the under-18 category, a Canadian Folk Music Award and the Slaight Music It's Your Shot Award.
Casper Mágico se va "De Rumba"
The Regrettes Debut New Music Video For Latest Single "Barely On My Mind"
Today, The Regrettes share their new music video for "Barely On My Mind," directed by Claire Vogel. The video was recorded on the streets of Brooklyn ahead of their sold-out Irving Plaza show during the Further Joy headlining tour. Vogel reveals, "for 'Barely On My Mind' we wanted to find a creative way to show what someone is saying isn't always what's on their mind. And sometimes, no matter how hard we try, our thoughts take over reason. The band was in New York on tour, and we had four hours to film before their show – battling unseasonably cold weather and intense winds. The crew included a dog, and everyone had a good time." Watch the music video for "Barely On My Mind" here.