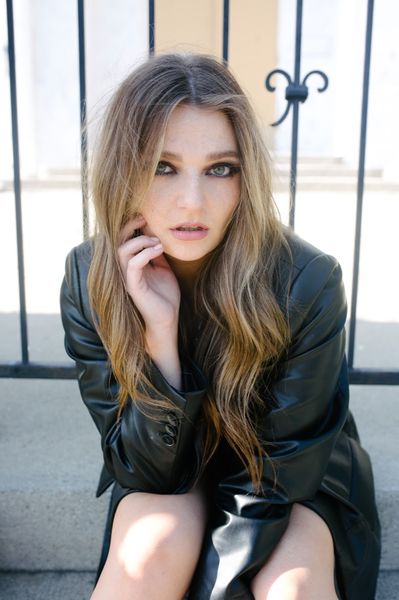 @skopemag news – friday – june 24, 2022 @ 5 pm est
@skopemag HQ – http://smarturl.it/skope
The Home Team Release New Single & Music Video, "FOMO (Bored of You)"
Speaking on the meaning behind the track, vocalist Brian Butcher stated, "For being a song that got withheld from the initial release of Slow Bloom, FOMO is still very much a part of the Slow Bloom experience for us. The song is about accepting that most things in life that are important can also become extremely boring over time, whether or not it's a relationship with a partner, a job, or anything else that holds a lot of significance. For that reason, the song goes hand in hand with the spirit of what Slow Bloom is all about, and we hope you enjoy this extra piece of the pie."
Echosmith Returns With New Single "Hang Around"
"Hang Around" introduces a creative period for the band that is both an evolution and a return to their roots as they strip back the pop polish, embrace their true indie spirit and head into an alt-pop direction that best represents the original musical heart of the band. Falling in love again with making the music that they want to make together as siblings and inspired by their life experiences over the past few years that have brought personal growth and newfound independence, Sydney, Noah, and Graham Sierota are in full creative control and gearing up to release more music this year.
FOSTER SHARES NEW SONG "wish you were here"
In speaking about his latest release, Foster says: "'wish you were here' depicts the story of a relationship gone wrong, in which the main character wishes not for forgiveness, but instead simply a chance to own up to his mistakes and destructive behavior. This song is not only one of my favorite songs I've ever made, but also a major turning point in my creative career.
JORDANA BRYANT RELEASES COMING OF AGE SINGLE "NEW FRIENDS" TODAY
"I came up with the idea for 'New Friends' one night when I was feeling like I was drifting apart from one of my best friends whom I had been friends with for practically my whole life," Jordana Bryant said. "Growing apart from old friends and making new ones is just a part of life that everyone goes through, but it was hard to watch someone who had been such a big part of my life become less of it, so I wrote a song about it to help me, and hopefully other people too, get through it."
Jordana Bryant's Captures One Of The Painful Truths Of Growing Up In 'New Friends'
Temple Of Shadows Release Their Third Tarot Themed Single
Temple of Shadows is a brand new band fronted by long time friends, Justin 'JD' deBlieck (Ex-Ice Nine Kills) and Joel DeMartino (Moonstriker). Together they deliver dueling vocals shrouded in cryptic lyrics over high energy progressive rock. Their music explores the parallels between the Tarot and alchemical transmutation.
MEGAN BARKER RELEASES OFFICIAL MUSIC VIDEO FOR NEW SINGLE "FRIEND LIKE THAT"
With charismatic lyrics like I see Monica and Rachel drinking coffee on TV, I've been lookin' for someone to roll like that with me, "Friend Like That" is sure to deliver a relatable message to listeners.
New Captivating Single from Brendan Scott Friel
There's a specific feeling that goes along with doing something purely driven by your emotions in spite of logic telling you otherwise. You can know fully well that that person is wrong for you, or that what you are doing with them is wrong but at the same time feel incapable of stopping yourself. With that comes a complex mix of guilt, excitement, longing and helplessness. That's what "Piece Of You" is about.
Louie Ray Releases 'Still Grinding 4' ft. Icewear Vezzo, YN Jay and More Today
Noted by Spotify's Rap Caviar as one of Flint's Artist On The Rise, Louie has secured features and placements with some of Rap's heavy-weights, including: Lil Yachty ("GI. Joe"), Philthy Rich ("Price of Fame"), CGM's Lil Migo ("Out of My Hands") and Trae the Truth ("SkyScraper"). He has touched every tier of the industry, from major label signees to independent street stars.
Charli XCX/Demi Lovato songwriter Lowell shares "Hamptons City Cowboy"
"Lowell is no ordinary pop chanteuse" says The New York Times, which is more than an understatement. In addition to being an artist in her own right with two critically-acclaimed solo albums, and her turn as a screenwriter (her debut Bloodthirsty premiered at Cannes in 2020), Lowell is a go-to songwriter for an eclectic collection of pop stars, including Demi Lovato, Charlie Puth, The Backstreet Boys, Alice Longyu Gao, and most recently, Charli XCX, co-writing the song "Yuck" on her 2022 album Crash.
Art d'Ecco Shares "Run Away" Single via Cool Hunting
Today, Canadian glam rock artist/producer Art d'Ecco shares "Run Away," the final single off his brand new album, After The Head Rush (out today via Paper Bag Records).
Filipino-American musician Ez Mil shares self-produced + written single, "27 Bodies"
GASHI RELEASES NEW SINGLE "GASOLINE"
Today, genre-bending artist GASHI returns with the release of his latest single, "Gasoline," out now via RCA Records. His first taste of new music in 2022, "Gasoline" comes ahead of GASHI's anticipated forthcoming album, due out later this year.
MONOWHALES' Heavy New Single Out Now
The lyrics and performance were channeled through a dark time for Shaar, culminating in one of their heaviest songs ever, both emotionally and musically. The band leaned into their hard rock background, creating an enormous sound complete with stadium-sized drums, half-time breakdowns, and a searing guitar solo.
SIMON GOFF & KATIE MELUA RELEASE NEW SINGLE 'TEXTURES OF MEMORIES'
ARTHUR BROWN releases his new album "Long Long Road" on his 80th anniversary today!
Happy birthday, ARTHUR BROWN! The admired and beloved British singer is celebrating his 80th birthday today, Friday, June 24. The still actively performing artist is not only giving himself a wonderful present in the shape of his latest and already acclaimed album "Long Long Road" (please see below for press voices), which at the same time takes a retrospective look at an outstanding career as a musician who already gained legendary status in the 1960s and that also paves the way for the senior phase of his work with more concerts in the pipeline and another album already on the far horizon.
TODAY: Electronic pop artist Distant Matter ft Gus shares new single "Do You Miss Me?"
Distant Matter announced his highly anticipated debut EP, Iridescent, with new single "Do You Miss Me?" featuring Toronto artist, GUS. The 6 track EP will be his first EP since the creation of the Distant Matter project, and is scheduled for release in September of 2022. "Do You Miss Me?" is distinctive with a memorable vocal hook, bouncy baseline, and clever sound design.
Jordan Michelle Releases Pop Punk Anthem "It's My Birthday (RIP To Me)" with SK8 and Tosh The Drummer
"I always thought there was a missing space for a pop punk birthday anthem," explains Michelle. "As my 30th birthday was approaching, I thought, what could be something cool to do for such a big birthday? I was joking with friends that I should have a funeral for my 20s and then realized that's actually a great idea. I don't mind turning 30, so I didn't want it to be a negative thing. I'm so excited to move into this next chapter. I look back on the version of myself over the last 10 years and wish I could inject some confidence into her or squeeze the worry out of her. Every year, she dreaded getting older. I want to hug her all the time and tell her it's going to be okay. When I connected with Michael Bono, I told him about the funeral concept and ideas I had and then 'It's My Birthday (RIP To Me)' was born. I want people to party to it, to yell it, to feel it and feel empowered when they bop it. Growing older is a privilege."
A Fragile Tomorrow Debuts Single/Video "Superball" from Upcoming MPress Release
The Intemperate Sons Release New Single "Running Man" via FRAME|WORK to all digital platforms!
Indie rock band The Intemperate Sons released their new single "Running Man" to all major platforms via FRAME|WORK.
"This track is a collaboration with Tony Franklin (fretless bass) from The Firm, Whitesnake, and Blue Murder. It was mixed by Amir Derakh from Julien-K, Orgy, and Dead by Sunrise. The idea behind the song is fighting back from the bottom and the demons that haunt you in the quest." says the band.
JUICY J & PI'ERRE SHARE COLLAB ALBUM 'SPACE AGE PIMPIN'
Legendary rapper, producer, entrepreneur, and Academy Award winner Juicy J has a new collaborative album out today via Trippy Music with super-producer and artist Pi'erre Bourne. Space Age Pimpin was executive produced by Juicy J and shows two worlds coming together with the high energy Southern grit of J colliding with the new age melodic trap sound Bourne helped shape since his arrival into the industry.
The Steens Share Debut Single "What A Way To Die" Via Hollywood Life
The Steens are two brothers from Orange County, CA. They formed their band in 2021 using their surname. Naming the band was an easy decision with the duo's sound and vision being firmly planted in their roots.
The Steens Burst On The Rock Scene With Blistering Lo-Fi Rocker 'What A Way To Die'
Taylor Grey Releases "Ever Knew Me" – The singer-songwriter launches an undeniably catchy beat to her first single in two years
Today, singer-songwriter Taylor Grey releases the upbeat single "Ever Knew Me" via Kobalt. The pop song describes the story personal to the songstress having a paralyzing fear of saying goodbye to people. This is the first single launching her comeback to the music industry after a two year hiatus, with more singles set to launch in 2022.
For Skope: Lukas Vane is back on Protocol with new vocal tech-house single "Falling" (out now)
BRIT-NOMINATED DUO A1 X J1 RELEASE NEW SINGLE FEATURING MABEL 'DEAL OR NO DEAL'
While their unique rapping style and blossoming partnership is noted as their most distinguishable feature, A1 x J1 are continuing to make stamps on the industry with their re-imaginations of classic pop tracks. This time, it's Mabel's 'Finder's Keepers' that's getting a creative upgrade. Filled with charm and a long swung trap beat, the track is easy whilst still maintaining a rich personality on the boys behalf, to make it the summer anthem.
Brantley Gilbert and Jelly Roll Deliver New Collaboration "Son Of The Dirty South"
"I had a blast working on this one with Jelly," shares Gilbert. "We've been itching to write together for a while now, and we had a lot of fun putting it together. You don't always get to record a song with your co-writers, so to hop in the studio with him too was a real treat."
Brantley Gilbert & Jelly Roll Surprise With Rowdy New Duet "Son Of The Dirty South" [LISTEN]
Orthodox Announces New Album 'Learning To Dissolve' Out August 19th
Despite Exile's New Single "Scepter" Entices Listeners To Break Free From Power
CRITICALLY ACCLAIMED POP SINGER JAKE MILLER RELEASES "8 TATTOOS" SINGLE/MUSIC VIDEO
CAROLESDAUGHTER RELEASES NEW SINGLE & VIDEO "XO I HOPE U DIE"
Big Moochie Grape Acts Up and Stacks Up in a New 'East Haiti Baby' Video
Rising in the South on the back of his "gigantic" personality, Big Moochie Grape's charisma can't be contained. Flashing his ice and his million watt smile, Moochie shares "Acting Up," his brand new music video. Produced by Bandplay, who combines chiming keys with booming 808s, "Acting Up" finds the Paper Route Empire rapper showing off his lockstep flows, dividing his fearless flexes into hypnotic triplets: "Got rich quick, now a n**** can't stand me/Know a J named Oscar and I'm servin' them grammies," spits Moochie. In the video, directed by HDotRoss, the East Memphis native rocks his PRE chain and plays pool with a homie, as he flirts with a bevy of baddies. "Acting Up" is a highlight from East Haiti Baby, Moochie's recently released album, and follows the boisterous video for the title track.
Little Hurt Releases Music Video for "Chelsea's Coming Over"
Today: Alt Rock outfit Noiseheads share driving single "Sorry"
The new single, "Sorry," is the first tune that the band tracked with Lincoln Parish (ex-Cage the Elephant) and his assistant engineer Jordan Logue. It was the easiest song to record because of how simple and punchy it is. In terms of songwriting, this track set the tune for the rest of the material that Noiseheads have recorded over the past couple of years. The song comes from their upcoming EP, which will be released on July 29th
This song is about how on the surface, an apology can sound genuine, but within the context of the song, you walk away understanding that this person who's the subject is a narcissistic piece of sh*t that's framing the situation in their mind in a way to feel better about themselves.
Producer Moglii teams up with TONG on new track "Space Birds"
Today, the Cologne based "organic electronic" producer Moglii and german singer / songwriter / violinist TONG have released the exciting new track "Space Birds", the newest entry in Kitsune Musique's New Hot & Fresh single series. The track is a captivating fusion of electronic music and alternative RnB, with TONG's vocals and violin loops woven into a beat that takes inspiration from afrobeat rhythms and incorporates real birdsong taken from field recordings.
AZ THE WORLD BURNZ Releases Official Music Video for "Counterfeit Dreamer"
Tucson, AZ based, metal harmony band AZ THE WORLD BURNZ has released the official music video for their newest single, "Counterfeit Dreamer." Recorded and engineered by Matt Good, best known from FROM FIRST TO LAST, which included member Sonny Moore (SKRILLEX), directed by Epidemic Media's Louis Cohen and A Personal Reality Video Productions' Brad Phipps, "Counterfeit Dreamer" is the band's sophomore release. Their debut single, "End of Suffering," is a collaboration with 9-times Platinum selling band, CRAZY TOWN, which formed in honor of a great friend of the band, Jesus Ramirez, Jr., who had recently passed away.
CID Debuts on Insomniac Records With Ear-Hooking Tech House Slammer "La La La" – Out Now
NYC-based producer CID is offering up his debut appearance with Insomniac Records by way of his latest house creation. "La La La" is a bouncy tech house record that revolves around an infectious vocal sample culled from Naughty Boy and Sam Smith's smash hit of the same name. Propping up the smooth-tongued hook is a buoyant groove powered by thumping basslines, shuffling hats, cowbell flourishes, and whirring textures. CID recently played the track out during his set on the Insomniac Records stage at EDC Las Vegas. He is a Grammy award winning producer that has remixed Lana Del Rey, Halsey, Ellie Goulding, Galantis.
Artist: CID
Title: La La La
Label: Insomniac Records
Genre: Tech House
Release Date: June 24
Layke Shares Her Love Letter To The LGBTQIA+ Community With "XOXO" Single & Music Video
Skope video submission: video: Mitchy Slick X Sir Veterano, "In My El Co" inspired by the 80's West Coast cocaine rap era
VOMIT FORTH Releases New Song and Video for "Carnivorous Incantation" Today
Orlando Pop-Punk Outfit 408 Release New Video For "Drama King"
After paying homage to Blink-182 frontman Mark Hoppus and then teaming up with Underoath's Aaron Gillespie on the follow-up track, Alternative/pop-punk four-piece 408 are back with a brand new single and video for "Drama King". The single writing an open letter to the toxic people that hold you down in life, as they fight back and cut out the infection. "Drama King" is the latest release from 408's upcoming new album Out Of It, the debut album coming later this year under their new label deal Regime Music Group and BreakSilence Recordings.
Rockshots Records – Hilltops Are For Dreamers New Music Video "Unsoiled Soul" Off Debut Album "In Disbelief"
Releasing their debut album "In Disbelief" this past March via Rockshots Records, Hilltops Are For Dreamers are presenting their new music video for "Unsoiled Soul". A cinematic song with some ambient vibes, acoustic guitars, effects, and drumbeats, plus a guest classical guitar solo by Victor Lamprinos.
Singer Songwriter Julian Taylor Shares New Single "Seeds"
A quiet protest song about hope, strength and resilience, "Seeds" stands for Somehow, Everyone, Eventually, Dreams, Someday. The new single was inspired by a text that Taylor received from his cousin the morning after it was announced that 215 uncovered remains of buried Indigenous children had been discovered at a former residential school in Kamloops, British Columbia. The message simply read: They tried to bury us, but they didn't know we were seeds.
LEGENDARY DANCEHALL ARTIST GENERAL PYPE RETURNS WITH NEW SINGLE, "BLESSED & READY"
Renowned Dancehall and Reggae legend General Pype, today dropped his triumphant battle anthem "Blessed & Ready," returning to music after a hiatus. Pype took some time off to take care of his family, and complete his education at Georgia Film Academy, and now he's back with a modern, reinvigorated version of the classic Pype sound fans have come to love across the world.
DIMITRI VEGAS TEAMS WITH DAVID GUETTA, NICOLE SCHERZINGER, & AZTECK FOR HIS SECOND SOLO SINGLE "THE DROP"
Dimitri Vegas, David Guetta, Nicole Scherzinger, and Azteck have released hit songs in the past; however, it's the first time all four are collaborating together to shake up the music industry. It mixes legendary dance music artists Dimitri Vegas and David Guetta with Pop superstar Nicole Scherzinger and new age DJ Azteck to make the ideal song to please their fans, both young and old. "The Drop," starts with a solid electro drum beat and hits the soul with engaging lyrics by Scherzinger's distinctly harmonious vocals as it draws listeners into a break that heads into the climax and high percussive beats. The addictive tune will keep fans fully immersed in its house music vibes as it ends, leaving fans wanting more.
Trevis' New Single "Avenue" Out Now
A born entertainer and a skilled singer, songwriter, performer, and producer – Trevis found solace in music after a chronic knee injury forced the rising artist to choose between a professional soccer career or long-term, permanent knee damage. He fell into depression and relocated to California for a fresh start and through friends he landed in the studio with Harmony Samuels and the BOE Camp (Jennifer Lopez, Mary J. Blige, Ariana Grande, Fifth Harmony, Ciara and more). Trevis was able to transfer the dedication and determination he had learned on the football field since age 5 with Manchester United to writing, performing and producing his own music. He began releasing music independently during the pandemic, racking up over 6 million organic streams across DSPs. He's performed at H&M Loves Music Festival, Palmesus (Europe's biggest beach festival), Arthur Ashe Kids Day, the US OPEN, Findings Festival in Norway and more, and is really on the cusp of mainstream stardom. He'll release the Floor Plan EP on August 26.