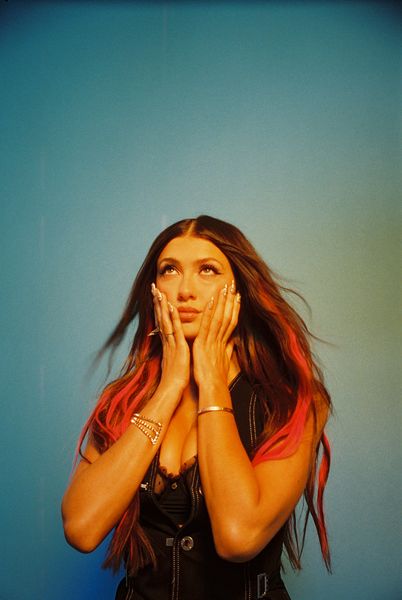 @skopemag news – friday – june 24, 2022 @ 10 am est
@skopemag HQ – http://smarturl.it/skope
New Video – Buckshot ( Black Moon / Bootcamp Clik / Duckdown ) on the J-Ronin Podcast
Buckshot joints DJ J-Ronin for an in-depth conversation about his music career, technology and how the game is changing including the future of Duckdown.
ROSIE Shares New Single "Something I Hate"
"Something I Hate" is a hauntingly beautiful ballad about trying to overcome lifelong insecurities. ROSIE elaborates on the powerful meaning behind the song: "Creating 'Something I Hate' was such a painful yet cathartic experience for me. I've always tried to write about what scares me, but speaking on such deep-rooted insecurities such as body dysmorphia and eating disorders was truly terrifying. I hope this song reaches every single person who needs to hear it and that it helps to heal others the way creating it has healed me."
OVERLAPS release new video for single 'Mind Over Matter', out now.
DONKEY KID Reveals Atmospheric Video For New Single 'Digging Holes' Released 24th June 2022
Jonas Blue & Julian Perretta drop official video for 'Perfect Melody'
Set on a mysterious beach under a moonlit night sky, the ethereal and otherworldly Perfect Melody official video portrays representations of love, played out by a cast of dancers with cameos from Jonas Blue and Julian Perretta themselves. The captivating film, which brings the anthemic track to life, was shot in London and directed by long time Jonas Blue collaborator Sashinski (who worked on previous videos for Perfect Strangers, Mama and Rise).
OUT TODAY: Berlin-based Indian R&B future star Johnny Kulo drops sumptuous new single 'Loyal'
Across 2021 and 2022, rising one-to-watch Johnny Kulo has been releasing a string of smooth singles that bridge between old-school soul and modern R&B. His latest release is 'Loyal', the 00s-dipped gem in which the Indian artist's flawless vocal seductively croons. Never far from those neck-winding grooves, Kulo incorporates grooving bass alongside noodling guitars and a contemporary R&B backbeat.
SPEKTRVM New Single 'Trying To Breathe' – Out Today
Greek metal group Spektrvm, have released their second single ahead of the release of the forthcoming album Blood For Heaven on Friday, July 8th via Sliptrick Records.
The track is called Trying To Breathe and here's the group's statement of intent; "They have taken control of our lives, our minds, our information receptors and most of the things that 'free will' consists of. We can't help but feel trapped in situations we have no control over, and all we can do is survive, and push on, helplessly struggling for some meaning, one breath at a time."
CAROLESDAUGHTER RELEASES NEW SINGLE & VIDEO "XO I HOPE YOU DIE" & EMBARKS ON INTERNATIONAL TOUR INCLUDING READING & LEEDS FESTIVAL
Rimzee drops empowering new single & visuals 'Entrepreneur'
RISING POP STAR LEAH KATE RELEASES NEW SINGLE & VIDEO "TWINKLE TWINKLE LITTLE BITCH"
Directed by Aerin Moreno [Madison Beer, Sofi Tukker, Olivia O'Brien], the visual takes viewers into a childhood bedroom where Leah proclaims "I can't believe that I let you come inside my room. Yeah, you broke my heart in two," before diving into the anthemic chorus, "Twinkle twinkle little bitch. Just another narcissist. Hate your guts you make me sick. I'm so f**king over it," and even showcasing some of the "hate" comments she has received, brushing them off unphased.
MS BANKS RELEASES LATEST SINGLE AND VIDEO "BOUNCE"
Reminder: New Video : Vice (UK) – Vultures – (Metal, Thrash Metal, Melodic Metal)
They toured in 2019 as the main support to the legendary Blaze Bayley (Ex Iron Maiden) , as well as being 2020 tour support to The 3 Tremors featuring Tim (Ripper) Owens (Ex Judas Priest) The band is due to release their follow up album 'For the Fallen' on 2nd July at SOS festival at Whittles at Tokyo Oldham (playing the album in full) after an enforced delay due to the Covid 19 Pandemic!
Porcupine Tree release new album; tour begins in Sept
GRAMMY® Award-nominated British rock band Porcupine Tree – Steven Wilson, Richard Barbieri, and Gavin Harrison – have announced today's long-awaited release of their acclaimed new album, CLOSURE/CONTINUATION, available now via Music For Nations/Megaforce Records. Porcupine Tree's long-awaited 11th studio album, CLOSURE/CONTINUATION is available now on all streaming and download platforms and as a seven-track standard CD, standard black vinyl 2×12" LP, white vinyl 2×12" LP, transparent blue vinyl 2×12" LP, and limited-edition white cassette. A limited audiophile deluxe LP is also available, cut at 45rpm on 3×12" clear vinyl in 12" slipcase box with two bonus tracks; a limited audiophile deluxe CD in 12" slipcase box will include the standard CD, a second disc with three bonus tracks and album instrumentals, Blu-ray disc with 5.1/Dolby Atmos and HD audio versions of the album, and an exclusive album art book.3
INDIGORE release today new single FORGOTTEN FALLS
About the single, the band declares: "Forgotten Falls is about the importance of putting ourselves, essence and goals first. It is the urge to never lose hope even when life is harsh and difficult, because even the most painful experiences, with the right spirit, will be scars that help shape our true future selves."
Andrew Duhon Paints A Picture Of Love And Adventure With "Emerald Blue"
New Orleans, LA – For an artist who grew up, in his words, "beside the turbulent, chocolate milk of the mouth of the Mississippi," it's no wonder that Andrew Duhon was so awestricken by his time exploring the Pacific Northwest over the past few years. But it was when Duhon connected the shades of his unfamiliar surroundings with the depth of color in his partner's eyes that sparked the writing of "Emerald Blue," the title track of his upcoming album. "She's the one I'd go up to visit while she worked in rural Washington state," says Duhon. "Our travels around the area introduced me to this song and to her and to that intangible nuance of two shades mixing together to create something new and beautiful." A galloping acoustic guitar pattern gives way to an easygoing feel and then the opening verse of "Emerald Blue," where Duhon begins to paint his hues, singing, "Logging roads in the Washington mountains / Far cry from the Southland / Far cry from the muddy water I always knew / Emerald blue."
news piece request:: PHIL JAMIESON DROPS NEW SINGLE, ANNOUNCES NEW ALBUM & FORTHCOMING TOUR
Cherished Aussie rock frontman, Phil Jamieson has just dropped 'Lights On', the third single from his impending first-ever solo full-length album Somebody Else, due out on Friday July 29. Following on from Trouble and Somebody Else and boasting more hooks than a tackle box, Lights On launches with a crunchy spring in its step, with deep grooves, airy guitars and Phil's creamy vocals ever-present throughout the tune. With Jackson McRae stepping in to bust out the driving beats on Lights On, Phil and co-producer Oscar Dawson, aka guitarist for Aussie indie rockers Holy Holy, deliver a dreamy and jangly delight.
Australian producer Katie Drover makes her debut on Sound of Berlin with Spring
Over the years, the Melbourne producer has proven she can navigate a vast spectrum of music genres while keeping production values consistently high. However, if one thing should be the conductive line between her productions, it would probably be her elegant taste for atmospheric textures, and sophistication. Spring reflects this idea. She explains: "I had a couple of months off work in early 2021 and made a tonne of music. I found I was changing my taste through the lockdown, and these two tracks represent that. "
CHRISTINE AND THE QUEENS RETURNS WITH "JE TE VOIS ENFIN"
"Je te vois enfin" is imagined, written, produced and performed by Christine and the Queens and mixed by legendary US producer Mike Dean, known for his work with Kanye West, Lana Del Rey and Jay Z to name a few.
NEW // Derby Newcomer K Harrison Returns With 'Love Me Leave Me'
We all know the UK rap scene is very London-centric. Even with reams of talent, it can be difficult for an artist to crack the mainstream from less central locales. So, when an MC on the scene isn't from Manchester, London or Birmingham: they're fighting two battles.
FRESH MUSIC FRIDAYS: KRONO Creates Electronic, Indie Remix on Tee Dee Dee's 'War'
LIL MIGO DROPS BRAND NEW SINGLE, "CHEATED," COINCIDING WITH BET AWARDS RADIO ROOM APPEARANCE THIS WEEK
Lil Migo, the rawest emerging voice of the burgeoning Memphis hip-hop scene, whose landmark tracks "No Love In My Heart" and "Letter 2 The Industry" have earned over 25 million combined views, drops the brand new track "Cheated," available today via Heavy Camp | 4TH & B'WAY | Def Jam Recordings. The release coincides with Migo's participation during BET Awards Radio Room this week.
Australian hardcore band Speed unleash Gang Called Speed EP
Today, Australian hardcore band Speed have shared their new EP, Gang Called Speed, out now on Flatspot Records and Last Ride Records. Recorded with Elliott Gallart at Chameleon Studios, the six songs on the EP are centered around recognizing who you are in this world, taking ownership of that identity and not letting anyone tell you otherwise. Drawing influence from acts like Biohazard and Merauder just as much as bands like Trapped Under Ice, the band puts forth pit-ready music highlighted by blitzing guitars and pummeling drums. The vocals hit nasty in the best way, showcasing the bite of the Sydney hardcore scene the band is leading the pack of.
Young Devyn shares new single/video "Decisions"
With the arrival of Summer, Young Devyn returns with her new single "Decisions" out now via 4TH B'WAY/Def Jam Records. Arriving alongside the seething track is a raw video that brings to life Young Devyn's hustle and depicts all of Brooklyn's iconic landmarks from the BK bridge to the city's streets. Directed by Zach Stith, the visual encapsulates Young Devyn's boss energy and lives up to her "Baby Goat" moniker as she shows off her unbridled confidence and drip, delivering hard-hitting lyricism while dominating the track's beat. "Decisions" had its broadcast premiere earlier today on BET Jams and BET Hip Hop.