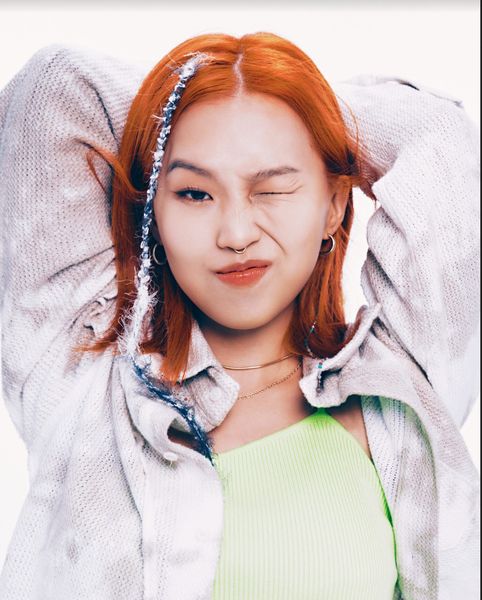 @skopemag news – thursday – june 23, 2022 @ 11 pm est
@skopemag HQ – http://smarturl.it/skope
Noah Cyrus Releases 'Ready To Go' Reveals Artwork and Track List to Forthcoming Album 'The Hardest Part' Out September 16
Noah Cyrus has released yet another spellbinding track taken from her forthcoming debut album 'The Hardest Part,' set for release on September 16 [RECORDS/Columbia Records]. Produced by Tommy English and Mike Crossey, 'Ready To Go' details the demise of a broken relationship, as Noah succumbs to the realization it's over. Noah shares: "I call this song "July's sister song" due to their similarity in lyrics, but in actuality they're really more like cousins. They're about different people, entirely different storylines, and each brings up different memories and emotions. In a way, I see a lot of growth in myself from who I was then and who I am now, but at the same time it's still impossible for me to walk away from people I love, even when it's harmful to myself." Earlier today, Noah joined Zane Lowe on his Apple Music show, New Music Daily to discuss the track.
ALAN PARSONS ANNOUNCES NEW STUDIO ALBUM 'FROM THE NEW WORLD'
Frontiers Music Srl is proud to announce the release of the upcoming new studio album, From The New World, by the legendary Alan Parsons on July 15, 2022. Fans can get another preview of the album with the release of a 2nd single and music video I Won't Be Led Astray featuring vocalist David Pack, formerly of Ambrosia, and guitar virtuoso Joe Bonamassa. Watch the video HERE:
QUEENSRŸCHE Releases First Song and Video "In Extremis" Off Forthcoming Album 'Digital Noise Alliance'
"This song is about being on your deathbed surrounded by your loved ones. Clinging to the last sense available, letting them know you will still be hearing them after correspondence or perceived consciousness is visible. Other conceptual metaphors flash in and out, taking note of a world that will not bend to accommodate such suffering, a universe of mockery, and a universe void of such abilities," states QUEENSRŸCHE about "In Extremis".
East Coast Songwriter Tara MacLean Releases "If I Fall"
"I love this part of the song because in re-recording it, I realized how prophetic this song has been for me, in my search for stillness, in my dreams coming true," says Tara. "Now I look at my life and career and see how I have achieved so much of what I set out to do, and this song was a vehicle that brought me there."
Elizabeth Wyld releases new single "Love Comes With a Knife"
Brooklyn-based indie-pop songstress Elizabeth Wyld has shared her newest single "Love Comes With a Knife", premiering now with Bands Do BK. The track is a far cry from Wyld's typical moody style of songwriting and instead pulls inspiration from one of her favorite television shows, Killing Eve, to deliver a sweet, upbeat love song for the ages.
Skope video submission: video: FYI "eLAyayvate" Ushering In A New Wave of Hip Hop Out of LA
Lil Seyi shares "Recall (Young Man)" from upcoming EP – 'A Blue Tesla Story'
Today, Kitsuné Musique's Lil Seyi releases the third track from his upcoming EP A Blue Tesla Story. In "Recall (Young Man)," the tone of the EP drastically shifts… "It is brought to light that the protagonist was involved in credit card scamming and other computer-related fraud schemes," explains Lil Seyi. "He finds himself alone in his thoughts as the people closest to him begin to resent him for the events he had caused. A soft voice calls out to him to lay his burdens down, but the volume of the bitterness towards him overpowers it. Spiraling down into a depressive episode, he is only left to focus on all of his shortcomings and failures."
Toronto Alt-Rocker Siobamm Fires Up the "Meat Machine" with New Single — Available Now!
Hamid J Releases Passionate and Prideful Single "do you get this feeling?"
Hamid J's latest track "do you get this feeling" shines a spotlight on the pop-electronica singer's passion for music through a funky bassline and authentically raw lyrics. The track is inspiring to those who relate to the intertwining feelings of infatuation in a new relationship, wondering if the feelings are mutual. In his music, Hamid J is reclaiming control over the narrative surrounding artists belonging to disenfranchised strata of society, such as the LGBTQ community. "do you get this feeling?" offers a relatable story of infatuation and doubt, combined with emotive vocals that make audiences dance. The track, which is the first single off his upcoming full-length debut album, cycle of a relationship, delves into the vulnerability of opening up in a budding relationship.
Artist BlackLip Releases New Single/Video for "WHAT HAVE I BECOME" – LISTEN!
BlackLip is a solo, genre-fluid artist hailing from Indiana, USA. Growing up in a small town as a kid, and feeling out of place in his roots of Indiana, it's become a mission to become bigger than where he came from. After splitting with previous rock group In The A.M. in 2020, BlackLip hit the studio focused on making music that counts; music that will last. Wanting to branch away from the stigma of his previous music endeavor, some really beautiful, catchy, and melodic songs were the result.
Arkells announce new album Blink Twice, share new song "Dance With You" ft. Cœur De Pirate and Aly & AJ
As Arkells stayed busy making music during the last two years, they always knew they would come out of the pandemic with two distinct records – Blink Once (47M+ streams) and Blink Twice. The first single "Reckoning" was released earlier this year and was followed by current radio single "Past Life" featuring Cold War Kids.
FLOYD FUJI AND TOPAZ JONES REVEAL 'BREADWINNER' VIDEO // WATCH HERE
Virginia native Floyd Fuji today reveals the video for summer ready new offering, Breadwinner, a vibrant alternative pop cut laiden with more than a little bit of funk. Featuring Fuji's dreamy vocals over skyscraping production, the track is a stellar ode to ambition. Complemented by the razor sharp flows of Topaz Jones, the track is perfect for party playlists.
ENCHANTMENT: Invisible Oranges Premieres Cold Soul Embrace From UK Cult Death/Doom Outfit; New Full-Length To Drop Friday Via Transcending Records And Cosmic Key Creations
Writes Invisible Oranges, "What we have in 2022 is a time capsule, a return to that early era of romantic, atmospheric, downtrodden doom which finds itself separate from the more pummeling American doom scene which was thriving at the same time. With ENCHANTMENT's classic lineup never publicly playing metal again until the band's 2019 reformation, the upcoming Cold Soul Embrace culminates decades of ideas, thoughts, emotions, all back into the same expressive package as the band's youth. This means big, sad riffs and lots of atmosphere which accentuate a uniquely foggy, nostalgic sound. Suddenly it's 1994 again, and ENCHANTMENT never really went away."
Two Door Cinema Club Share Technicolor Video for "Wonderful Life"
Lawn (Born Yesterday) premiere "Running My Luck" w/ FADER
Lawn's Bigger Sprout is due out July 15th on Born Yesterday, the up and coming Chicago label that is home to bands like Moontype, Cafe Racer and Caution. Written, rehearsed, and recorded under a month-long period, Bigger Sprout explores a feeling of urgency as a theme and a catalyst: urgency to get out of uncomfortable situations, urgency to take relationships more seriously, urgency to work on themselves, urgency to play shows again, urgency to record, urgency to start a family, urgency to make plans and leave old settings behind, urgency to grow up and become more in tune to your surroundings, urgency to quit old habits and pick up new ones.
Lexan, la nueva estrella musical estrena su sencillo "Quédate"
500+ Streamed Artist // New Visuals Alternative Universe
MisterWives has over 500+ million streams. They are set to perform at Central Park Summerstage and just played BottleRock and have performed on the likes of Jimmy Kimmel Live, GMA and Late Night with Seth Myers as well as toured with Twenty One Pilots.
HUNJIYA Shares Double Singles via Nylon + Atlas Artist Group, Returner Mag, Underground Zine, Mundane, AllKPop Features | LP Out July 13th
"My new album is brimming with themes: Code switching- how you change yourself slightly depending on who you're with and what is happening. The concept of a chameleon- how the animal changes colors based on what environment they're in. In this case, I am the chameleon, and my behaviors, feelings, actions, etc. are all changing based on the situation. People give the advice of "being yourself" but they don't talk about how there's not just one version of yourself. There's multiple that add up to who you are. As for the title itself, chameleon comes from the Greek word "khamai" meaning "on the ground, earth" and "leon" meaning "lion" (Hunjiya herself is a leo).
Cody Jasper Sings Of Unconditional Love With "Who You Are"
Cody explains "After stepping out on my own at the beginning of this year, I made a promise to stay true to myself. I want to write about things that matter to me, or that I had real personal experience with – not only with the lyrics but with the composition and sounds. I let my guard down and allowed myself to go with whatever excited me, no rules. I was just going to make the sounds in my head and not hold back".
New Music: Honey Made Releases New Song "Upstairs"
With the new single, the always playful and fun band asks the question that sits on everyone's tongues when chasing their crush … "What's going on Upstairs?" meaning "What are you thinking? What's going on in that head of yours?" But by the end of the song when the couple realizes each other's interest, it turns to "So, whatcha got going on upstairs"? as the couple makes their way to the bedroom.