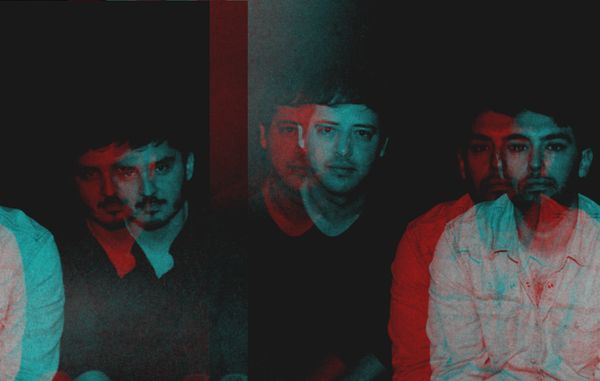 @skopemag news – wednesday – june 22, 2022 @ 9 pm est
@skopemag HQ – http://smarturl.it/skope
Grace Leer Releases New Tune "After 1"
Grace Leer is back with new music today that is reminiscent of the instrumentation and story line of a classic country song. "After 1," the follow up to the tongue-in-cheek true story "Brought A Girl" and "Nothing With You," Leer's duet with heartland troubadour Logan Mize, was written by Leer, Dan Fernandez and Tate Howell, and showcases Leer's "way of making heartbreak sound so very good." (Taste of Country)
Hear Living Hour's calming, new single "No Body" off their upcoming album, Someday Is Today – Out September 2nd on Kanine Records
"This song is about dissociating at a restaurant and feeling completely isolated and alone in the experience. Close friends all around but you can't reach out, you can't say anything, hands numb, mind far away and foggy. Trying to ground myself with observations and saying my middle name; focus on something small like the rainbow floating through the glass. The background voices are calming, more positive thoughts pushing the mind into a softer world.
Thomas Abban Shares Single + Video "Don't Leave" Via Cool Hunting + Ghost Cult, Vents Features | AMBIENIC EP Out June 24th
Thomas Abban – self-proclaimed artist in residence in existence – was born in Wales and moved to Minnesota at the age of 10. Thomas produces and plays everything on his albums, 'A Sheik's Legacy' (2017), self-released and re-issued by RCA in 2018, and 'The Spiritualizer', released in 2021 after a parting of ways with RCA due to creative differences. His next EP 'AMBIENIC' comes out on June 24th, 2022.
i.O. Underground Releases New Single "Once In A Lifetime" // 'The Underside EP' Out July 22nd
"Here Comes The Revolution" Single/Music Video Released By Rock Revivalists SANTA CRUZ
Internationally acclaimed '80s-influenced hard rockers SANTA CRUZ have revealed the music video for "Here Comes The Revolution," the second single from the group's upcoming new album, "The Return of the Kings." Featuring performance footage from the world-famous Whisky-a-go-go gig, the new song showcases a heavier and more in-yer-face sound exemplifying the diversity of the band's new album. Watch the video here –
A GOOD ROGERING New Video "Hands of the Conqueror" At Metalsucks.
Austin Texas metal band A GOOD ROGERING are streaming a lyric video for their song "Hands of the Conqueror" at Metalsucks. The song is from their released album Systematic Paralysis which was released in April.
The band comments "We were thrilled to again work with visual artist Scott Rudd (Opeth, Iron Maiden) on "Hands of the Conqueror ", a lyric video from our latest release, Systematic Paralysis. The album art imagery, created by The Horux, paradoxically places the impending grip of AI and our contemporary masters against a desolate landscape void of distractions consuming the modern world. We felt this aesthetically complimented an abstract lyrical premise which alludes to the lore of distant cultures and kingdoms still bound to the present by a timeless truth."
Exclusive: A Good Rogering Release Creepy Animated Lyric Video for "Hands of the Conqueror"
Warhaus Shares New Single "Open Window" || Out Today on Play It Again Sam
Warhaus, the moniker of Belgium's foremost alt-crooner, Maarten Devoldere, returns with new single, "Open Window".
Divino Niño Announce New Album 'Last Spa on Earth' Out 9/23 (Winspear), Share Danceable Lead Single/Video "Tu Tonto," Fall Co-Headline Tour Dates
New Promo: BLACK HELLEBORE (France) – Release Me – (Electro Metal/ Symphonic Metal)
We find on this last one the participation of the famous guitarist Stéphan Forté. Noticed by the French specialized press, the album is very warmly welcomed by the critics and counts many promising reviews, of which one in the Rock Hard Magazine . Not to stop in such a good way, the group decides to release a third "fiery" single from this album: "Release Me". With this first album, Black Hellebore definitely makes a remarkable entry on the European metal scene.
HOUSE OF IONA/RCA RECORDS RELEASE KACEY MUSGRAVES' "CAN'T HELP FALLING LOVE" TRACK & VIDEO — "ELVIS ORIGINAL MOTION PICTURE SOUNDTRACK" OUT THIS FRIDAY, JUNE 24TH!
Jesse Tabish Announces 'Cowboy Ballads Part 1'|| Shares First Single "Castro" On Play It Again Sam
The frontman and creative lynchpin of Oklahoma's finest, Other Lives, described by MOJO magazine as "the next must-have American pastoral sensation," Jesse and his chief collaborator Kim Tabish (also his wife and fellow band member) used their time during lockdown to fashion a glorious record, as epic as it is intimate, distinguished by the same sweeping, cinematic arrangements and haunting, wistful melodies that typify the band's catalogue, but with a rawer edge that reflects its home-made origins.
DEAD EYED CREEK: Former Satyricon and Triptykon Members Release "Set Me Free" Video Featuring Actress Ruby Modine (Shameless, etc.)
In the fall of 2019, before anyone expected a global pandemic, Dutch guitarist Job Bos (Dark Fortress, The Ruins of Beverast, ex-Satyricon) approached longtime friend and drummer Norman Lonhard (ex-Triptykon) with the idea of creating music together. The duo soon recruited Icelandic vocalist Einer Vilberg, notable for being one of the finalists in Stone Temple Pilot's vocalist search in 2016, and bassist Max Blox, who proved to be the right fit on both a musical and personal level.
Icewear Vezzo Prepares for Rich Off Pints 3, Connects with Payroll Giovanni & Peezy for "Commission
WIESINGER Shares New Single "Just Give Up"
Broke Royals Share New Single via New Noise + Spill, Punk Rock Theory, Glasse Factory, Psychedelic Baby Features | 'Local Support' Album Out July 15th
Local Support is an album about being brutally honest, savoring small moments, and finding the strength to start over. Despite being the band's third full length album, in many ways it feels like their debut. For years, the band was putting one foot in front of the other with gigs and writing, it was a grind, albeit a familiar one. After the world came to a screeching halt in 2020 and the dust began to settle, it appeared that not everything should go back to the way it was. Even relationships within Broke Royals were strained, leaving the future of the band feeling uncertain.
The duo merge a shared passion for contemporary electronic music and noise-punk, drawing upon synthesisers, vocals, vocoder, guitars, organ, percussion and found-objects to populate their dense sound-world. Developing a sound that has been described as 'doom pop', unusual song structures and frantic, operatic vocals frame songs about childbirth, anxiety, gender and existentialism. Inspired by artists like Self-defence family, The Birthday Party, Yeasayer, Jello Biafra and The Knife, Be Kind Cadaver present an angry, ironic, and sonically-diverse take on post-punk music.
New Promo: Luna In Sanguinem – Global Bloodbath (Death Metal / Thrash)
Originally only made available as a digital download and as a promotional tool to be distributed at the band's gigs, such was the positive response to Global Bloodbath that Luna In Sanguinem have finally decided to give it a proper release on digi-pack CD and unleash it's horror upon the world. You won't hear another release this year that captures the rotten glory of death metal in such captivating fashion. The music of nightmares, songs from the tomb, anthems of the undead they are all here for your listening pleasure…
Shaun Sloan Releases New Visual "Tell Victory I Love Him"
As a sickle cell survivor, pain and suffering aren't foreign to Shaun. A resilient father and provider (to his son Victory, hence the new song title,) Shaun has channeled his lifelong trauma and pain into his creativity, paving a way out for his family. Signed to EMPIRE by way of an assist from fellow labelmate and bay-area rapper, Mozzy, Shaun continues to cement himself as a rising star with every new release. After supporting both of G Herbo's recent tours ("PTSD" and "25") Shaun released two back-to-back, emotion-drenched projects throughout the pandemic, Life Is Life (2020) and Pain Purposes Only (2021), laying the foundation for his current 'Artist To Watch' status. Fueled by the pain and trauma of his chronic illness, Shaun continues to pour into his craft, and is poised to have a major breakout year.
Katrina Ford (of Celebration) Shares "I'm Found" Single + Video via CHORUS.FM
Today, singer-songwriter Katrina Ford (of Celebration and Mt Royal) shares "I'm Found," the final single off her debut solo EP, due this Friday, June 24 via Violin Films, along with an accompanying collage-like video, made by Katrina herself.
TANISHA SCOTT LINKS UP WITH DRAKE IN "FALLING BACK" MUSIC VIDEO
Channeling the same energy as previous collaborations, the cinematic video finds Drake at his wedding to not one, but a slew of women dressed in white gowns. As the ceremony turns into a raging party, Tanisha's choreography shines with all of the brides getting down on the dance floor. The joyful celebration continues throughout the track, with Drake's personality on full display amidst a sea of women.
SICK N' BEAUTIFUL RELEASE NEW VIDEO FOR "DROP IT TO THE B"
Sick N' Beautiful will release their new album "Starstruck" on July 15, 2022. Sick N' Beautiful is the ultimate rock n' roll sideshow from outer space: a unique concoction of hard rock and modern metal infused with industrial, punk, and electro-pop overtones, blending in varying influences from across the musical spectrum to create a sound all their own. Today they release their video for the song "Drop it to the B." Watch it HERE:
Strange Lot Share "Funny Sounds" Single/Video via Brooklyn Vegan + V13, Vents, New Noise Features | New LP Out This Fall
2022 brings the release of the band's next full-length, Funny Sounds – bridging the gaps between experimental psych such as Deerhunter & Broadcast with the fuzzy grooves of Thee Oh Sees and a healthy dose of vibes such as Brian Jonestown Massacre . Recorded by Dominic Mena on an Otari 8-track tape machine and mastered by Joe Lambert (Deerhunter, Neon Indian, Animal Collective)
Nectar bring the chilled vibe of Summer back with 'Find A New Friend'
Perth psychedelic, indie soul band NECTAR reveal today their funky new jam 'Find A New Friend'. Mirroring the laid back vibes of Tame Impala, the track showcases a new sound for the young 4 piece fusing funk and soul grooves with disco influences. The song's theme centres around the idea of a toxic relationship coming to its natural end.
Acclaimed Guitarist, Songwriter & Producer Jeff Gunn Maximizes the Momentum with "Vitality" — Available Now!
A song that can take listeners on a joyous, uplifting journey is needed more than ever these days and, if you can do it without singing a single word, that's an amazing feat. Toronto virtuoso guitarist, songwriter, and producer Jeff Gunn has accomplished just that with his buoyant and brilliantly performed new single, "Vitality" — available now.