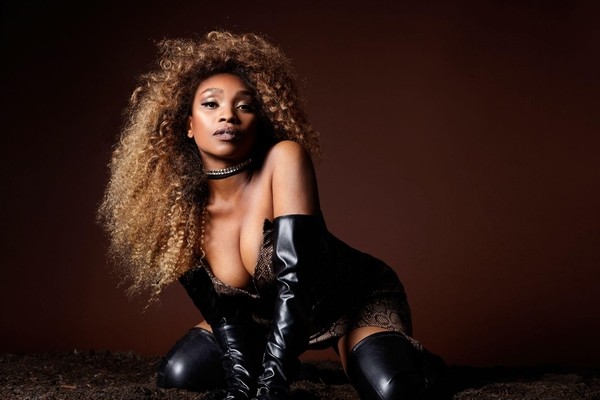 @skopemag news – wednesday – june 15, 2022 @ 3 pm est
@skopemag HQ – http://smarturl.it/skope
Cleveland Francis' undiscovered '70s folk anthology sees light of day via Forager Records
Raised in poverty in the Deep South, Francis made his first instrument out of a cigar box and a window screen until his mother saved up quarters for an entire year to purchase him a guitar. As a teenager, he'd escape to a willow tree in his backyard – the subject of the anthology's title and lead single – often to sit for hours writing music to release his pain. When he left home to study at Virginia's College Of William & Mary, he was one of five Black students on campus. Enamored with a genre dominated by white performers like Bob Dylan, Peter, Paul & Mary, Joni Mitchell, and more, Francis performed his music occasionally to coffeehouses who didn't know what to make of his songs. Encouraged by a beloved professor, Victor Liguori, Francis eventually self-released his debut, Follow Me, in 1970 on his own label, which he dubbed 'Soulfolk'—a term he coined at the time to describe his sound. Francis shares, "This recording is possible because my professor, Victor, kept all the original tapes and copyright records. He gave these tapes to me a year before his passing and I dedicate this entire reissue project to him."
MR BRUCE – Shares Idiosyncratic Single "Dark Age": Out Today || + UK Festival Dates
With Mr Bruce's latest single he has successfully replicated the feeling of dancing with complete abandon after a long period of abstinence. I think most of us can sympathise with the sentiment.
DIAMOND DOGS Drop Music Video for "You Shouldn't Be Lonely on a Saturday Night"
DIAMOND DOGS have released a new music video for the track "You Shouldn't Be Lonely on a Saturday Night". The song is off the band's new double album Slap Bang Blue Rendezvous, which was released earlier this year.
Chagall Guevara Back With New Single "Resurrection #9"
"If you want to be worshiped, resurrections are a good way to kick off the campaign," the band muses. "But lately all the wrong people are making comebacks, with their promo machines putting a new shine on their dirty deeds. Despite the imagery of mass graves, plazas cleared with gas, and undertakers, there's always hope for rebirth. This song is 'We Shall Overcome' with a bigger word count."
NYC's Oneida releases new single "Beat Me to the Punch" today! Off their forthcoming LP 'Success', arriving 8/19 on Joyful Noise
Sometimes even the longest journey ends close to where you started. Throughout the teens, Oneida pushed further and further into abstract, atmospheric sounds, recording long haunting compositions that couldn't have been more different than the pulsing, hammering anthems of their past. But now they return with Success, their most guitar-centric, rock album in decades. It kicks off with "Beat Me to the Punch," a song that is minimal like the best Ramones songs are minimal, pared back to beat and melody and a limited number of guitar chords. It's an uncomplicated pleasure from the get-go, and if it's ripped in half later by a corrosive guitar solo, well, what did you expect? This is Oneida.
JB SOMERS RETURNS WITH DEBUT EP THEY SAY I'VE CHANGED
"The title of the ep was inspired by one of my FAVORITE singer-songwriters of all time Joni Mitchell. Her song Both Sides Now has a lyric in the last verse that says 'and now old friends are acting strange. They shake their heads they say I've changed' and I remember being struck by that line when I heard it. Not everyone who has known me for years will understand this step I've taken to be my most authentic self, and that's ok. I wanted to call that out before they had a chance to say it themselves. A little gotcha moment if you will. I said what you were thinking haha" Somers says.
SEAFORTH TEAMS UP WITH SEAN KINGSTON FOR NEW SONG, "QUEEN OF DAYTONA BEACH"
Named from the Sydney, AUS suburb where they met as children, Tom Jordan and Mitch Thompson of Seaforth sat down with friend and collaborator Rocky Block one day during the Pandemic, and together penned a tune about a place they'd rather be – the beach. They found themselves drawing inspiration from Kingston's 2007 hit "Beautiful Girls," and wondered, "Wouldn't it be crazy if we somehow could get Sean Kingston on the song with us?" The duo managed to pull it off.
Ben Harper Releases "We Need To Talk About It"
Propelled by Harper's blisteringly funky guitar, "We Need To Talk About It" defiantly addresses the wounds of slavery through a sharp-edged call-and-response with gospel-fueled backing vocals and pounding rhythms augmented by the distinctive sound of the African talking drum.
London-based electronic producer SOUND OF FRACTURES drops stunning new single "Dream"
A dreamy concoction of smooth lo-fi soundscapes, the hazy summertime vibes of "Dream" bring an upbeat hit of sublime nostalgia. Following on from his recent hit "Ultraviolet", the rapidly rising Londoner continues to produce honest and visceral snapshots of life throughout his music, using a series of effective percussive elements with instrumental samples to cultivate a soundtrack bursting with life.
KAITLYN AURELIA SMITH ANNOUNCES NEW ALBUM 'LET'S TURN IT INTO SOUND' OUT AUGUST 26 VIA GHOSTLY INTERNATIONAL
Composer and experimental sound pioneer Kaitlyn Aurelia Smith has announced her new solo album Let's Turn It Into Sound, slated for release August 26 on Ghostly International. The album's title reflects KAS' pursuit of more intuitive and physical responses to the complex emotions brought on by the fraught moment we live in, exploring major questions so many have wrestled with: How do we understand what it is we're feeling? How do we translate our experience of the world into something that someone else can understand? "The album is a puzzle," KAS says. "[It] is a symbol of receiving a compound of a ton of feelings from going out into a situation, and the song titles are instructions to breaking apart the feelings and understanding them."
Grammy-winning Fantastic Negrito in Boston on 6/20
On 6/20 at The Sinclair, three-time Grammy-winning singer, songwriter, and activist, Fantastic Negrito, will be performing music from his new album White Jesus Black Problems, released via his label Storefront Records.
WHO: Three-time Grammy-winner Fantastic Negrito
WHAT: Fantastic Negrito performs music from his new album, White Jesus Black Problems
WHEN: Monday, June 20th – doors at 7pm/show at 8pm
WHERE: The Sinclair
OCEANS OF SLUMBER RELEASES "HEARTS OF STONE" OFF STARLIGHT AND ASH OUT JULY 22ND
Texas-based Southern Gothic outfit OCEANS OF SLUMBER releases their newest song, "Hearts of Stone" today. The track follows their previous release, "The Waters Rising", which came out this past February. Both tracks are off OCEANS OF SLUMBER's upcoming album, Starlight and Ash, which is set for release on July 22nd.
Brixton locals Baytrees release the video for their personal single 'Stitches'
Brixton-hailing four-piece 'Baytrees' have been crafting their unique blend of hip hop beats, funky rock riffs and catchy pop hooks since 2018. New single 'Stitches' is a soulful, life-affirming personal story of childhood nostalgia and loss that you can still vibe to. The band will take you on a journey lyrically and keep you dancing the night away.
RUSK: Treble Premieres "Banana Brain" Video From Experimental Post-Rock Outfit; Debut Full-Length, Om Improvement, Nears July Release Through Nefarious Industries
Om Improvement was recorded and mixed by the noble John McEntire (Tortoise, The Sea And Cake) at Soma Studios in the woods of northern California, with additional recording by Jason Adams, mastered by Eric Castillo, and completed with artwork by Chris Nag.
Watch the undersea video for Rusk's new post-rock single, "Banana Brain"
LIGHTNING SEEDS RETURN WITH NEW ALBUM 'SEE YOU IN THE STARS'
Hard to believe it's been more than a decade since Lightning Seeds released a new album but at last we can celebrate with the release of See You In The Stars, their first on new label BMG – out October 14th.
ELEKTRIC MISTRESS Are Now Streaming Psychedelic Stoner Rock EP "Chapter 99"
For "Chapter 99", they toned down a bit of the spacey stuff in favour of classic, straightforward stoner rock, inspired heavily by Black Sabbath, and explore lyrical themes such as madness, the occult, the dangers of substance abuse, and lost love. They share their excitement for the release:
Damian Lazarus Announces Return of Day Zero Masada: Dwellers of the Dead Sea
Damian Lazarus' Day Zero remains an essential marking of time for the global electronic music community, a signal of new beginnings and a party that connects the physical and spiritual realms.
Founded in the jungles of Tulum in 2012, the event has grown from a humble gathering into one of the world's most celebrated festivals. No matter which sacred grounds it inhabits, Day Zero brings forth earth shattering music curation combined with industry-leading production, creating the ideal environment for dancefloor transcendence. From the ancient Mayan civilizations, the elite experience-crafters now focus on the Bedouin tribes and nomadic peoples of all creeds and cultures that have crossed the Dead Sea region.
Los Angeles Indie-Pop Band HUNNY Share New Single + Music Video "Loser"
Buzzy LA indie-pop band HUNNY showcase clever songwriting in new single and music video, "Loser." Ahead of their new EP 'Homesick' out on July 22nd via Epitaph Records, "Loser" embodies the band's penchant for contrasting dark lyrics with glittery synths and earworm hooks. The offbeat music video is hilariously awkward yet endearing, depicting frontman Jason Yarger rollerblading around Venice Beach while performing the song karaoke style with "LOSER" written across his forehead. Filmed on lofi VHS, the grainy quality offers a blast from the past.
Space Garage Rock Specialist DUST MICE Present "Choom Wagon" Official Video
Stella Mwangi To Release New EP "ICON" On June 16th Via Position Music
Stella Mwangi's latest EP ICON will drop on June 16th, 2022 via Position Music, and is a force of nature. The fashionista and songstress' newest release is a bangin' 7-track onslaught of uber-confident pop infused with sass and swagger. It's confident, sexy, powerful, and showcases Stella's undeniable flow that fans of the Norwegian-Kenyan artist and model will surely be eager to hear.
MILKBLOOD RELEASE NEW SINGLE + VIDEO "WICKED" FEATURING PVRIS
The venture was spawned during the Covid-19 quarantines of 2020. Musicians David and Pat had spent their pre-pandemic years hunched over a mixing desk, establishing impressive careers writing for and producing the likes of Hayley Kiyoko, Weezer, Tom Morello, SAINt JHN, Miley Cyrus and Jess Glynne. Self-isolation gave them the opportunity to dream and manifest with contemporaries like Dave's brother Mike, the only music video director (L'il Nas x, Run the Jewels, The Lonely Island) to ever make it on the Saturday Night Live team. They pooled their considerable skills in music, film, and art to build an esoteric universe expanding across digital and metaspace media. Utterly unique, but relatable and poignant, the MILKBLOOD mythos combines the macabre modern horror of 1980s' VHS video nasties with sharp contemporary commentary, and a retro acid house 'synthpunk' look.
VOMIT FORTH Releases New Track and Video For "Predatory Saviour"
It's All in a Day's Work for Jay Fizzle on "Last Song"
Alternative Hip Hop artist ESS_WEST drops slick visuals for 'OUCH'
Romantic Queer Love Story: Lush Indie Pop
Annelle Staal is a Nashville based singer/songwriter who crafts soulful lush indie pop with elements of folk and rock. An old soul who wears her "heart on her sleeve," Annelle grew up a military brat and carries the puzzle pieces of her childhood with her. Passionate about capturing the human experience in her writing, Annelle has a "wide wing span" of styles—ranging from atmospheric ballads, sunny acoustics, and big band blues.
Emerging Rock Band THE CASE Releases 'Throne', a Radiography of Meditation & Self-Knowledge
=
Alternative Rock band THE CASE has released a new single, 'Throne,' a mix of alternative rock, indie, and a bit of garage-rock swagger. The song's concept stays close and personal to the band's roots.
In a statement, the band said: " 'Throne' is a look into oneself while trying to find meaning in a world gone mad."
Delgres Share New Single and Video "Mwen vlé maché" || Out On Le Label / PIAS
Today, Delgres share their new standalone single and video, "Mwen vlé maché," via Le Label/[PIAS]. "Mwen vlé maché" is a sunny and happy folk song, with a very personal vision about what can be the American dream can be, according to Delgres.