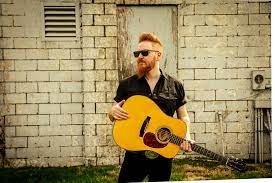 Danny Burns' new single "Someone Like You" is an unexpected and imaginative re-interpretation of Adele's original. It's the first release, as well, from Burns' forthcoming album Promised Land, the Irish born singer/songwriter's latest foray into roots music. It isn't any stretch to say that the Irish and British have demonstrated a special affinity for bluegrass and other Americana forms, particularly when taking regional American history into account. It's nonetheless spectacularly impressive that Burns has adapted so completely to the roots style dominating this release and other efforts.
FACEBOOK: https://m.facebook.com/dannyburnsmusic/posts/
He's drafted some major talent from the world of roots music/bluegrass for his new work. Tim O'Brien joins Burns for this track and a world-class musicians are backing Burns every step of the way. Scott Vestal handles banjo duties, Ethan Burkhardt plays upright bass, and Tony Wray contributes his guitar playing to the track. Fiddle player Billy Contreas, Josh Methany on dobro, and Matt Menefee's mandolin rounds out the unit.
It all comes back to Burns, however. Contreas' fiddle kicks the song off with a flourish, but Burns' voice takes command fifteen seconds in and compels the listener's attention. He has an authoritative side to his singing that plays an important role in his success, but his warm tone and self-assurance are even more crucial.
O'Brien's backing vocals are well-timed and the mix captures him nicely. Brandon Bell deserves considerable plaudits for documenting Burns' latest single with such balance and the overall inviting, layered sound encourages multiple listens. His musical configuration for the song never sounds like an ad-hoc assemblage of talent but, instead, a time-tested band working at the peak of their collective talents. It makes for joyous listening. 
Adapting Adele's pure pop songcraft into bluegrass comes across better than you might think. It reflects an inherent flexibility in the material, Adele has always chosen well like her or not, and, of course, testifies to Burns' outstanding talents as an adapter. It sounds like an original, in every way, and you wouldn't know about its past unless someone told you. He obviously heard something in the original version setting him on this path; it is likely he noted its vocal potential.
https://open.spotify.com/track/1SDMAeZnsJJEy6In2YJijt?autoplay=true
Attentive listeners will notice how Burns goes so far as not changing the pronouns in the lyric. It may seem like a small thing, but it does give the delivery an unexpected twist and likewise reveals something of Burns' artistic philosophy. He is re-envisioning Adele's song, yes, but he is performing the lyrics as written rather than making even the seemingly smallest of changes.
Danny Burns has definitely staked out his territory as one of the best budding bluegrass talents working today. His 2019 debut North Country still ranks as one of the most auspicious debuts in recent memory and this single from his third effort Promised Land shows no sign of dimming energies. Burns, if anything, sounds emboldened and ready for some of the best of years of his career ahead. "Someone Like You" is a song showing the way. 
Gwen Waggoner