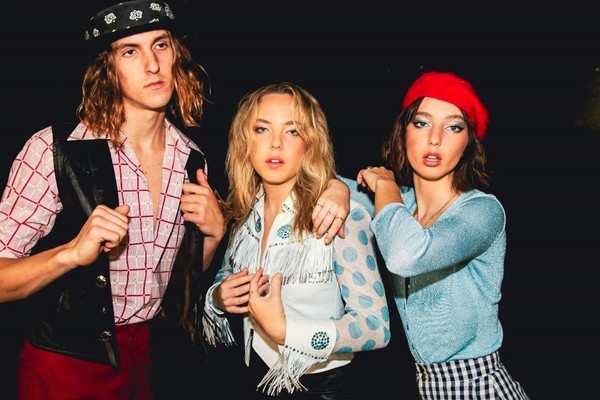 @skopemag news – monday – june 6, 2022 @ 11 am est
@skopemag HQ – http://smarturl.it/skope
SINEAD O'BRIEN RELEASES NEW TRACK "LIKE CULTURE" – ALBUM FRIDAY
Today Irish artist Sinead O'Brien releases a brand new track and video "Like Culture", taken from her debut album 'Time Bend and Break The Bower' out this Friday June 10th via Chess Club Records. Sinead recently performed on Later… with Jools Holland and will be embarking on an instore tour this week. O'Brien will also play a string of festivals including Glastonbury ahead of her massive autumn UK, Ireland and European tours including London's Lafayette – the full list of live dates is below. Watch the Sarah Piantadosi-directed video below.
DAGNY returns with new single "Brightsider"
(6 June) Norwegian pop superstar Dagny has returned with her new single "Brightsider" ahead of a summer of festival appearances and a run of headline shows in London, Berlin and Amsterdam. "Brightsider" follows the release of Dagny's widely praised debut album Strangers / Lovers in 2020 and her 2021 collaborative single with Astrid S, "Pretty".
Release Blistering New Track 'Ready For Something'…
Following the release of their anthemic single 'Bloodrush', The Amazons have dropped their blistering new track 'Ready For Something.' The track is the second taste of new music from the band's forthcoming album How Will I Know If Heaven Will Find Me? – out September 2nd 2022 on Fiction Records.
JAMES BOURNE SHARES THE NEW SINGLE 'X-MAN' – WATCH THE VIDEO HERE
'X-Man' sees James put his own modernist spin to some throwback R&B / pop crossover flavour, the song's lilting melody and sunbathed beats embedding itself within your mind after just one listen. That tranquil, holiday soundtrack groove provides the backdrop for a lyric which comes from a far more introspective place. As with the rest of the 'Sugar Beach' album, 'X-Man'was a collaboration with James's friend John Fields (Jimmy Eat World, Jonas Brothers).
Columbia-Maryland rapper TRE AMANI drops brand new visuals to "Lo$t Kid" and '$hook' EP
Heddlu unveils Video for brand new 'Locker' single out now on 'Zawn Records'
Heddlu is the new musical project by Rhodri Daniel. The Ceredigion native was a founding member of renowned Welsh band Estrons who had a major impact on the industry having gained rave reviews from the likes of NME, Vice, DIY and Clash to BBC Radio, Radio X, Ultimate Guitar, The Guardian and Independent.
Electronic Bodyguards return with hypnotic single 'Stronger'!
First single 'Stronger' (out now) sets the course with an expansive, evolving sound and slowly unfurling structure, as cinematic strings and deep riffs are occasionally joined by a soulful cry of 'Stronger', alongside pattering rhythms and plaintiff keys.
Darren Hayes unveils new single 'Poison Blood', touring Australia in 2023
Following on from what has been a stellar pair of single releases thus far in 2022 ('Let's Try Being In Love', 'Do You Remember?'), 'Poison Blood' is another strong example of the way Darren Hayes has reconnected with himself not only on an artistic, but personal level.
MEDIA ALERT: THE BUCKLEYS RETURN WITH 'OOPS I LOVE YOU'
Coming off of the release of their critically acclaimed debut album Daydream, Australian pop-country trio THE BUCKLEYS have returned with a brand-new single "Oops I Love You" which is available today, June 3, 2022 via Petrol Records/Universal Records/UMe. Recorded at Nashville's iconic East Iris Studios earlier this Spring, "Oops I Love You" finds the chart-topping band in a fun-loving, joyous playful mood.
PURITY RING 'GRAVES' EP OUT NOW
The EP includes current single "Graves" as well as "soshy", another new song they released last year, with both songs showing why Purity Ring continue to be one of the most interesting and dynamic electronic duos of their generation.
Michael Franti's new album 'Follow Your Heart' is out now
Michael Franti has long been revered for his inspiring music, worldwide philanthropic efforts and the power of optimism. Deemed by NPR as "equal parts musician and activist," Franti continues to offer opportunities for gratitude, solidarity and celebrating how we get through the greatest ups and downs of our lives with our body, mind and soul still intact with Follow Your Heart, released last Friday via Thirty Tigers.
[PRESS] New Junk City is back with "Rosey"
If you're not familiar with New Junk City, now is a perfect time to get to know them. The Atlanta-based punk group have announced that they have signed to Pittsburgh-indie A-F Records and will be releasing a new album titled Beg A Promise in the fall. The lead single "Rosey" sounds like a lost gem plucked from a 90's alternative station. With shimmering guitars and a huge chorus complimented by "nah, nah, nah's", it's a song that would fit perfectly between The Lemonheads and Gin Blossoms. What I'm saying is that you absolutely have to listen to this. "Rosey" is streaming now on all of your preferred digital platforms.
Brazilian band Oyster release "Phoenix", new single addresses daily resilience with punk's synergy
Phoenix" is the third single released in 2022 by Oyster, with a bass and drums exuding frenzy, the song seeks to give a strong and joyful touch to a lyric that emphasizes resilience in the face of those most unfortunate moments of our lives. It's that sound that helps to forget about problems, while life hits us, we put a big smile on our faces and make it clear that we will always win: "Still I Rise".
Introducing // Teenage Sister Duo "HAVET" (Debut song "Child" Out Now)
German-Swedish Sisters Mimi (18) and Josy (16) together form the exciting new duo, HAVET, who today launch their impressive, sleek debut song "Child" along with an official video.
CAT BURNS & SAM SMITH RELEASE DUET OF VIRAL HIT "GO"
Arriving in time for Pride Month, Cat and Sam's version of "go" flaunts each artist's incredible vocal abilities, while Sam's signature songwriting style offers a fresh perspective to the South London artist's BRIT certified gold single. Cat and Sam recently previewed their version of "go" to fans and onlookers with a special performance at Speakers' Corner in Hyde Park.
KATIE ALICE GREER shares video for "Captivated" from debut solo LP 'Barbarism' out 6/24 on FourFour Records
Of the video's concept, Greer shares: "This is a creepy song, in my mind, and I wanted to lean into that for both the production and the video's narrative. In the video, a woman is intermittently experiencing time in reverse. She sees a plane fly overhead in a field and moments later, it flies backwards. She carries a suitcase full of money and now wonders where it came from. After experiencing time in reverse, she questions whether or not her experiences ever happened at all; she wonders whether she is in the present moment, caught in a daydream or a memory. In the video we are experiencing her mind's chopped and shuffled versions of both, none of what she's seeing or remembering (wandering at night, a woman in a yellow skirt, a gloved hand reaching for her in the field) makes any sense to her anymore. She is losing her sense of reality, and simultaneously trying to piece it back together with the few and unreliable clues she has left."
Tim Burgess (The Charlatans/twitter listening parties) announces new solo album; shares new Kevin Godley-directed video
Tim Burgess announces the release of his new solo album. The frontman of legendary British band, The Charlatans, singer-songwriter, Tim's Twitter Listening Party creator and author's sixth solo LP, TYPICAL MUSIC arrives via Bella Union Records on Friday, September 23. Pre-orders and pre-saves are available now. Produced at Wales' famed Rockfield Studio by longtime collaborator Daniel O'Sullivan (Grumbling Fur, Sunn O))), Ulver), TYPICAL MUSIC includes the captivating new single and title track, "Typical Music," available today at all DSPs and streaming services. An official music video – directed by 7x MTV Video Music Awards-winner Kevin Godley (U2, Sting, Blur) – premieres today via YouTube.