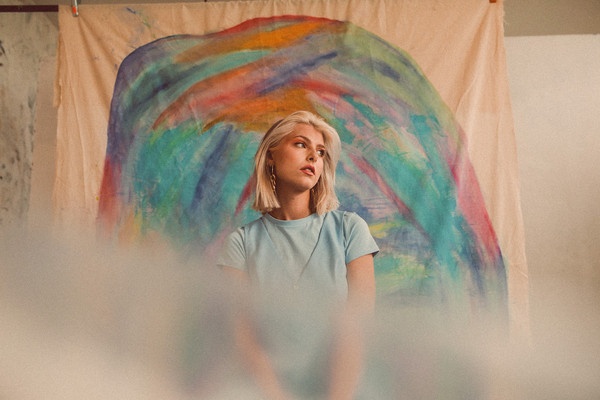 @skopemag news – wednesday – june 1, 2022 @ 2 pm est
@skopemag HQ – http://smarturl.it/skope
Indie-pop artist Tarragon shares new single 'Revise The Moments' via Luna Sky Recordings
Despite being only 26-years-old, the road towards releasing his debut album has been a long one to walk for Coventry based singer-songwriter, producer and multi-instrumentalist Callum Pickard. Now recording and performing under the name Tarragon, he is gearing up to release I've Just Seen A Scene on June 17th via Luna Sky Recordings.
Alice Rowe cuts the confusion with soulful alt-R&B number 'As It Seems' [June 1st]
"I wrote this track after attending an art exhibition in London 'Alice in Wonderland – Curious & Curiouser', the concept was about a girl who struggled to survive the confusing world of adults, she also struggled to come to terms with life and learnt that there are many layers/ mysteries. It is thought that Alice and several other characters secretly suffer from mental health issues which helped me to come up with the lyric 'behind closed doors you can't see, nothing is ever as it seems', this is a metaphor for the many doors Alice opens in Wonderland and also for real life where you never know what's truly going on. After attending the exhibition I felt that the concept fit with my current thoughts at the time and it felt right that I explore that. I then created the project. The art work is also inspired by one of the pieces of art in the gallery which I have in my home studio. This track is really exciting for me as I feel like this is where I found my sound."
3ree ft Kellin Quinn release video for 'Set This Place On Fire'
Glaswegian indie-pop newcomer Alex Amor follows up Thomas Headon tour with new single "Colour Me"
(1st June) Up-and-coming London-based, Glaswegian indie-pop artist Alex Amor releases her new single "Colour Me" today on UK Indie label Young Poet. Fresh off the road after supporting Thomas Headon on his recent UK tour, Alex Amor teamed up with Mack Jamieson and Gianluca Buccellati who produced "Colour Me", the latter known for his work on Arlo Parks' Grammy-nominated album Collapsed In Sunbeams.
VANCE JOY SHARES "EVERY SIDE OF YOU" AHEAD OF HIGHLY ANTICIPATED FORTHCOMING ALBUM,IN OUR OWN SWEET TIME OUT FRIDAY, JUNE 10
"Clarity" is fast proving another landmark success for Joy, currently ascending the top 25 at Alternative radio outlets nationwide after amassing critical acclaim from the likes of Rolling Stone and V Magazine, which raved, "'Clarity' is bubbly and bright…Groovy bass, sharp drums, and Joy's usual guitar blend together with uplifting horn solos to create the perfect summer tune." "The new track adds a world of depth to the folky indie-pop slant of Joy's earlier material," agreed NME, "supplementing his cool and cruisy acoustic strumming with deep bass grooves, crisp and lowkey yet duly impactful drums, and a soaring horn section."
Chicago prodigy PRINCE COOP drops summer trap cut "Chrome Heart Kisses"
Following on from an array of playful singles that put him on the map across his city, the 16-year old prodigy smashes into 2022 in a serious way with "Chrome Heart Kisses" – bursting with chest-rattling 808's and choppy trap percussive textures that lay the bedding for Coop's commanding flows and lyricism to shine front and centre. With the visuals seeing Coop and local talents Khi and Malik Mkuu running through the city, the flourish of vibrant youth culture perfectly encapsulates the vibe.
NATIVE SUN release scintillating cut 'Sister' | out today (June 1st) via GRAND JURY
US alt-rockers Native Sun share scintillating new effort 'Sister', set for release June 1st via NYC indie label Grand Jury (Hippo Campus, Hovvdy, Samia, Twin Peaks, Jordana).
What's more American than a band of immigrants? Native Sun doesn't so much ask the question as demand an answer with their cataclysmic resistance by audio. In our time of division, the four-piece brings their personal contexts front and center, unabashedly reimagining the sound of white Americana through their (mostly) brown mouths — empowered by the will to make music against all hostility.
V**GRA BOYS RELEASE NEW SINGLE "PUNK ROCK LOSER" – 'CAVE WORLD' OUT JULY 8TH VIA YEAR0001
Stockholm post-punk band V**gra Boys (**=ia for spam) return this week with a full-on old western video for new single "Punk Rock Loser" from their recently announced album Cave World out July 8th via YEAR0001. The video, directed by SNASK features Murphy nonchalantly walking through the wild west amongst tattooed cowboys and barmaids insisting that he's a "savage" and "really cool" in the most affectless, unconvincing slur he can manage. "I'm loose," he adds, a word the US-born vocalist has tattooed in Swedish on his forehead. The normally wild band is tamed into a bouncy pulse with only a few strands of frayed guitar squelching through the mix.
CARMODY releases new single "Trespasser" new album Imperfect Constellations (featuring Tom Misch, Alfa Mist, Conor Albert + Laura Misch) out 6th July
Carmody has long been using music as a way to uncover her subconscious, examining the complex web of relationships that surround her. Rich in detail and emotional substance, her music evokes the timelessness of Joni Mitchell and Joan Armatrading while nodding to the modern alt-folk of Laura Marling and Big Thief. In the face of memory and generational grief, Imperfect Constellations is split into four main parts (or 'Constellations') and draws on her own experiences of alternative therapy, entering a world of discovery and recognition.
KUČKA shares 'Messed Up' via LuckyMe + to headline Sydney Opera House for VIVID
On 'Messed Up', KUČKA takes the foundations of UK garage and alters their composition, taking new shape with swan-like synths, sizzling bass and chopped up vocal breaks. Here KUČKA's one-of-a-kind cosmic vocals are pushed to new automated heights, charged up to their peak only to rupture at their drop. Consistent with the "digital soul" (CLASH) that KUČKA has become known for, 'Messed Up' makes clear her careful hand at production.
Mariel Buckley Announces New Album "Everywhere I Used to Be" Out on August 12, Launches Single/Video for "Shooting at the Moon"
Revealing her authentic self is growth enough and Buckley pushes her songwriting to similar challenging efforts on Everywhere I Used to Be. While in the studio, Buckley and Paquin made an intentional move towards contemporary production, and quickly found themselves in a daily rhythm of deconstructing and rebuilding each song to find its full potential. "Whatever Helps You" is Buckley serenading the night in the style of country futurist and in "Neon Blue" she struggles with loss through an echoey guitar lick and '80s synth chords that transition into a pulsing rock beat. Other songs paint vivid novellas with their detailed, personalized lyrics – "Strip malls, local bank / Street lined up with neon crosses" (in "Hate This Town") or "Just sold that old wagon we dented / Rocks kicked up, scratched off the paint" (in "Horse Named Nothing").
Can't Tame the "Coochie Man": YN Jay shares 'Young Wild & Free'
The audacious avatar of Flint's out-of-pocket rap scene, YN Jay won a cult following with his boisterous personality and real deal rhyming skills. Providing a peek into his promiscuous persona, Jay shares Young Wild & Free, his new project. With a soundscape sculpted by Flint-area architects ENRGY, Marc Boomin, and Wayne616, Young Wild & Free lays Jay's freeform, stop-start flows on top of airy synths and boomin bass, giving his sex-crazed bars an air of sophistication. His first project since last summer's Coochie Chronicles, Young Wild & Free remains exciting across its 15 tracks, moving from signature "Coochie Man" manifestos like the slyly sensual "Summer Walker," to freewheeling experiments like the chattery and chaotic "IDK What I Made." The new project balances the more outrageous outbursts with some of Jay's most tender moments to date, including the mournful and melodic "How I'm Doing," and the closer "Miss My Dawg," a heartfelt tribute to his incarcerated friend Rio Da Yung OG.
With previous support from Clash, New Noise and Notion, alt-rock artist WRYT shares new single 'Charlatan'
Written, recorded, and produced by WRYT during quarantine, 'Charlatan' continues that broad and thunderous direction he has cultivated for himself over the last few years. With its raw and pulsing energy, matched by his rich and euphoric vocal performance, he has once again delivered a cacophonous offering that demands to be heard.
Shinedown Releases Soaring Anthem "Daylight" About Our Human Connections
Multi-platinum band Shinedown have released their soaring and poignant anthem "Daylight." Offering an assurance that you are never alone, the single's meaningful portrait of a vital human connection reflects the importance of our relationships and the people in our lives whose support and empathy help get us through to the next day.
Electronic Synthwave Duo BEAUTIFUL MACHINES Release "Baum Baum," A Rejuvenating, Techno Rumination of Life Starting Anew
The genesis of electronic duo BEAUTIFUL MACHINES' new single "Baum Baum," out today, began in Berlin one winter on a three-month writing hiatus, during which time, Stefanie Ku and Conrad Schuman of the duo visited the famed Hansa Studios (Bowie, U2, Iggy Pop, Nick Cave, Depeche Mode). The idea for the song came about when Conrad learned of the heart-wrenching, ever present news that there were thousands of unexploded "bombs" still posing a potentially catastrophic tragedy in the city, left over from World War II.
Unfiltered Grape: Big Moochie Grape Shares "Uncut & Raw" from East Haiti Baby
With a gigantic charisma and a rapidfire flow, Big Moochie Grape is never afraid to speak his mind. Letting the world know how he really feels, the Paper Route Empire rapper shares "Uncut & Raw," his fiery new video single. Produced by Sosa 808, a Cleveland native who is a mainstay in the world of Memphis trap, Big Moochie puts his big personality on display, supporting himself with boisterous ad-libs, adding energy to his stories of his emergence from poverty: "Remember them days take them trips on the Greyhound?/East Haiti Baby, remember them days we used to shoot at them playgrounds." In the video, Moochie posts up at one of the roughest intersections in East Memphis, as he rides his dirtbike, puffs on his cigar, and shows off his shiny East Haiti Baby chain.
Neal Francis shares video for "Prometheus;" earns Americana Awards nomination
Chicago-based singer-songwriter-pianist Neal Francis has shared a creative new video for "Prometheus," one of the many highlights found on his acclaimed 2021 album, In Plain Sight (ATO). Directed by longtime collaborators Alec Basse and Max Moore, "Prometheus" is streaming now at YouTube.
FELIVAND lets go on 'Not My Way' from Ties LP out Aug 5 + signs w/ Arrival Artists
On "Not My Way", FELIVAND showcases a darker and grittier side compared to the warmth shown on previously released "Butterfly Wings." Pulsed forward by a thudding melody underpinning brassy vocals, she sings, "Holding onto pain it is not my way," absolutely determined to let it all go. Teaming up with producer Maxwell Byrne (Mallrat, Cub Sport), she shares more about the song, "It's about forgiveness and letting go. Picking up your pieces and moving forward whether or not you got the closure or apology you think you deserved in that moment."
Phoebe Bridgers Releases "Sidelines" Video
Phoebe Bridgers has released a video for her most recent release, "Sidelines," the track written and recorded for Hulu's latest Sally Rooney adaptation Conversations with Friends. Bridgers recorded and produced the song with her Stranger In The Alps and Punisher collaborators Tony Berg, Ethan Gruska and co-writer & bandmate Marshall Vore. The new video is a compilation of tour footage from her current Reunion Tour shot by Jackson Bridgers.
Muse's New Song "Will of The People" + Accompanying Video
PANIC! AT THE DISCO ANNOUNCES VIVA LAS VENGEANCE
Midlake share video for "Exile;" US tour begins this week
BENIGHTED Unleashes Disturbing New Music Video for "Casual Piece of Meat"
BENIGHTED vocalist Julien Truchan comments: "Here we go, guys! Another part of our lovely Michael story and the search for his mom's love. We want to thank everyone who's been involved in this creepy disgusting project, with a sweet taste of 'Texas Chainsaw Massacre.' Kick Your Eyes did great once again with these amazing actors. We give you 'Casual Piece of Meat!' Enjoy it and SHARE, SHARE, SHARE!!!"
VINCINT releases new song feat. Hayley Kiyoko and MNEK exclusively with Cann
NO WIN Announce New LP, Share "Surfing" Single + Video via FLOOD Magazine
Today, NO WIN announce their new LP, Dodger Stadium, due August 19 via Dangerbird Records. To kick off the album cycle, they have shared a brand new single entitled "Surfing," alongside an accompanying music video directed/edited by Ryan Baxley.
Alela Diane Releases New Song "Howling Wind"
Dan Pallotta Releases His Debut Single
Dan Pallotta has lived many lives. The folk artist was born on the first day of John F. Kennedy's presidency and went on to attend Harvard University. Pallotta ran for office and won at a young age, with his sights set on the American presidency. During the '80s, he began to realize he was gay, at a time when there were no out political leaders, and subsequently turned to pursue his dream of music.