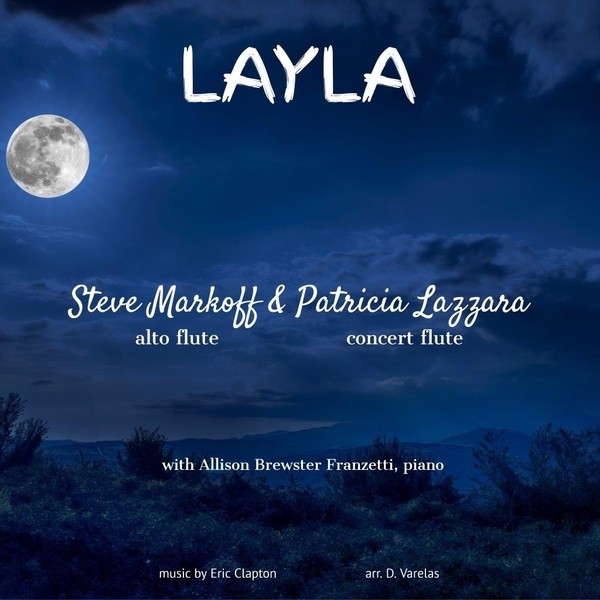 Patricia Lazzara's skill and dedication to her concert flute playing has garnered her critical praise, awards at a variety of competitions, and the recognition of her peers. Her work as a music educator proved fortuitous for one reason, if no other, thanks to her meeting Steve Markoff. The alto flutist originally came to her looking for instruction and a twist in the tale ensued. Their teacher/student relationship evolved into a creative partnership that fully flowered with the 2019 release of their album Timeless. Markoff and Lazzara teamed with Grammy nominated pianist Allison Brewster Franzetti on the debut and continued their partnership with their sophomore release Romances in Blue.
Their new single may surprise some. The classic Eric Clapton written rock anthem "Layla" doesn't strike you like a song lending itself to being reoriented for flute and piano, even in its later 1990s acoustic guise. These three musicians and arranger D. Varelas upend expectations, however, without ever losing the essence of the original or its later versions. Covers are a curious thing in popular music. Artists are well-advised to not stray far from the original or else their attempt to cover an older song will be rendered unrecognizable. Conversely, artists make a mistake if they opt for trying to mimic the past.
These musicians find a perfect balance. You hear plenty of echoes from the original song rife through the piano playing, Markoff and Lazzara's soloing, but there's slight shifts and twists as well. It cops the same jazzy feel as the 1990s version but the original always looms in the background for both and neither makes any meaningful attempt to shed its shadow. It isn't difficult to imagine Clapton himself enjoying this track.
https://open.spotify.com/album/73VPttbru2fGUo5nO9VYWL
They don't demand too much of the listener's attention and the production polish is one of the track's chief strengths. This song is tabbed as one of the cuts included on the trio's forthcoming album release, slated to hit this summer, and it isn't difficult imagining it ranking as one of the album's marquee tracks. It's obviously a vote of confidence from all involved that they've chosen it for a single. 
It is a bold choice to begin with. No one can accuse Markoff, Lazzara, and Franzetti of ducking musical challenges and playing it safe. They haven't made their musical collaboration reliant on these inventive covers alone, but there's no question that this aspect of their presentation deserves our attention. It isn't a gimmick. They bring a real level of musical excellence to the track that should attract a broad audience.
It will likely keep those listeners coming back for more as well. They are probably never going to attract a wide fanbase due to the nature of their music, but it's unlikely they care. You get the feeling hearing this performance that Patricia Lazzara, Allison Brewster Franzetti, and Steve Markoff aren't in this for the fame, but for the love of music alone. They convey that love in every second of "Layla". Anything else is gravy.
Gwen Waggoner
The music of Steve Markoff and Patricia Lazzara has been heard all over the world in partnership with the radio plugging services offered by Musik and Film Radio Promotions Division.  Learn more https://musikandfilm.com