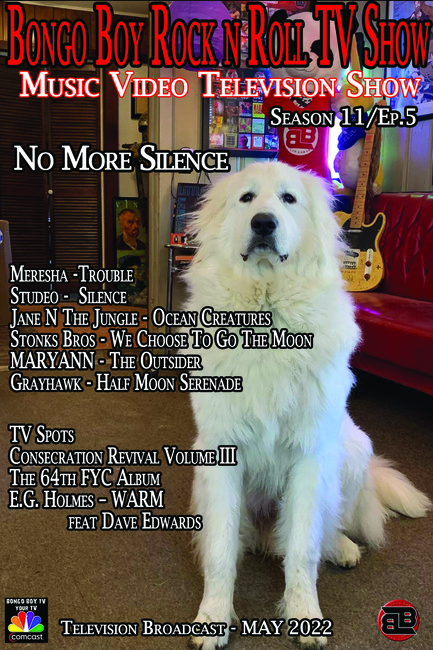 Meresha delivers a wild, drunken groove on the fractured beats of "Trouble". From the broken acid fragments to the hip-hop rhythms, there is an uncanniness to it. Her voice rests in the center for she sings with the right degree of decadence keeping the approach stripped down and raw.
Gigantic, truly gigantic guitars underpin Studeo's massive swath of "Silence". Drums hit with a massive volume for the rest of it seemingly soars up into the sky. Lyrics have a dreamy-eyed dew to them full of love.
"Ocean Creatures" shows a distinct love of 90s alt rock for Jane N The Jungle celebrate it fully. The buildup of the song works itself up into a frenzy. Virtually becoming a wall of sound for the final stretch it is easy to get lost in the many layers. Quite serene there is a tenderness to it.
Glo-fi aesthetics fully in place, Stonks Bros has a pure blast on "We Choose To Go The Moon". Nice vocal cut-ups further emphasize the chaotic antics of the work. Many times, it draws from a long-lost video game soundtrack, as there is a giddiness to the way it all bursts at the seams.
MARYANN taps into a classic garage rock fire with "The Outsider". Keeping things to the essentials there is an infectious quality to the driving rhythms. Her voice rises above featuring a nice defiance to it.
An ancient beauty graces Grayhawk's "Half Moon Serenade". Here there is a love for a truly timeless sound. The arrangement is acutely balanced, with the instruments playing off each other's gestures in a way that feels so romantic.
Features music videos from around the world by award-winning artists.
Premiered on 5.3.22 on Channel 29 in Portland, OR USA and is followed by heavy rotation Nationwide on 72+ TV channels in the USA. See TVGuide at http://bongoboytv.com for your local listing.
Summary Ep5 Season11 Bongo Boy TV
Meresha -Trouble
Studeo – Silence
Jane N The Jungle – Ocean Creatures
Stonks Bros – We Choose To Go The Moon
MARYANN – The Outsider
Grayhawk – Half Moon Serenade
TV Spots – New Music Releases
Consecration Revival Volume III by Various Artists
The 64th FYC Album by Various Artists
E.G. Holmes – WARM feat Dave Edwards