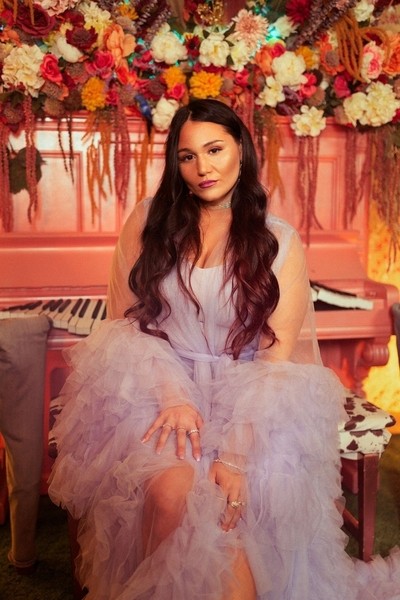 @skopemag news – friday – may 20, 2022 @ 11 am est
@skopemag HQ – http://smarturl.it/skope
New Song From The Notorious B.I.G. – "G.O.A.T" – Featuring Ty Dolla $ign and Bella Alubo Out Now
NEW YORK – "G.O.A.T." – the first new song from The Notorious B.I.G. in 17 years is out now, one day before what would have been the iconic rapper's 50th birthday. Listen to it HERE.
Global superstar Ty Dolla $ign supplies a verse on the Afrobeats-influenced track while rising Nigerian R&B star Bella Alubo delivers the hooks. Biggie, a.k.a. Christopher Wallace, appears on the song in samples from "I Love The Dough," a fan favorite from his diamond-certified 1997 album, Life After Death. The song is available now on all digital and streaming services.
Ty Dolla $ign says, "Being on a song with Biggie has been a dream of mine since I was a kid. The song title is fitting of him…the G.O.A.T. Happy Birthday, Big. We miss you!"
THE LICKERISH QUARTET complete trilogy with cosmic new EP 'Threesome Vol.3' out today!
If you're not familiar, the band is made up of ex-Jellyfish members Roger Joseph Manning Jr. (Beck, Air, Cheap Trick, Imperial Drag), Tim Smith (Noel Gallagher's High Flying Birds, The Finn Brothers, Sheryl Crow, Umajets) and Eric Dover (Imperial Drag, Slash's Snakepit, Alice Cooper, Sextus). All three available for interviews!
bbno$ RELEASES NEW SINGLE 'piccolo'
OUT TODAY: Mia Berg – I'll Never Leave You (FFO Soccer Mommy, Holly Humberstone, Phoebe Bridgers)
The first months of 2022 has found Oslo-based songwriter Mia Berg setting off down a path of new music and new directions. After releasing the wistful "The Other Side" and recent lo-fi single "Goodbye, For A While", today sees the Norwegian move through the gears with an uplifting new track called "I'll Never Leave You".
Nostalgia and childhood memories – alongside the stasis of a two year global pandemic – has informed Mia's music recently but "I'll Never Leave You" focuses on the chaotic life of a twenty-something, making bad decisions…yet still knowing the value of good friends when we stumble into those dark places.
Newcastle Songwriter MAIUS MOLLIS Reveals Debut Solo Single 'The Tide Turned'
JASON DERULO HEATS UP THE SUMMER WITH "SLIDIN' (FT. KODAK BLACK)"
"Slidin' is right on time feeling exactly like a much-needed summer vacation," says Derulo. Hailed by Billboard as "The Crown King of TikTok" and named atop the influential "Future 25" in its 2021 "Future of Music" issue, Derulo is among TikTok's biggest superstars, currently the 4th most followed male on the video-sharing platform with the 11th biggest account overall. Indeed, the multi-talented singer-songwriter, digital guru, and entrepreneur continues to see his already astronomical TikTok presence growing daily, now boasting more than 52.3Mfollowers worldwide and over 1.2B likes, amassing more than 5M views with each and every post.
RY X SHARES THE NEW SINGLE 'SPIRAL' FROM THE NEW ALBUM 'BLOOD MOON', OUT JUNE 17TH
HATE MOSS – Release New Album 'NaN' – Today || Watch sci-fi video for "Pensar"
Fusing space-age beats with industrial-tinged instrumentals, a catchy chorus and trance-like melodies, the song sees the band in collaboration with the Brazilian artist Isis Broken, who adds a tint of South American hip-hop to Tina and Ian's distinct vocals.
Press Release: SATOR Announce New Album 'Return of The Barbie-Q-Killers'
After 20 years it's finally here – Sator – Return of The Barbie-Q-Killers.
In 1994, Sator released the cover album 'Barbie-Q-Killers', where the band made their own versions of "obscure" punk songs. The album quickly became a favorite among the band's fans, and the demand for a sequel has followed them ever since.
Now the wait is over! The sequel, 'Return of the Barbie-Q-Killers', will be released on July 29, 2022 via Sound Pollution! The new single, "Brown Eyed Son" (originally recorded by Katrina and the Waves), is the first taste of the album. A track that sets the bar for what to expect from the long-awaited follow-up.
Dance System unveils remix of the Groove Armada classic Superstylin'
Visionary producer Dance System, formerly L-Vis 1990 and co-founder of the influential Night Slugs label, unveils his remix of the 2001 Groove Armada classic Superstylin'. Out 20th May via BMG, the track is part of a string of releases marking the 25th year since the band's debut single At The River.
Originally released as the first single from their third studio album, Goodbye Country (Hello Nightclub), Superstylin' went on to become a global hit and was nominated for
Best Dance Recording at the 2003 Grammys.
Subjective Release Brand New Album 'The Start of No Regret'
Today – 20th MAY – production duo and electronic virtuosos SUBJECTIVE – comprised of legendary DJ and producer GOLDIE and acclaimed engineer and producer JAMES DAVIDSON – release the brand-new album 'THE START OF NO REGRET' via THREE SIX ZERO RECORDINGS/SONY MUSIC.
The new sound of British R&B – Diedrick arrives with powerful debut track 'Better'.
'Better' paints a poignant, painful, but soulful picture of two people falling in and out of love. The song follows a young man allowing his insecurities to eat away at a steadily declining relationship, in which he converses and confesses his inner thoughts and feelings with himself as a result of his own infidelity.
John Newman drops infectious new single 'Holy Love'
Propelled by John's soaring, instantly-recognisable vocals, 'Holy Love' is a rousing modern pop ballad with an infectious dance energy. The Yorkshire-born artist will also perform at London's Night Tales on 25th May for the track's launch party.
Andrea Oliva brings the Ibiza season with vibrant new single 'Rio'
Dance music favourite Andrea Oliva returns with new single 'Rio', out 20th May on his All I Need label.
A flamboyant club track featuring tantalising piano hooks and brimming with colour, 'Rio' possesses all the attributes to become one of Ibiza's biggest dance hits. Oliva's sixth release on his own label, it follows on from his well-received recent EP 'Cala Bass'. He also recently relaunched his legendary ANTS Ibiza residency at Ushuaia, and will perform at a slew of other venues in the coming weeks, including Zurich Street Parade, Music On, Medusa Festival and various Elrow events.
SPHERIC UNIVERSE EXPERIENCE: new album from French progsters out today
Soaring riffs, stunning soli, pounding rhythms and vocals that just nails, supreme. This is the approach taken by French progressive metal stalwarts Spheric Universe Experience, as they get to their fifth studio album, titled "Back Home", released today. With a superb production from the talented producer Damien Rainaud, the Symphony X, Dream Theater and Queen-inspired music from the Code d'Azur quartet is a statement, carved in stone!
Glasgow's THE PLASTIC YOUTH Reveal New Single 'No Beginning' Released 20th May 2022
Glasgow indie/jangle-pop quartet THE PLASTIC YOUTH are pleased to reveal their new single 'No Beginning' which is released on 20th May 2022.
WARGASM RELEASE NEW SINGLE 'D.R.I.L.D.O' OUT NOW
Copenhagen artist LINN returns with new single "Happiness Is Real"
Today, Copenhagen-based artist LINN returns with the announcement of her haunting and uncompromising new single "Happiness Is Real", which, with sudden dynamic shifts and contrasting moods, examines the division and the inner struggle between good and evil, the beautiful and ugly, and the fragile and expressive.
ROKETS Announce Deal with The Sign Records
The Sign Records are happy to announce that ROKETS have joined the label for the release of their second studio album, 'Break Free'. Hailing from the Finnish capital of Helsinki, Rokets deliver an explosion of electrifying rock n' roll. Previously seen gigging around Finland and the Baltic states, Rokets released their debut EP Speed & Sound in 2019, followed by the well-received 2020 album 'Fast Times'. Now, the group is set to launch their second full length, kicking things off with the brand new single "Cherry Kiss".
GRAND CANYON – NEW VIDEO FOR SINGLE 'HEART OF GOLD'
ST. LOUIS returns with the cinematic "Debut" (co-starring Kara Marni)
A genre-bending banger tinged with a dark R&B edge, "Debut" uses St. Louis' signature cool and heavenly use of harmonies to explore the tragic infatuation of a man falling blindly in love. Released alongside cinematic visuals of a foreboding ritualistic bewitchment – performed by R&B songstress Kara Marni – St. Louis' charismatic presence as a performer shines.
Watch: Rio Rainz Shares New Video For 'Damaged'
At just 18-years-old, Rio Rainz' debut offering drifts and swirls with his R&B-tinged vocal which blends seamlessly into bedroom rap. The result is a soul-baring, introspective track for fans of exciting British talent such as Bakar, Kamal and Berwyn, as Rio articulates pain and heartbreak, set against inventive and alluring production. 'Damaged' is a taster of what's to come as his debut EP is set for release this summer.
BROJOB Introduce New Single 'Recidivism' Featuring Dan Tucker
New York born and based pop songstress Sabrina Monique unveils candid 'Sideshow' single
3x Grammy Nominated and Stellar Award-Winning Gospel Group, THE WALLS GROUP Release New Single "CRAZY" In Anticipation of Upcoming New Album
"CRAZY" was written by Eric Dawkins, Darrel Walls, Alic Walls, Ahjah Walls and Rhea Walls and produced by Warryn Campbell and Justin Lyons. "CRAZY, came from finite beings not having the vocabulary to accurately describe an infinite and extraordinary being. What else could you call a move of God? He leaves us completely floored most times. He'll tell you to go where no one else can or will. He'll tell you to say something that may seem out of order, or do something that nobody, including you, will understand at the time. All for his intended purpose and design, and it always works out for the good of them who love God and are called according to His purpose. That's "crazy"!," mentions The Walls Group.
SACROSANCT Featuring Former PESTILENCE Members Announce 'Avenging Angel' Single Release, Video Teaser Posted
Progressive Metal outfit SACROSANCT, founded by former Pestilence guitarist Randy Meinhard, have announced the release of a new single/video for 'Avenging Angel' on June 3rd, 2022. The track is taken from their fifth, yet untitled studio album to be released later this year.
PBSM's new 80s-inspired EP Faded is out today!
Xavier Omär shares heartfelt new single "Feelings 4 You"
"If you've ever had feelings for someone but never told them or had to hold them back, this song is for you," explains Xavier. "I experienced the same thing with my wife before we started dating and the rest is history. The inspiration for this single legitimately comes from how I started dating my wife. She wanted to be friends and I really tried but I knew I felt more between us. Life is too short not to let people know when you love them."
PALAYE ROYALE UNVEIL NEW SONG "BROKEN" OUT TODAY ALONGSIDE OFFICIAL VIDEO
[PRESS] Prepare for "Summer Nights" with Crozet
Sometimes an artist will take their time releasing music and leave fans wondering what comes next and when. As is the case with Philadelphia indie outfit Crozet. In 2018, the band released their sophomore album Running Time and there was a 5+ year gap between that and their debut We'll Be Gone By Then. What Crozet proves time and time again is that their patience between releases works heavily in their favor because they deliver fantastic albums. On July 1st, Crozet will release their newest album, Suburbia, which is a breezy indie-pop album that is rich with synthesizers. Crozet has a knack for writing songs that sound like they were pulled from John Hughes films and their lead single "Summer Nights" is your first peek at what's to come. "Summer Nights" is available on all digital platforms now, so go ahead and hit play and count down the days until summer is here.
N.E.R.D. meets Hiatus Kaiyote // New Single from Alt Pop Duo
Palmaria have racked up over three million streams on Spotify garnering support from the likes of Complex, Clash, NOTION, Wonderland, The Line of Best Fit, Ones to Watch, KCRW, as well as numerous playlist adds from Spotify editorial playlists including New Music Friday, Fresh Finds and more.
Dublin powerhouse Shobsy continues building momentum in brand-new release 'Driven' – a genre-blending pop phenomenon out now
Dublin powerhouse Shobsy continues building momentum in brand-new release 'Driven' – a genre-blending pop phenomenon.
Hotly tipped for his soaring falsetto and knack for fusing together contemporary and classic soundscapes to produce modern takes on 80s pop, Irish act Shobsy refuses to tread lightly in each of his releases, 'Driven' being the latest shot of adrenaline to add to his already eclectic discography.
ARIEL ROSE PRESENTS MULTI-GENRE EP "IN PARAÍSO" // ARIEL ROSE PRESENTA EP MULTIGÉNERO "IN PARAÍSO"
From reggaeton and bolero influences to salsa, trap, and pop, Ariel Rose's EP, In Paraíso, is a Spanglish blend of genres all inspired by her beautiful hometown of Miami. From start to finish, In Paraíso takes listeners on a journey, contemplating leaving a failed relationship ("Let Me Go"), deciding to move on ("En el Paraíso"), meeting someone new ("Atrapada"), and finding love again ("Your Lovin'"). The music video for "Your Lovin'" was also released today with the release of her EP. The songs evoke different emotions as she takes us on the journey to finding inner peace and happiness.
Equipe de Foot release new single 'Quatre-Vingt Quatorze' today!
It's a constantly shifting, woozy yet hypnotic 3rd single taken from the upcoming album. The song deals with the sadness and subsequent acceptance of growing up with an emotionally repressed father, but with a sense of lightness and positivity.
TAI VERDES RELEASES NEW SINGLE "100sadsongs"
Of the track, Tai says: "In my life, growing up, I remember listening to sad songs over and over again, especially when I was going through something heavy. I think a lot of people do that to cope with their emotions. '100sadsongs' is dedicated to just that. It shows that there's this thing that I used to do and sometimes still do and know that many other people also do this and can relate. Just to live in the emotion of songs, which is also really a cool thing. The way in which we can all relate to music through the things we are feeling."
Savannah Conley Releases New Single "Always Gonna Happen"
An ode inspired by the cheeky moments one predicts the outcome of a situation, "Always Gonna Happen" is the musical embodiment of everything Conley has experienced—and lived through—throughout the most formative years of her life. From the complete abandonment of religion to experiencing the overwhelming, snarky feeling of knowing her foresight and judgment was correct, "Always Gonna Happen" further solidifies Conley as a whip-smart, powerful songwriter.
LeAnn Rimes announces forthcoming album 'God's Work' & unveils new track 'the only' ft. Ziggy Marley, Ledisi & Ben Harper…
"It is an honor to have such a unique and diverse group of artists joining me on this song. Artists of like mind and heart that are also spreading a message of love in the world," Rimes said. "'the only' really is all about community and connection, so I felt inspired to create the track in community with those I deeply admire and respect."
[out today, chamber folk] Ensemble Dal Niente Member and Multi-Instrumentalist Em Spel Releases Debut LP The Carillon Towers
Em Spel is the solo project of Chicago-based songwriter and multi-instrumentalist Emma Hospelhorn. Her debut album, The Carillon Towers, folds myriad textures into songs that feel alternately lush, spiky, delicate, abstract, and grounded, yet simultaneously unified and cohesive. With one foot in pop music and the other in avant-garde classical music, the album is a subtle take on chamber folk: the lush instrumentation is layered into these compositions in such a natural way that listeners aren't totally confronted by it until a flute or violin line or a delicate electronic texture cuts through and the track is suddenly presented in a new light.
American Terror release new Track, announce New album
"'End Of America' represents the state of our country right now," says vocalist Brad Cox. "No matter what side you're on or what you believe, everyone's pissed off and feeling this way. History is being rewritten in so many ways. People are passionate again and willing to fight for what they believe. 'End Of America' is the anthem for standing up to bullshit and making a change."
Moore Kismet Releases "Wasteland" Co-Written by & Featuring Carlie Hanson
Today Moore Kismet releases "Wasteland" – the latest single from the 17-year-old musical prodigy's forthcoming debut LP UNIVERSE that's due out June 2022 via Thrive Music. The track was co-written by Kismet and alt/pop phenom Carlie Hanson, who also lends her vocals to the hypnotic new single. In "Wasteland," Kismet injects their unique production approach to Hanson's undeniably pop vocals, offering up some fresh sound design elements to the beautifully sounding song.
Rising Canadian alt-country star KYLE MCKEARNEY releases new single "Grandfather" and announces tour dates with Kip Moore! [Download links included]
Kyle McKearney has emerged as one of the leading Canadian voices within the Americana scene since the release of his 2021 debut solo album Down-Home. Recently named one of SiriusXM's Top of the Country Semi-Finalists, the Calgary-based singer/songwriter also took second place in Project Wild 2022, Alberta's most prestigious artist development program, and has amassed over 850,000 global streams in just over a year.
Kyle McKearney announces tour dates and shares new single 'Grandfather'
Craig Finn releases new album today
A LEGACY OF RENTALS was recorded with Finn's longtime collaborators, producer Josh Kaufman and engineer D. James Goodwin, and sees Finn exploring memory – how we remember our loved ones, the places in our lives that have changed, and recent events that are part of our pasts. Written over the course of 2020, the album explores the line between song and straight storytelling, with contributions from frequent musical partners including saxophonist Stuart Bogie, backing vocalists Cassandra Jenkins and Annie Nero, and the rhythm section of Joe Russo (drums) and Michael Libramento (bass). It also features a 14-piece string section arranged and recorded by Trey Pollard at Spacebomb bringing a drama and grandiose elegance that sets the album apart from anything in Finn's previous body of work.
Singer/Songwriter, Jackson Nance, Announces Release of Debut Single, "I Love You Mom" in Honor of Mothers Everywhere
Jackson Nance, a 22-year-old singer/songwriter, awe-inspiring musician and music producer has announced the release of his debut single, "I Love You Mom" in honor of mothers everywhere. The self-penned tune was recorded at Anonymous Studios, North Hollywood, CA with production by Shane Bauman and Jackson Nance. Studio musicians on the project included Shane Bauman on midi and Nance providing acoustic and lead guitar. The new music is available for download and streaming on all digital music platforms, including Spotify, Apple Music, Amazon Music, Pandora and more at –
Kim Gordon & Erica Dawn Lyle & Vice Cooler collab. on "Debt Collector" from 'LAND TRUST: Benefit for NEFOC'
Gordon says the song's lyrics were inspired by what housing activists have called the "financialization" of housing – the trend in recent years of enormous private equity investors buying up a huge share of the entire world's affordable housing stock in order to trade bulk real estate as a speculative asset in the global financial markets. Investors typically buy up large areas in up and coming neighborhoods, becoming absentee landlords who ignore tenants' needs while driving up rents and displacing long settled communities.
HANSON release Red Green Blue album today; ICYMI – performed on Good Morning America yesterday
HANSON have finally released their highly anticipated new album, RED GREEN BLUE. Out today, the album comprises three solo-led projects from Taylor, Isaac, and Zac Hanson, and marks the band's milestone 30th anniversary by bringing together the band's three unique creative voices like never before, with a third of the album written and produced by each brother: Taylor's RED, Isaac's GREEN, and Zac's BLUE. RED GREEN BLUE is available now on vinyl, CD, and digital at all retailers. The band performed "Child At Heart" on Good Morning America yesterday.
Be Well release emotional, melodic-hardcore EP, Hello Sun
Out today on Revelation Records comes Hello Sun, the new EP from Be Well. Serving as a followup to the band's critically acclaimed The Weight And The Cost (2020), Hello Sun is full of high-energy, melodic hardcore infused with emotion and lyrical depth. Across the six songs on the record, frontman and producer Brian McTernan finds emotional catharsis through examination of childhood trauma, depression, and fatherhood while still providing a hopeful light. Rounding out the band are guitarists Mike Schleibaum (Darkest Hour) and Peter Tsouras (Fairweather), bassist Aaron Dalbec (Bane), and drummer Shane Johnson (Fairweather), making for an all-star line-up.
Nelson deliver first-ever Greatest Hits (and Near Misses) via UMe, July 8
Multi-platinum-selling act Nelson is unveiling their most comprehensive compilation ever on July 8, 2022 on CD and digital platforms through Universal Music Enterprises (UMe). Greatest Hits (And Near Misses) not only includes their smash "(Can't Live Without Your) Love and Affection" and other hits from their two Geffen Records releases, but also notable tracks from the Nelson twins' well-received subsequent albums. Available starting today, pre-order and hear the first track, "Too Many Dreams," which had previously only been officially available in Japan as a 1991 single and as an After The Rain (Japanese Edition) bonus track and is getting its digital debut.
Tasman Keith returns with 'IDK Ft. Phil Fresh'; "swaggering" (Consequence)
The preview of Tasman's debut album so far includes his recent collaboration with Genesis Owusu on 'CHEQUE', the anthemic 'LOVE TOO SOON' and the cheeky bait-and-switch, '5FT FREESTYLE.' The three tracks alternate between characters whose journeys are chronicled across A Colour Undone. Now with 'IDK', Keith unveils another layer to his debut's narrative, weaving the ramifications of major heartbreak alongside a battle of his internal ego.