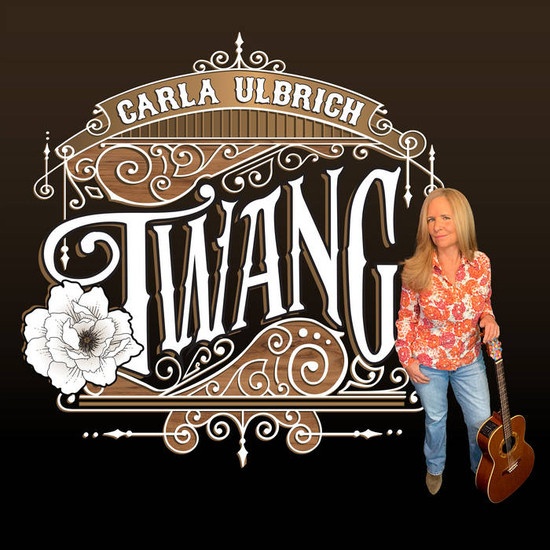 Carla Ulbrich is a talented singer/songwriter from New Jersey with a sweet 'n' sassy, Southern spirit! Carla has been performing since the 90s and her music has been featured on: BBC, Dr. Demento, Sirius XM Comedy Radio, Pandora and NPR's Morning Edition. Carla has also appeared as a musical guests on the television shows "The Revolution" and "Up All Night with Rhonda". Carla Ulbrich even appeared as an extra in the movie "Sharknado 2". Carla is most certainly a multi-dimensional artist with an array of talents, but music is her true, life's passion. With her latest release titled 'Twang', Carla proves that she has just the right, two-step tone & rhythm for your ears.
Carla Ulbrich wrote the lyrics for all eight songs on 'Twang' while also handling lead vocals and acoustic guitar. This album includes a tremendous group of musicians and they are: Rob Ickes on dobro, Andy Leftwich on fiddle, Bob Malone on piano & organ, Erik Halbig on guitars, mandolin & banjo, Steve Goodie on drums & bass and Bob Harris on lap steel guitar, bass & mandolin. It's worth noting that Bob Harris is also the producer and engineer on 'Twang'. Together, this band has stirred up quite a 'Twang' that will get many talking and dancing. Let the chitter-chatter and jamboree begin!
Right off the bat, Carla's personality is shining through on the opening number, "(Is It) Hot Enough For 'Ya'?" where things are really heating up! It's always a good time for a laugh and this song will get many people smiling for all the right reasons. Next up, Carla is "Interviewing Therapists" where this catchy, little tune will give you a good chuckle. Track three, "20 Rats", offers up witty lyrics by Carla Ulbrich and a relatable theme that many listeners will attract to. On "Stop Tryin' To Bring On The Apocalypse", one will hear an upbeat melody with Carla getting straight to the point about humanity in all its glory. On the song "The Recovery Waltz", the audience will receive an engaging story and fine arrangement overall. The music and the words will pull you in on "The Recovery Waltz", so soak it all up and consume this healthy release. On track seven, "From The Bible", enjoy these musical verses as Carla invites you to her own holy material and wisdom. Carla decides to end on a hilarious note on "(Have You Tried) Not Bein' A Dick" where you will be laughing up a storm. The listener will also be clapping and chanting along to the infectious lines on "(Have You Tried) Not Bein' A Dick". This person sounds like a complete jackwang, but makes for a great song so hat's off to Carla Ulbrich and thanks to this person for being an apparent dick!
'Twang' is a feel-good record with humor, smart material and solid instrumentation. This album is a success in my book, so Carla Ulbrich should be very proud of her efforts here. I say bring on the good 'ol 'Twang' and don't hold back!
By Jimmy Rae (https://skopemag.com/?s=Jimmy+Rae)