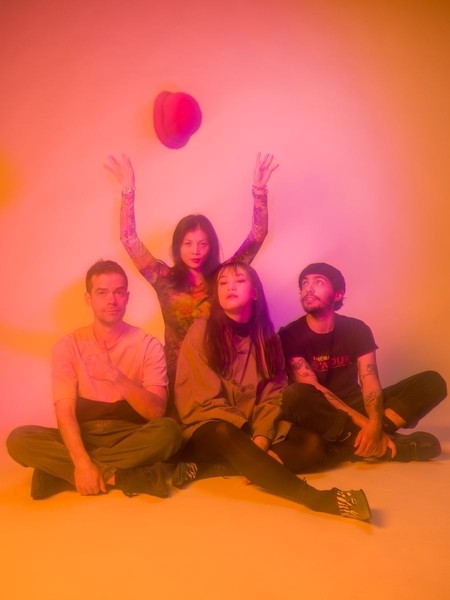 @skopemag news – tuesday – may 17, 2022 @ 4 pm est
@skopemag HQ – http://smarturl.it/skope
Merzbow & Lawrence English share new single 'A Thing, Just Silence', 'Eternal Stalker' LP out 6/3/22 on Dais Records
On their first official collaboration, Japanese noise pioneer Masami Akita aka Merzbow and Australian sound sculptor Lawrence English present a harrowing, surrealist portrait of nocturnal industrial activity, spawned by field recordings made in a sprawling factory complex seven hours north of English's home in Brisbane. He characterizes the area as "uneasy and unsettling," awash in the sickly glow of smelters and refinement machinery, somehow not of this world – a liminal quality vividly captured in Andrei Tarkovsky's (who would have been celebrating his 90th birthday this past week) sprawling purgatorial opus, Stalker, to which the title alludes. Akita, too, described early drafts of Eternal Stalker as feeling "like the soundtrack to a dystopian science fiction opera." A mood of mechanical dread and ruined futures permeates each of the album's seven potent compositions.
Hear Built to Spill's "Understood," A New Offering From When the Wind Forgets Your Name
"Understood" is a new single and highlight from Built to Spill's forthcoming new album, When the Wind Forgets Your Name. The song is about misunderstandings, and also takes inspiration from Evel Knievel's failed canyon jump in Martsch's hometown of Twin Falls, Idaho, that happened when he was a child.
CITIES OF MARS: stream new album in full via The Obelisk!
Swedish progressive doom and rock explorers CITIES OF MARS present their third studio album 'Cities of Mars' in its entirety ahead of its world release this May 20th on Ripple Music. Indulge in their riff-laden, melodic space odyssey now!
"The sprawl of their science-fictional Martian underground metropolises is met head-on by their self-recorded tonal spaciousness and largesse, fleshed out with currents of synth and effects and an increased focus on melody." – The Obelisk
Review & Full Album Premiere: Cities of Mars, Cities of Mars
DEANTE' HITCHCOCK RELEASES 'CALLIN' ALL MY CHILDREN' FEAT. BIG K.R.I.T. & WESTSIDE BOOGIE
An amalgamation of the project's track titles, Callin' All My Children is a unique blend of Deante's southern rap roots mixed with retro production influences. Tapping two heavy hitters in hip-hop, on "Callin'" Deante' is joined by Mississippi rapper and producer Big K.R.I.T. and Compton's Westside Boogie. The track features a booming bass line with a seductive R&B hook as each artist volleys back and forth on their respective verses. On "All My Children," Deante's rap skills are showcased at their most potent, with his powerhouse lyricism on full display as he waxes poetic about his come up as an artist.
JOURNEY RELEASE NEW SINGLE "LET IT RAIN"
"Just coming off of the first leg of our SOLD OUT JOURNEY FREEDOM TOUR, we are excited for our new single release 'Let It Rain' as it offers a sampling of what the next new chapter of music we have in store on our new album Freedom," says the group's founding member, guitarist, songwriter, and producer Neal Schon. "It's so exciting to see multi-generational fans in our audience; many of them being very young and singing all the songs and very open minded to the new material. We look forward to seeing you all for the second leg of our summer tour!"
RUSK: Experimental Rock Act To Release Debut Full-Length, Om Improvement, Through Nefarious Industries In July; "Aye Aye" Video Playing + Preorders Posted
Formerly known as post-rock/math-rock duo Jerkagram, twin brothers Brent (drums) and Derek (guitar) Gaines have re-envisioned their output and returned as RUSK, joined on their new record by Ryan Pivovar (bass) and Zachary Paul (violin). The Gaines brothers have toured North America extensively for over a decade and recently made themselves known in Japan when touring to support Jerkagram's third LP, 2018's All Eyes On Me.
SOMNUS THRONE: stream new single "Lacquer Bones" on Metal Injection
Los Angeles stoner doom trio SOMNUS THRONE share the second single taken from their sophomore album 'Nemesis Later', due out June 3rd on Heavy Psych Sounds. Stream "Lacquer Bones" now exclusively on Metal Injection!
About the song: "Lacquer Bones is an anthem of those who have lived in addiction of one kind or another. We kept it low, slow and solemn, with a heavy Acid King and even The Stooges sort of faded vibe. The whole thing should set you up to "fall into the bottle, never leave." Pop it in. Turn it up. And let it burn."
Boy Scouts' Taylor Vick & Ezra Furman band members' announce debut as Art Moore (ANTI-)/share "Muscle Memory"
Today Art Moore, a new project from Taylor Vick (best known as the songwriter behind Boy Scouts) and Ezra Furman collaborators Sam Durkes and Trevor Brooks, are announcing their self-titled debut LP. The album will be released via ANTI- on August 5th, and to mark the announce the band are sharing a single entitled "Muscle Memory" with a video with a video directed by Rocco Rivetti.
Hear Kamikaze Nurse's "Pet Meds" off Stimuloso that's out June 3rd on Mint Records! Catch them on tour throughout the month of June
Kamikaze Nurse are a rock band formed in Vancouver, BC, Canada in 2018 with KC Wei, Ethan Reyes, Sonya Eui, and John Brennan. Named after activist-philosopher Simone Weil's unfulfilled humanitarian death wish, the band released their debut LP, Bucky Fleur, on Agony Klub in June 2019. Their music has been described as "ethereal skronk," "Deleuzian rock," and "best of the '90s" by people on the internet and IRL. Their sophomore album, Stimuloso, will be released by Mint Records in spring 2022.
PENCEY SLOE unveil first video single and details of new album
PENCEY SLOE are now premiering the video clip 'Smile to Zero' as the first single taken from the dreamgaze rockers' sophomore full-length "Neglect", which has been slated for release on August 19. Biographical information and all details about the French outfit's new album can be viewed below.
Watch Will Oldham and Andrew Rinehart in new Wild West-inspired video for "Friend of the Devil"
Today Andrew Rinehart is joined by fellow Louisville native Bonnie 'Prince' Billy in the official music video for their cover of The Grateful Dead's "Friend of the Devil." BackSeat Mafia has the premiere.
Premiere: Andrew Rinehart & Bonnie "Prince" Billy cover Friend Of The Devil; see the accompanying video here first
Pure Noise Records and Pabst Blue Ribbon Present: 'Dead Formats Volume 1'
Pure Noise Records and Pabst Blue Ribbon have teamed up to present 'Dead Formats Volume 1', a 15-track compilation featuring the Pure Noise Records roster sharing their takes on the celebrated punk/emo/ska songs that helped shape the scene in the 90's and 2000's. Today, fans can listen to "Brainstew/Jaded" by Four Year Strong and "Fell In Love With A Girl" by LURK, which are found on the compilation.
RICHY RICH SE PREPARA PARA LANZAR "MIS RAICES", UNA PRODUCCION BILINUGUE CON INVITADOS ESPECIALES
El cantante urbano Richy Rich continua posicionándose como uno de los artistas con más proyeccion internacional de la escena Cubana. Richy Rich fue el productor de 7 de los 9 temas en el disco "La Conexion Cubana", del pionero de rap en español Don Dinero. Richy esta preparandose en el estudio para su proximo disco titulado "Mis Raices" que incluye el tema "Todo", que hizo con Don Dinero y se presentaron de promocion en programas internacionales como Despierta America y En Casa con Telemundo al igual que muchos otros medios de la ciudad de Miami.
OUT NOW: Namir Blade Drops 2nd Single "Mephisto" From Forthcoming Album "Metropolis" via Mello Music Group
Multi-instrumentalist, producer, and rapper Namir Blade drops new single "Mephisto" out now. Highlighted by rays of warm gospel and soul, "Mephisto" is a rally song packed full of quotables. The new single is the second release from Namir's highly-anticipated album Metropolis due out June 3rd on Mello Music Group.
RC LA SENSACION TRIUNFA CON EL TEMA ROMANTICO URBANO, "DCID" Y LE CANTA A "PAPA DIOS" EN SU NUEVA CANCION
RC La Sensación lleva muy poco tiempo en la escena musical pero ya ha logrado pasos increíbles. Su nombre de pila es Gerard Antonio Cordones Manzueta, nació en Santo Domingo, República Dominicana y es conocido por su nombre artístico RC La Sensación. Comenzó con pasión por el beisbol, pero por circunstancias de la vida y situaciones familiares, no pudo lograr entrar en las grandes ligas, como el había soñado.
Spotify Favorite // Indie Pop Meets Alt R&B // A Love Letter
HOWLAND HYATT, feat. Stet Howland (Metal Church) Releases New Full Length Debut LP via Mindsnap Music!
Following the release of their last two incredible hard rock singles "Eve of Destruction" and cover of "While My Guitar Gently Weeps", iconic powerhouse drummer Stet Howland, (current drummer of Metal Church & formerly of WASP), along with long-time friend John Hyatt and crew release a brand new full-length debut album with their killer new rock band HOWLAND HYATT.
HOWLAND HYATT's debut album H2 will be released worldwide on May 13th, 2022 on all major music platforms through the newly formed Mindsnap Music record label, distributed by Von Artists, Ltd. (via The Orchard).
The Hics drop self-directed music video for 'Tell Me'
Shot in their London flat, the video is self-directed with the footage captured on a mini DV camera that the pair purchased over lockdown. They pieced the video together with the additional help from director and projectionist Spike Silverton to enhance the moody atmosphere of the visual, which in turn emphasises the reflective nature of the track. The visual is cleverly edited together by Samuel Shapiro, interweaving multiple takes to give the impression of a one-take performance.
Broke Royals Announce New Album, Share Single "Revivalism" via Chorus.FM +Spill, Glide, V13, Psychedelic Baby Features | 'Local Support' Out July 15th
Local Support is an album about being brutally honest, savoring small moments, and finding the strength to start over. Despite being the band's third full length album, in many ways it feels like their debut. For years, the band was putting one foot in front of the other with gigs and writing, it was a grind, albeit a familiar one. After the world came to a screeching halt in 2020 and the dust began to settle, it appeared that not everything should go back to the way it was. Even relationships within Broke Royals were strained, leaving the future of the band feeling uncertain.
VIOLENTOR: Italian thrashers premiere new album "Manifesto Di Odio"
Italian thrashers VIOLENTOR are about to release to the world their forthcoming new full-length album "Manifesto Di Odio".
AN NCS ALBUM PREMIERE (AND A REVIEW): VIOLENTOR — "MANIFESTO DI ODIO"
Goose share new song & video; new album out June 24
Connecticut rockers Goose have shared "Arrow," available now at all DSPs and streaming services. The official music video is streaming now via YouTube. An explosive staple of their live setlist since its December 2019 debut, the long-awaited studio version of "Arrow" marks the latest track release from the band's upcoming new album, Dripfield, due everywhere via No Coincidence Records on Friday, June 24. Pre-orders are available now. A limited-edition double LP printed on 180g pink drip vinyl with a 12-page booklet is available for pre-order exclusively at the official Goose webstore.
Exclusive Premiere: Goose Gives Everything They've Got on "Arrow"
Watch Lindsay Clark's "Evening Star" video via Week In Pop; 'Carpe Noctem' is due 6/24
Lindsay shared some words behind the meaning of the single "I wrote "Evening Star" one winter when I was visiting my hometown in the mountains of Northern California, and the river there. I was struggling with some patterns in my life that kept ending in loss, but I was also in a time where I felt a sense of deep internal change. I had gone down to the river one day and felt soothed by the sound of water against rock. That feeling in the song is set against moon rise and the change of day into night, and is reflected in the changing harmony and rhythmic patterns of the song. When we went to record the song at Panoramic (in Stinson Beach, CA), I wanted to capture the darkness of night and the depth that water has, and William Tyler's guitar and bass parts added so much texture to the song. I always add a lot of layered vocals to my songs, and this one has a lot of those as well to create swells. Really, the song is about change and beginning a new cycle – feeling that before it's happened, but anticipating it."
HYO RELEASES NEW EP AND SINGLE, 'DEEP'
"DEEP" is an EDM genre song that compares the dangerous feelings of getting deeply entangled into a tumultuous relationship to a predator's quest for prey. The music video emulates this with horror-inspired visuals, spiderweb motifs, HYO who has transformed into a fascinating villain.
MEG MAC REVEALS BEAUTIFUL NEW OFFERING, 'ONLY LOVE'// WATCH HERE
Meg Mac continues her remarkable 2022 with the reveal of stellar new offering, ' Only Love'. A gorgeously poised offering from an artist who has built a passionate fan base on the back of her heartachingly honest pop, the track once again showcases Mac at her radiant, stadium ready best.
Blake Rose Releases Live Video For New Single, 'Demon.'
Ahead of his North American tour with girl in red, Blake Rose returns with an electric live rendition of his latest single, 'Demon,' which premiered exclusively on Consequence. Filmed in Los Angeles, and directed by Neema Sadeghi, the video features Blake commanding the stage, backed by a 5-piece band.
Ural Thomas and The Pain Share New Single "Gimme Some Ice Cream" || Out Now on Bella Union / PIAS
With their new album Dancing Dimensions due out 3rd June via Bella Union, Ural Thomas And The Pain today share a final pre-release track, "Promises," from their much-anticipated LP.
Personal Space shares "Ceviche from Kew Gardens" | New EP out 6/3
The track premiered via Under The Radar who said it, "sees the band embark on a winding reflection on pandemic dating. The band conjures a sunny easygoing groove as dueling guitars enlace in tangled knots of melody, capturing the warmth and charm of the early days of a burgeoning romance."
Get Educated With REBEL PRIEST's Rock N' Roll Music Video "Lesson In Love"; New EP Out June 2022 + West Coast Canadian Tour Dates
Vancouver's Rebel Priest has been bringing its eclectic brand of rock n' roll to fans for years in a true unadulterated, unapologetic fashion. A little bit greasy, a little bit sassy, but 100% committed, they have released four records, with a fifth on its way this year. "Lesson In Love" is the name of the upcoming EP as well as the first single, an untraditional ballad, like a love song sung by a Tommy gun. According to the band, it's about going through the trials and tribulations of loving something – the ups, the downs, the spirals, but without the direct subject being a person. The band explains further: