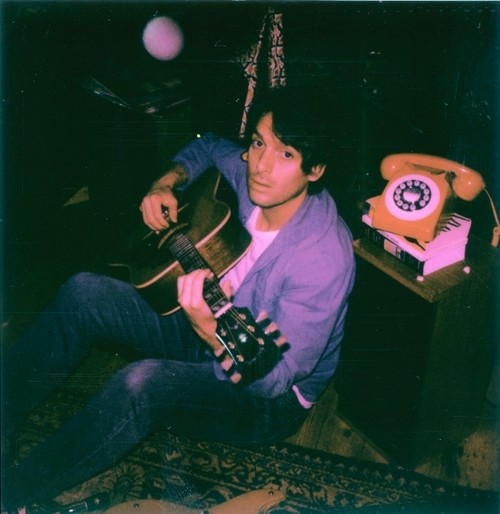 @skopemag news – thursday – may 12, 2022 @ 8 am est
@skopemag HQ – http://smarturl.it/skope
Rare DM shares new single, announces Synths at Sea boat show in NYC
Today Rare DM shares new single "Naomi" and announces Goth Boat Vol. 1: Synths At Sea which will feature live performances from Rare DM, Lucy and DJ sets by Italomatic DJs aboard the Cosmo in NYC.
John Errol Shares "Saturday Night" Single + Video via PAPER Magazine | New Track Out Now via All DSPS
Today, John Errol shares a brand new single entitled "Saturday Night," alongside an accompanying music video, directed by Nora DeLigter. The track is a sweet, love-struck synth-pop number, and its video is like the choreographed dance it exhibits — elegantly beautiful and technically masterful, documenting a fluorescent light-drenched love story as it unfolds.
ZONA GANJAH Releases Their New Album "Cristal 9"
After the singles "Cuanto Heredamos," "Juan" and "La Vida," which in just a few months surpassed 1 million views on YouTube and achieved hundreds of thousands of streams on Spotify and other digital platforms, today Zona Ganjah releases their ninth studio album Cristal 9. Without a doubt, this new project complements a growing discography and was created with the desire that the listener can access insights and reach the sense of a spiritual quest in his or her life.
TODAY: Matthew Bailey shares "Diamonds" a curious and captivating narrative single off new album mixed by Sandro Perri
Featuring a saxophone solo by Karen Ng and Ivy Mairi on backup vocals, "Diamonds" follows a chronological arc, jumping through decades of Thomas' life with each verse. The song's curious and laid back nature opens up the meaning of its titular refrain.
KTRNA – Tired (official video) – Berlin based Neo Soul / R&B
times are wild and enough sleep seems to become a rare privilege to some. The reasons differ but more and more people tend to struggle with getting themselves a fair amount of sleep each night, and thus recharging their bodies with enough energy. That's one side of the medal, people being stressed out, overwhelmed and unable to get the most needed rest at night. The other side of the medal is a constant boredom. When social media suggest that there is always a bigger, better, extremer, we tend to get forced into believing that we are missing out every minute of our lives. We could be doing so much cooler stuff then sitting at home with Netflix and some pasta. Berlin based Hawaiian Artist KTRNA actually managed to treat both sides of "tired" in her new single. She captures the feeling of being emotionally overwhelmed by insomnia and using the sleepless night as metaphor for boredom at the same time. While dealing with a stressful topic, KTRNA manages to turn "Tired" into a catchy, warming and empowering song. Her wonderful soulful voice tends to feel like a warm terry cloth coat that keeps you warm and your hopes up that sleep might just wait around the next corner.
Big Moochie Grape Prepares New Mixtape, Remains Incomparable in "I'm The One" Single
Coming out of East Memphis with a chip on his shoulder, Big Moochie Grape thrills listeners with flashy flexes and tongue-twisting flows. Proudly standing up for his hometown as he revels in his new life as a Paper Route Empire rising star, Big Moochie Grape announces East Haiti Baby, his next mixtape. Aided by signature Tennessee-style production from Bandplay and others, East Haiti Baby chronicles Moochie's rise from the trap to the top, showcasing the street acumen and sly grin that endeared him to Young Dolph, who handpicked him for his label. Continuing a dominant year for Paper Route Empire as they honor Dolph's legacy, East Haiti Baby arrives on May 27th via Paper Route Empire.
Matthew Ryals – New Album 'impromptus in isolation' out June 2022 on sound as language / First Single "obsolete portals (take 5)" Streaming Now
Matthew Ryals is a musician, sound designer, and educator based in New York, NY. Primarily working with a modular synthesizer, his music explores aleatoricism, cybernetics, and unfixed forms. Currently, his research investigates human-machine collaboration and the co-authorship of the resultant material. Tiny Mix Tapes has described his music as "filter[ing] the emotion of the human experience through the cold circuitry of electronics".
Rosalía Premieres Video For "Delirio de Grandeza"
Today sees GRAMMY winner Rosalía premiere a video for "Delirio de Grandeza" ('Delusions of Greatness') as the latest clip from her landmark new album "MOTOMAMI". The deliberately more introspective video of Rosalía, alone in the elements with her thoughts, was directed by Mitch Ryan and filmed in the beautiful landscape of Downsville, New York. This final video release from the album coincidentally arrives within hours of the project's first advance release "La Fama" featuring The Weekend, climbing to #1 on Billboard's "Latin Airplay" and "Tropical Airplay" charts.
American Guitarist/Songwriter/Multi-Instrumentalist Nick Palma Releases New Single "LANTERNS" + Official Music Video
Nick Palma released his new single "LANTERNS" to all major platforms along with the official music video!
Nick Palma is an American guitarist, songwriter, and multi-instrumentalist. Through years of honing his craft, he has developed a style that infuses strong melody, heavy rhythms, and blazing shred guitar. Born in the suburbs of New York, he knew at the age of 10 that music was his passion. Some of his early influences include Slash, Synyster Gates, Dimebag Darrell, Steve Vai, Jimmy Page and more.
Nuela Charles' soulful message of Self-Empowerment
Nuela Charles is an R&B/soul singer known for her soulful vocals and captivating stage presence, solidifying herself as a Canadian music staple based out of Edmonton. Born in Kenya, raised in Switzerland, Canada and the Bahamas, Charles' music is infused with her multicultural upbringing, giving a fresh and diverse flair to her sound.
"An anthemic, uplifting track, "Awakening" uses the force of its beat and Charles' soulful vocals to back up its message of women's self-empowerment" – COMPLEX
Matroda and Bleu Clair Unleash Formidable House Collab "PWR" on Insomniac Records – Out Now
"PWR" finds them linking back up on a chunky house track that works around a soulful vocal hook, and an uplifting piano house breakdown that sits in the middle of this dancefloor-pleaser. It's a chunky house record that has also claimed a top spot on the imminent 'EDC Las Vegas 2022 compilation,' in the lead up to both of their performances at the festival next weekend.
Artist: Matroda & Bleu Clair
Title: PWR
Label: Insomniac Records
Genre: House
Release Date: May 11
Yoo Doo Right Announces Album + Shares New Single "The Failure of Stiff, Tired Friends" + Music Video via Brooklyn Vegan
High-decibel experimental post-rock trio Yoo Doo Right are back with A Murmur, Boundless To The East, an epic sonic maelstrom recorded alongside Radwan Ghazi Moumneh (Suuns, Ought, Fly Pan Am) at world-renowned Hotel2Tango. Their sophomore effort is slated for June 10th, 2022 via Mothland.
A-Trak Shares House Anthem "Together At Last"
Powered by a driving bass line, "Together At Last" is a juiced up house anthem with classic diva vocals that will send you straight to the dance floor. A-Trak is no stranger to collaborating with friends so it's only natural he's teamed up with Illyus & Barrientos who previously remixed his 2018 single "DJs Gotta Dance More" with Todd Terry.
DUST PROPHET To Release "When the Axe Falls"
Stoner rock band DUST PROPHET will release their new single "When the Axe Falls" on June 10th, 2022. The single is from their upcoming album One Last Look Upon the Sky which will be out later this year.
Space Fight (Ra Ra Riot) Share "Do You Dream In The Daylight" Single via Glide+ Vents, Psychedelic Baby, Backseat Mafia Features | New Single Out Now
Writing began for the Space Fight album Do You Dream In The Daylight around the start of the pandemic, when the members of Space Fight found themselves in lockdown. What started with a few files being shared from New Jersey to Japan between vocalist/keyboardist/bassist Spen Miles and guitarist Tom Welch, soon became over 20 demos by the end of 2020. A lot of the material was influenced by the state of the world at that time, and the fact that both men (or really their wives) were bringing babies into that turbulent world.
VIDEO PREMIERE: Space Flight Elevates With Intricate & Expressive "Do You Dream In The Daylight"
Pretty Uglys release their uplifting ode-to-youth track 'Radio Waves'
Following a string of WA tour dates throughout January and February, Perth surf-rock trio Pretty Uglys release their latest uplifting track 'Radio Waves'. It's the follow up to triple j unearthed favourite 'Situation City' and their acclaimed 2021 sophomore EP 'Party Friends'. Although 'Radio Waves' celebrates being young with minimum responsibility, the lyrics highlight life can sometimes be a struggle.
New Centershift (ex-OneSideZero) EP 'A Different Shade…'
Centershift is the new project of Onesidezero vocalist/guitarist Jasan Radford, who in 2001 released what VH1 described as one of the 12 most underrated Nu Metal albums. This alt rock group crafts songs that have evolved from earlier years' work, and Radford and co have become a songwriting unit that brings great riffs back front and center along with vocals and production that is organic and authentic.
Laura Mac shines with anthemic pop single 'Don't Know What I'm Thinking' & announces debut tour dates.
With fresh & glistening sonics, LAURA MAC have returned with new single 'Don't Know What I'm Thinking', marking a shift in sound for the Queensland duo, trading indie-rock for quirky & sharp guitar-pop. As charming & alluring as ever, singer Laura Machlachlan retains the luscious melodies of previous single 'Garage Full of Dreams', with band & Zac Connelley now adding dance rhythms, jangly guitars and jaunting pop synth melodies to create 'Don't Know What I'm Thinking'. Reminiscent of Australian favorites Confidence Man, Eves Karydas & G Flip, the duo have channeled their love for those all night parties, good friends & celebrating every chance they get, to build a track that will fill dancefloors every single night.
New Music from renforshort, Travis Barker "we'll make this ok" On Interscope Records
After building buzz with recent releases "moshpit" and "made for you," 20-year-old alt-pop artist renforshort unveils a new single entitled "we'll make this ok" featuring Travis Barker. Released via Interscope Records, "we'll make this ok" is available now at all digital retailers. The music video for "we'll make this ok" will be live Thursday, May 12 at 9am PT/Noon ET.
PAOLO NUTINI ANNOUNCES NEW ALBUM 'LAST NIGHT IN THE BITTERSWEET' OUT ON JULY 1ST FEATURING THE NEW SINGLES 'LOSE IT' AND 'THROUGH THE ECHOES'
A recap of everything Paolo has achieved to date reiterates his status as one of British music's biggest success stories. Two of his three albums to date, 'Sunny Side Up' and 'Caustic Love', have hit #1 on the UK album charts as he amassed 8million global album sales, 8 million UK single sales, and 1.5 billion global streams. The Ivor Novello winner and multiple BRIT Award nominee has also collected a remarkable 18 Platinum certifications in the UK alone. Paolo has previously headlined festivals including Glastonbury's Other Stage and Benicàssim, as well as huge arena shows at London's O2 and Glasgow's OVO Hydro.
BLACKTOP MOJO "Jealousy/Make Believe"
The video is a two track compilation and first installment for the 3 song concept within their 2021 released, self-titled album.
Heartwarming, soulful R&B single 'Queen' from Meagan De Lima [out today – May 6th]
Meagan De Lima is a Toronto-based singer-songwriter crafting R&B music that comes from a place of heart-centered sweetness and compassion. At the core of much of her music is her family's rich cultural and musical heritage and this theme comes to the fore in new single 'Queen'. It's a special homage to her mother who is nothing short of a modern day heroine.