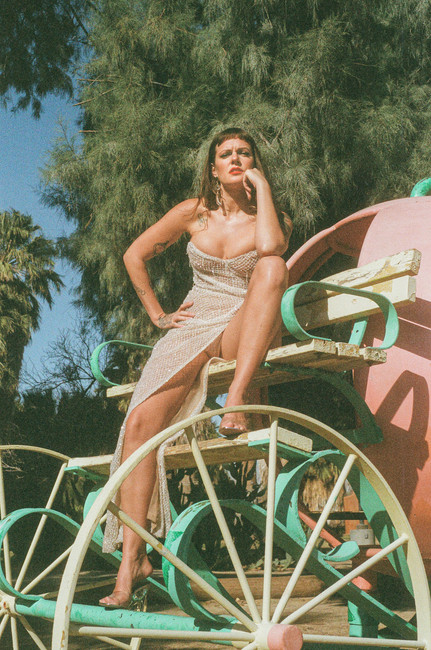 @skopemag news – tuesday – april 3, 2022 @ 4 pm est
@skopemag HQ – http://smarturl.it/skope
QUEEN KWONG releases "On The Run" video, a deadly take on reality dating shows
For the "On The Run" music video, Queen Kwong takes a dark, yet comedic aim at the superficialness of reality TV, specifically dating shows. The video showcases the standard over-the-top shenanigans found in the genre; drinking, partying, marriage proposals, however the dynamic shifts when Carré's character takes the final rose ceremony into her own hands
Joyce Manor Share New Single "Don't Try"
LA pop-punk trio Joyce Manor have shared new single "Don't Try" out today. This is the band's second offering since the announcement of upcoming album '40 oz To Fresno' where they dropped the energetic lead "Gotta Let It Go." Accompanying to-the-point lyricism and a raw, honest vocal delivery, drummer Tony Thaxton (Motion City Soundtrack) integrates inventive drum patterns into the verses of "Don't Try" that contrast flawlessly with the punchy hook.
CHRISTIAN DEATH Streams New Album in Full, Kicks Off U.S. Tour
In addition, CHRISTIAN DEATH will be kicking off their North American tour this Thursday, May 5, in Akron, OH! The run includes a back-to-back appearance during both days of Cruel World Festival in California!
John Carpenter shares "I'll Find You" from Firestarter OST
The horror master John Carpenter has reunited with his frequent musical collaborators Daniel Davies and Cody Carpenter for the soundtrack to the new film adaptation of Stephen King's classic novel Firestarter, and today the trio has shared a second glimpse at the score, "I'll Find You," a track in which high-octane guitars juxtapose with eerie quiet synths to maximize one of the film's most tense and thrilling moments. "'I'll Find You' is one of my favorites from the Firestarter score," states Carpenter. "It drives right along and carries you with it."
Pink Mountaintops share new track "Nikki Go Sudden" | New album "Peacock Pools" (ft. mem of Black Mountain, Melvins & Redd Kross) out 6th May via ATO Records
Today, ahead of the Friday, May 6th release of new album Peacock Pools via ATO Records, Pink Mountaintops pays homage to musical idol Nikki Sudden on the harmony-heavy and sweetly hedonistic new single "Nikki Go Sudden," serenading the late Swell Maps and Jacobites singer/guitarist with a gorgeous convergence of twisted nursery rhyme and elegantly debauched mythmaking (e.g., "Hush baby-baby, now don't you cry/Mama's gonna buy you some collision time"). "I wrote that song just after Nikki Sudden died, a tribute to a fallen-rogue unsung hero who existed in his own weird outsider world," shares Pink Mountaintops' Stephen McBean.
DC Gore announces debut LP 'All These Things' – biting satire drenched in synth pop
Quick on the heels of the release of a string of acerbic art pop singles, today DC Gore announces his synth-layered debut album, All These Things, out on July 29. Alongside the announce comes the anthemic, self-lacerating love song, "I Like You."
"I Like You" is a romantical synth-pop banger featuring a beautiful colliery brass band intro. Mixed by Alexis Smith (Speedy Underground), mastered by Heba Kadry and recorded with former bandmate Lawrence Hart, its scintillating lyrics and uncanny cultural references set against dance-floor beats is classic DC Gore. "Some things I like, some things I've been told to. Like an anti 'losing my edge' – for someone on the periphery."
Watch Kamikaze Nurse's video for "Come From Wood" off their upcoming album, Stimuloso, that's out June 3rd on Mint Records.
SUMO CYCO Drops Energetic New Music Video for "Cyclone" + Summer 2022 North American Tour Dates Announced
Cola (ex-Ought/US Girls) share "Degree" / Talk to Consequence about new LP (out 5/20)
In February, Cola, the new project from former Ought members Tim Darcy and Ben Stidworthy and US Girls/The Weather Station drummer Evan Cartwright, announced their debut LP Deep In View (out May 20th on Fire Talk Records). With the early singles "Blank Curtain," "So Excited" and "Water Table" immediately earning praise from outlets like Pitchfork, NPR, FADER, Stereogum, Uproxx, Paste, BrooklynVegan, Consequence, Clash, NME and Rolling Stone who named the band an Artist You Need To Know and called their debut "one of the year's most thrilling rock statements," the album has rapidly become one of the most anticipated releases of a busy spring. Today the band are sharing a new preview of the LP entitled "Degree," and have spoken to Consequence about the new track and LP in an Origins feature.
Brantley Gilbert and Jelly Roll Join Forces for "Son of the Dirty South Tour" This Summer; Tickets On Sale 5/6 at 10am ET
As multi-Platinum selling Country star Brantley Gilbert gears up for his two-night stand at Red Rocks Amphitheatre in Morrison, Colo. this weekend (Friday, May 6 and Saturday, May 7), the Georgia-native announces he will join forces with country rocker Jelly Roll for the Son of the Dirty South Summer Tour 2022, with special guest Pillbox Patti, kicking off June 30 in Jacksonville, Fla. Tickets for the tour go on sale this Friday, May 6 at 10am ET at BrantleyGilbert.com.
"I always look forward to being on the road and getting together with BG Nation, but I can say I'm especially excited to be heading out with my good friend Jelly Roll," shares Gilbert. "We've got an incredible show in the works, and we're looking forward to seeing you this summer!"
Southern Rock Artist CAGE WILLIS Releases New Single "She Walked Away" to all major platforms!
Southern rock artist Cage Willis has released a new single titled "She Walked Away" to all major platforms. The single is from his full length album due out this summer! In support of the album release, Cage Willis will be playing a hometown show at Merchant Park in Mount Carmel, IL on May 14th.
NIN3S Releases Debut Album "Hopeyard" on Dorado Records
'The Tunnel' features Nigerian vocalist-songwriter-producer, Irvin Suave who brings an RnB-gospel tinge to proceedings. Known for his startlingly beautiful alt-soul falsetto and reflective lyrics, 'The Tunnel' sees Suave tell a story of seeking an escape from pain and loneliness. Hiss melancholy lyrics and brooding delivery is like a confessional, wrapped by NIN3S slick production, with jazz inflected instrumentation, atmospheric synth and beats, and a melody so immediate, it's sure to stay with the listener.
Teagan Johnston unveils emotive dark-pop debut album
Formerly known as Little Coyote, Teagan Johnston, is a singer-songwriter who drives the genre beyond its current borders, bringing a radical rawness to her work that hits you in your heart. Following on from her single release 'Blue Monday' in January this year, Teagan now returns with her full length-record 'Sentimental Ballad'. The debut album is a raw expression of heartache through minimalistic piano and lyrically driven songs. The 12 track offering includes her upcoming single 'Get Out Of Town' which arrives with a dreamy music video lit by the glow of a city at night, perfectly capturing the hazy mood of the track.
Mia Baron's feverish new single "Hypochondriac"
Her latest feverish single mirrors the pop-punk energy of Olivia Rodrigo. "Hypochondriac" is about the fear that something really bad will happen every time you get hurt or feel a little off – the instinct to overreact and assume the worst. This way of reacting is not abnormal, even if it may look to others like denial of something deeper.
DESIRE RELEASE NEW ALBUM ESCAPE VIA ITALIANS DO IT BETTER; WATCH "BLACK LATEX"
Silverstein Release New Single/Video "Live Like This" feat. nothing,nowhere.
Silverstein has collaborated with emo/hip-hop shaker nothing,nowhere. for a gripping new single "Live Like This" which sees its release just days ahead of the drop of their highly anticipated new album, Misery Made Me.
VALERIAN SUN releases "The Burnout"
VALERIAN SUN's very existence was meant to be. Their names and faces could even be familiar … James Wolpert was a lauded top-5 contestant on Season 5 of The Voice, Jon-Mikel Valudes was the founding drummer of FROM ASHES TO NEW and Trey Alexander is known in the world of guitar, winning Guitar Hero 2006 – a contest held by Guitar Player Magazine and voted on by legends like Steve Vai, Richie Kotzen and Steve Lukather.
Letting Up Despite Great Faults Shares "She Spins" Music Video via v13, 'IV' Album' Out Now,
Austin-based shoegaze/dreampop group Letting Up Despite Great Faults share the official music video for single "She Spins." Shot entirely on 16mm, the video is the perfect companion to the jangly, upbeat, and infectious track, off of the band's album IV, out everywhere now.
Letting Up Despite Great Faults Premiere Their Dreamy "She Spins" Music Video
APEIRON BOUND Reveal Trailer For "My Sweet Stockholm"
Prog metal band APEIRON BOUND have released a trailer for their upcoming single "My Sweet Stockholm" which is out on May 13, 2022. The band will release their new album Multiplicity via Layered Reality Productions on August 26th, 2022.
Nell & The Flaming Lips Share New Video for "The Weeping Song" || Out Now on Bella Union / PIAS
Nell & The Flaming Lips continue to celebrate the release of their album Where The Viaduct Looms (Nov 2021) with a new video for "The Weeping Song," which premiered on Rolling Stone. The track is taken from Where the Viaduct Looms, an album comprised of nine Nick Cave cover versions with vocals and instrumentation by 14-year-old Nell Smith and instrumentation and production by The Flaming Lips.
SECRET IRIS (GOYA/GATECREEPER/Ex-SPIRIT ADRIFT) To Release What Are You Waiting For on Vinyl
SECRET IRIS will release their debut EP What Are You Waiting For on vinyl via Crisis Tree Records on May 27 2022. The EP was previously released digitally.
Tove Lo Releases New Single and Music Video, 'No One Dies From Love.'
GRAMMY® Award nominated, multi-platinum selling artist and songwriter, Tove Lo returns today with a brand-new track and official music video, titled 'No One Dies From Love' (Pretty Swede Records/mtheory). Co-written with longtime collaborator Ludvig Söderberg, neon keys illuminate a runway to the center of the dancefloor as her voice resounds over a disco break, "No one dies from love, guess I'll be the first." The song signifies a new and exciting chapter for the Sweden-born, Los Angeles-based artist.
American prodigy Ava Toton releases acclaimed rock EP "Charm School Dropout"
Ava Toton is an up-and-coming singer, guitarist and songwriter from Northern California, Oakland. At just 12 years old, Ava is often referred to as a music prodigy. Her second EP "Charm School Dropout" is available on all streaming platforms.
JAD Shares New Single "Don't Let the Sun Set on Me"
Torontonian singer-songwriter, JAD, evades definition accidentally, intentionally. A young life spent caught between identities, JAD's music seems to follow suit – not lost, per se, as it is unwavering in its right to exist in multitudes and in-betweens. Born in Canada to Lebanese immigrants, the implications of identity, both public and private, have been the unraveling and re-synthesis of this artist.