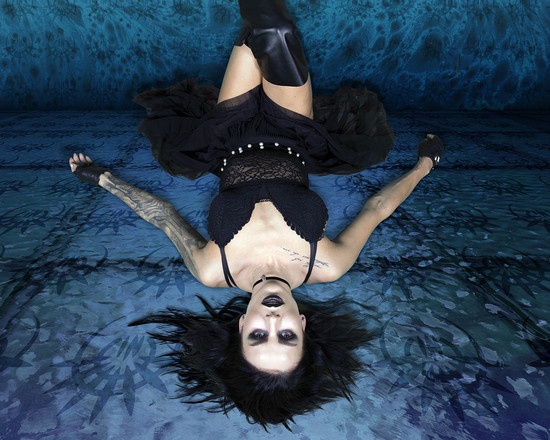 @skopemag news – saturday – april 30 2022 @ 11 am est
@skopemag HQ – http://smarturl.it/skope
INTRODUCING: Trevis | New Single "All Night" Out Now
Featuring sun-dappled chords and a soft bassline, "All Night" is a dream of a record that flows through a contemporary pop and R&B space. Crafted perfectly with soulful instrumentation and an exceptional vocal that instantly melts you into the vibe of the track, it is also the coming of Trevis that we are living for.
Lil Kee Brings Life to Memories in "Letter 2 My Brother"
HAUNTER: Invisible Oranges Premieres Thirteen-Minute "Chained At The Helm Of Eschaton" Video; Discarnate Ails LP Sees Release Next Week Via Profound Lore Records As European Tour Begins
Invisible Oranges is hosting the exclusive premiere of the massive thirteen-minute video for "Chained At The Helm Of Eschaton," by Austin, Texas progressive death/black metal outfit, HAUNTER. The band's Discarnate Ails LP sees release next week through Profound Lore Records in conjunction with the start of their European tour.
Viral Country Newcomer David J Releases Debut EP "Lost My Heartbreak"
The upcoming EP features David's previous fan-favorite release "Lost My Heartbreak," which has received over 11 million streams to date with over 1 million of those streams within the first week.
J. Worra Teams Up With Little Boots on Scorching Tech House Single "Burn This House" for Insomniac Records – Apr 29
The L.A-based house music phenom is linking back up with the Grammy-winning singer-songwriter / producer Little Boots, after their first encounter with one another on "Wasteland" track from last year. "Burn This House" is a fiery tech house groove forged around her silky, shimmering vocal topline, which is carried by disco sirens, slinky drums, and dancefloor-igniting horn stabs.
J. Worra is currently in the midst of a 30-city tour across North America. Meanwhile, Little Boots is set to embark on a trailblazing virtual tour alongside iconic Swedish pop group ABBA.
Artist: J. Worra
Title: Burn This House (feat. Little Boots)
Label: Insomniac Records
Genre: Tech House
Release Date: April 29
The View From Here Share Captivating Video and Single for "Nostalgia," Out Today
New Jersey's The View From Here bursts into 2022 with their heavy hitting new single and video in tow, "Nostalgia." Since the inception of the band, they've kept true to their roots; writing and performing music that's fun for them to play, and even more fun for audiences to watch. At their core, The View From Here has steadily had a focus on writing music that was interesting enough for them to go full steam ahead with their musical endeavors.
New album, HYPERREAL, from Denver based Ecuadorian pop artist Neoma out today [FFO: Charli XCX, Rosalía, Dua Lipa]
Today, the pop artist Neoma – the artistic vehicle of Ecuadorian singer-songwriter-producer Carla Huiracocha – has released her new album HYPERREAL, the follow-up (and sequel) to Neoma's 2019 LP, Real. Now based in Denver, CO, Neoma, originally from Cuenca, Ecuador, Neoma has honed her unique blend of bilingual vocals, sharp pop songwriting, and more experimental electronic flourishes on this new album, which was influenced by the likes of Kate Bush, SOPHIE, ARCA, Donna Summer and SARAMALACARA. Speaking on the upcoming album, Huiracocha writes: "HYPERREAL is the sequel to Real. It is more intense, very hyperpop influenced. The title is inspired by Lorde's Buzzcut season hyperreal lyric: 'Make-believe it's hyperreal.' Virtual relationships feel very hyper realistic to me. Hyperreal is the dual digital-physical reality of maintaining relationships over the phone. Some things can be real, but not enough."
TAFOYA ANNOUNCE DEBUT EP
Chicago based Rock 'n Roll band TAFOYA announce their debut EP Freedom (out June 17th) and share the lead single "Shadows", out April 22nd. Already a big name in Chicago and having performed all over the midwest, the EP marks the group's first official release since forming in 2021. "Shadows" is a lively and upbeat yet reflective tune that gives a nod to the classic rock sound that Mike Tafoya has been delivering for decades. This song is about memories and relationships – experiences shared with friends and loved ones; but it is also a reflection on ones relationship with themself. TAFOYA are serving a deep, powerful message behind a carefully crafted, powerful Rock 'n Roll sound.
BREAKOUT STAR SCOREY RELEASES NEW SONG AND VIDEO FOR "OH, OH"
Known for mixing hummable melodies with magnetic bars and speaker-knocking percussion, Syracuse rapper Scorey is shaping the sound of a new era. Today, he returns with "Oh, Oh", his guitar-driven, genre-bending new single. Accompanied with a new visual "Oh, Oh" comes following the release of his melodic love song "Girls Love Rod Wave" and "Die Young", which features a powerful Band Perry sample.
Caroline Blind shares new video for 'I Feel Speed'
Singer-Songwriter Apryll Aileen Releases New Single "Eazy Love" Available Now!
Call it emotional unavailability, a fear of missing out or just plain old commitment issues, Aileen wrote this song while in London, England, caught up in a misleading, whirlwind romance. She quickly realized a common theme while traveling and pursuing her dreams: listen closely to what people say, but more importantly, watch their actions, because people can tell you exactly what you want to hear, but it's not necessarily the truth.
PREMIERE: J.S.P. RELEASE NEW VIDEO FOR "ONE IN A MILLION"
Softest Hard Returns to HARD Recs With Latin-Kissed Single "La Luz" feat. Kali Uchis – Out Now
"La Luz" is a glowing trap-infused single that wraps itself around the lush bilingual topline borrowed from Colombian creative force Kali Uchis, pulled from her second LP, 'Sin Miedo.' The end result is a stunning reimagining that closes out with Softest Hard's trap-meets-hard dance.
Artist: Softest Hard
Title: La Luz (feat. Kali Uchis)
Label: HARD Recs
Genre: Trap / Wave
Release Date: Apr 29
helloworld Changes the Game With 5-Track Glitch-Powered Trap EP 'warning signs' on Bassrush Records – Out Now
He was recently invited to perform at SLANDER's Heaven Sent showcase during Miami Music Week, after launching the project on that label with "voices" featuring Pauline Herr, and then returning with follow-up efforts "something I can't change" and "nowhere left to hide." Along the way, he was included in DJ Mag's '11 emerging artist you need to hear' last September.
Artist: helloworld
Title: warning signs EP
Label: Bassrush Records
Genre: Trap / Wave
Release Date: Apr 29
Artist: Dario Margeli – Title: Sacred Mandala
Over a synthwave retro 80s electronic production, the recording starts with a powerful electric guitar solo to create contrast. The vocal line has 4 different melodic sections including a very catchy chorus accentuated thanks to the production work of the producer. The melody is very original and is based on improvisations on the piano. The vocal production includes a choir for strength. The lyrics are inspirational and motivational. The song wants to encourage the listener to enjoy working in an office environment and celebrate work and being employed.
GRIDFAILURE Drops Free Album, Ghoul Bushcraft: Henchpersons Instrumentals II; Multiple Albums To See Release This Year
Without even a warning shot, GRIDFAILURE today issues Ghoul Bushcraft: Henchpersons Instrumentals II. In the tradition of the first vocal-free installment – Psychological Badlands, released on Halloween 2019 – its predecessor is another body of Frankensteinian works, collecting scattered live jams, random sessions, unused recordings, accidental toxic runoff, and other mutant or orphaned material spilled forth over the past several years, with material dating back to test trials for the outfit's first live shows in 2018… and beyond.
Swedes from Insammer release new album called 'Black Art'
Swedish rockers INSAMMER has released a new album called 'Black Art'. A masterpiece of 11 tracks of total guitar and drums madness, filled with moments of relentless energy throwing back to their punk and rock roots to visionary moments of modern alternative.
Mercvrial Debuts Lo-Fi Vibes on "Brief Algorithms" Album Out Today!
Mercvrial's debut LP "Brief Algorithms" is the sophomore EP for the band. "Brief Algorithms" represent a modest stylistic departure for Mercvrial, as they wanted the new release to be 'hustle more' and be a 'bit heavier in spots.' Mission accomplished. With their new sound Mercvrial delivers a brisk, energetic mix of indie rock, punk and shoe gaze that gives off ultra-cool-lo-fi vibes.
Track Released Today, from CHLSY
The writing process for 'vancouver' began in a barn in Brownwood, Texas. This was months prior to the formation of the group and was the first song they wrote together.
HIP HOP ICON FUTURE DOMINATES CHARTS AROUND THE WORLD AT #1 WITH NINTH FULL-LENGTH ALBUM I NEVER LIKED YOU
Future's I Never Liked You has arrived as the #1 album in the world. His ninth full-length offering ascended to #1 on Apple Music in the U.S., with all 16 songs currently charting in the Top 20 on Apple music, holding positions #1 – #16. Additionally, it skyrocketed to #1 in 58 countries on Apple Music, capturing the top spot in UK, Canada, Australia, Denmark, Belgium, Nigeria, South Africa, The Netherlands, New Zealand, and Portugal. Meanwhile, it vaulted into in the Top 5 in France (#2), Germany (#2), Norway (#3), Austria (#2), Switzerland (#2), Sweden (#3), Italy (#4), Spain (#5).
AND HELL FOLLOWED WITH Release Third Full-length Record 'Quietus'
Michigan deathcore outlet And Hell Followed With are proudly introducing their third studio album 'Quietus', out worldwide on various music streaming platforms via Hollowed Records / Kontrolla Music Group. The band claims that the new record is "a homage to the past and a look to the future", as they've revisited their second record 'Proprioception' for it as well. Dive in and experience 'Quietus' in its entirety today.
Bon Iver meets Sigur Ros // Movie-like EP
With their music almost reaching one million streams on Spotify, as well as placements on editorial Spotify playlists such as Folk & Friends, the duo are set for an exciting 2022.