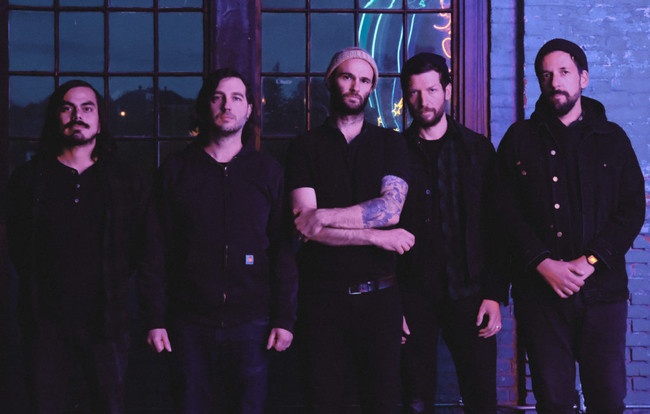 @skopemag news – monday – april 25, 2022 @ 10 pm est
@skopemag HQ – http://smarturl.it/skope
The Johnnys
The Johnnys are known to deliver rowdy, high-energy, humour-filled performances. They've played across Canada, been featured on TV and film and shared stages with such luminaries as Geordie Johnson, Bif Naked, Stevie Salas, Bruce Cockburn, Keith Secola & Crystal Shawanda.
BERTHOLD CITY: Metal Injection Premieres "Flashing Lights" Video From Los Angeles Hardcore Quintet; When Words Are Not Enough LP Out Now On WAR Records + Northeast US May Tour Dates Announced
Metal Injection is hosting the public debut of BERTHOLD CITY's new video for "Flashing Lights," the song found on their debut LP, When Words Are Not Enough, out now on WAR Records.
Kent rap collective OUTTACITY (O.C LEE X NICK NOTES) drop captivating track and visuals to "Timberlake"
In-form Kent-natives OC LEE and Nick Notes continue to showcase their unique lyrical ability and captivating penmanship, joining forces for their next offering as OuttaCity collective with "Timberlake". Taking inspiration from Netflix's acclaimed TV series Breaking Bad, the pair cook up an enthralling track and visuals to match — showcasing the duo's undeniable creativity and ability to conjure up some of the most forward-thinking rap music to come out of the capital.
ENVY OF NONE, PREMIERE THEIR NEW VIDEO FOR THE SINGLE "NEVER SAID I LOVE YOU" TAKEN FROM THEIR DEBUT ALBUM 'ENVY OF NONE'
Following the release of their debut self titled album, which charted worldwide and garnered praise from both fans and media, Envy Of None, the new project featuring Alex Lifeson (Rush), Andy Curran (Coney Hatch), Alfio Annibalini and singer Maiah Wynne have released the video to their latest single "Never Said I Love You".
Corners of Sanctuary Set to Drop Def Leppard Tribute EP May 20th
With the critical acclaim that quickly followed after the release of Corners of Sanctuary's (COS) first ever cover of Def Leppard's "Mirror, Mirror" this past January, COS will be dropping a new digital, three-track Def Leppard tribute EP titled "Defying" on May 20th. Listeners can pre-order the EP on Spotify starting May 1st. The EP, which will be made available via Sonic Velocity Records, will contain COS-branded cover versions of the aforementioned "Mirror, Mirror," as well as include a beefy rendering of "Rock of Ages" and a unique piano-laden adaptation of the classic track, "Bringing on the Heartbreak." The EP was mastered by legendary L.A. producer Bill Metoyer (Slayer, Armored Saint).
DEATHCRUSH: Italian death metallers premiere new album "Under Serpents Reign"
The album was recorded and mixed in Sassari at Andy Mornar's Red Warlock Studio between February and March 2021, while the mastering was carried out at the Hertz Studio (Poland). The artwork was created by Paolo Girardi.
AN NCS ALBUM PREMIERE (AND A REVIEW): DEATHCRUSH — "UNDER SERPENTS REIGN"
Hardcore-punk band Scowl touring with Limp Bizkit, Wargasm UK, Destroy Boys + more
Santa Cruz, CA-based hardcore-punk band Scowl have had quite the exciting past few months and are set to continue making 2022 their biggest year yet. The band will join forces with Limp Bizkit, $not, and Wargasm UK on tour starting April 28th through May 15th, including a stop in New York City at Madison Square Garden on May 13th. From there they'll be doing a full U.S. run supporting Destroy Boys before heading over to the U.K. and Europe for a string of festival dates. This all comes hot off the heels of their acclaimed debut album, How Flowers Grow, released in November 2021 on Flatspot Records.
J ÁLVAREZ DISFRUTANDO EL EXITO DE EL TEMA "HARÉ HARÉ
Recientemente el puertorriqueño J ÁLVAREZ lanzó su tema "HARÉ HARÉ" canción que se convirtió en símbolo de sensualidad y pasión dejando enamorados a sus seguidores con este single que ha logrado obtener grandes cifras.
Listen to the title track from Noah Deemer's upcoming LP; 'The Sleepwalker' is due 5/6
Noah Deemer is a musician and artist living in NYC. His debut album, the art-pop / post-punk odyssey, The Sleepwalker, will be released May 6th.
The Sleepwalker was written in New York and recorded at night in a moonshine cabin in North Carolina with a wide range of instruments – 70s synthesizers, saxophone, heavy metal guitar, violin, analog drum machines, etc.
Dutch Metal Band THE KING'S HEAD Drop New Single "Break The Frame"
Dutch Metal quintet THE KING'S HEAD is back with the fantastic new single "Break The Frame" after releasing the debut self-titled album back in 2020.
The single includes one original track, "Break the Frame," as well as a cover of "Dam That River" by Alice In Chains.
ABISHA Teams Ups With Champion For "Home To You" Remix – OUT NOW
ABISHA returns with a new reimagined version of "Home To You" by fellow London artist Champion, which was premiered exclusively by Jaguar on BBC Radio One show. The original track has already garnered support from various tastemakers including Spotify's New Dance Revolution playlist where she was featured as the cover artist. Upbeat and explosive, the remix offers a new dynamic twist with its dense, high-energy production making it a reinvigorating trip.
NEW MUSIC: LOUIS YORK RELEASES LOVE SONG WITH NEW SINGLE "STRAWBERRY SKIES"
Spring is about new beginnings, and we should all have a new outlook on life, love, and the future. That's why multi-Grammy nominated duo Louis York (Chuck Harmony & Claude Kelly) is excited about the release of their new Bossa Nova-inspired single "Strawberry Skies," which is available on all digital platforms. Written and produced by the duo, "Strawberry Skies" is a love song about the angst, hope, and wonder that a relationship brings. The single takes the listener on a ride led by Claude Kelly's velvet vocals over the smooth jazz stylings of Chuck Harmony, tickling the ivory keys leading into a very robust samba showing off what makes Harmony a master at piano playing.
SKULLSHITTER: BrooklynVegan Premieres "Digitally Reproductive World" Video From New York City Deathgrind Outfit; Goat Claw Full-Length Nears Release Via Nerve Altar + Live Dates Announced
Spewing sixteen grave-tripping tracks of old-school grindcore steeped in mind-bending psychedelia. Goat Claw is a sonic declaration of intensity, focus, and acrimony, laced with a concentrated dose of Lucifer. SKULLSHITTER's sound is that of Repulsion, Terrorizer, and Autopsy filtered through an acid-induced, black magic hallucination. Recognizing the true nature of inner freedom through hallucinogenics and rock 'n' roll, the power trio delivers a furious, three-headed vocal assault and thrive to make their every performance both in the studio and onstage a new, unapologetically soul-scorching event.
"An Hour On Earth" – Refractor Piano™ Music by Peter Manning Robinson – a Film by Klaus Hoch
REFRACTOR PIANO(tm) CREATOR, EMMY & BMI AWARD-WINNING PIANIST/COMPOSER HAS JUST RELEASED "AN HOUR ON EARTH" – THE DEBUT SINGLE AND VIDEO FROM HIS SOON TO RELEASED NEW ALBUM CELESTIAL CANDY. THE ALBUM WILL BE RELEASED MAY 6th ON OWL WALK RECORDS.
Darius shares 'Oasis' LP featuring Benny Sings, Kadhja Bonet, Lo Village + US May Tour
Of the release, Darius says, "Music is nowadays for humanity a place of escape, a pleasant moment of self abandonment. It is interesting to see that for some people it is almost a vital element, as important as water, sun, love. The term 'OASIS' sums up what music is all about. It allows us to cut ourselves off from everything else and sometimes gives us the strength we need in difficult times. My driving force [has always been to] create music and videos as moments of escape that accompany and help people's daily lives. The circle of colours [in the art] illustrates all the musical atmospheres that could reflect each person's mood."
Action rock band, Insanidade, releases new music video for "Burn Burn Burn"
Orange County's Bleed The Sky Announces New Vocalist! Releases New Single "Rot in Flesh" + Official Music Video
"The lyrics of 'Rot in Flesh' represent the choice to overcome negativity from one's own toxic thoughts and others trying to bring you down. Sonically, this song hints at Bleed the Sky's new direction and what people can expect from our upcoming releases. This is just the beginning. We are very excited to show you what else this new line-up has to offer," says the band.
RCA RECORDS TO RELEASE THE "ELVIS ORIGINAL MOTION PICTURE SOUNDTRACK" THIS SUMMER — LEAD SINGLE – DOJA CAT'S "VEGAS" – OUT MAY 6TH
ELVIS is an epic, big-screen spectacle from visionary filmmaker Baz Luhrmann that explores the life and music of Elvis Presley (Austin Butler) through the prism of his complicated relationship with his enigmatic manager, Colonel Tom Parker (Tom Hanks). The soundtrack features Elvis's extraordinary body of work spanning the 1950s, 60s and 70s, while also celebrating his diverse musical influences and enduring impact on popular artists today.
KOLLAPS: Decibel Magazine Premieres "The Hand Of Death" From Australian Post-Industrial Trio; Third LP, Until The Day I Die, Nears Release Through Cold Spring Records
Decibel Magazine is streaming "The Hand Of Death" from Australian post-industrial outfit KOLLAPS. The track serves as the latest single from the band's impending third album, Until The Day I Die, set for June release through Cold Spring Records.
DEADHEAD DAISIES – "JOY"
New Release: The official music video for "JOY" – the latest single from Toronto-based Deadhead Daisies- is out now. The new single is the latest from the band's upcoming debut album.
SOM: "Wrong" Video From Atmospheric Doom Pop Outfit Now Playing At Prog; Band To Kick Off North American Tour Next Month
Comments SOM vocalist/guitarist Will Benoit, "On an album full of introspective songs, 'Wrong' might be those ideas most crystallized. It's about being a new parent, love, loss, finding the energy to put into the relationships that matter, and the struggle to keep it all balanced. We didn't plan to shoot this video, but it all came together while we were rehearsing for our upcoming tour when [director] Alex [Pace] started swinging the camera around in such a way that it felt immediate and visceral. The shoot couldn't have come together more organically, and the video adds a real energy and immediacy that suits the song in such a perfect way."
Heartracer Reveals Bold Alt-Pop Single "Text Me Bac"
Heartracer is an alternative/pop project formed by brothers Chris and Chip Cosby. The name was derived from Chris' tachycardia diagnosis, a disorder which causes the heart to beat faster at random intervals. Combining modern production methods with the classic pop songwriting reminiscent of simpler times, Heartracer's sound is that of anthemic grandeur. Unabashedly drawing on inspiration from the pop icons of the past such as Tears for Fears and Aha, their sound provides a wide ranging pallete of interwoven synths, guitars, and swooning vocals that ultimately embalm the listener with nostalgic synth magic. Joined by Wes Tatum on the bass guitar Heartracer has performed with several internationally known artists such as Walk The Moon, Third Eye Blind, The Night Game, Future Islands, Joywave and many more. Heartracer has worked with the producers of M83, St. Lucia, Passion Pit, Beck, and Jukebox The Ghost. Heartracer has just completed work on their brand new full length album "The Feel."