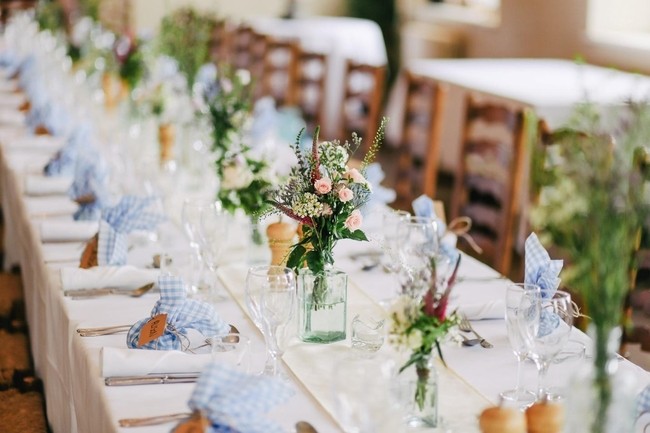 Source: https://unsplash.com/photos/O38Id_cyV4M
The moment you have been waiting for is almost here – your wedding day! For many people, this day has been in their minds for a long time, imagining how it will look like, from the type of decorations, flowers, to the color palette, menu, and music playlist. Every detail counts if you want this incredibly important day to be one that everyone will remember, and not just the newlyweds. For this to happen, it is of the utmost importance to stay updated with the latest trends that you can adopt and adapt according to your preferences. 
Having said this, it isn't uncommon to feel a significant amount of pressure, followed by stress, when planning your wedding day. With so many things to consider, it is only natural to start feeling overwhelmed. But in order to avoid this, the best thing is to start planning it a few months or even a year beforehand. In addition, it is crucial to surround yourself with people who can support you, from the emotional support from your loved ones to the professional help a wedding planner can provide. 
So, until the big day comes, you can make the entire experience of planning your wedding day an unforgettable and positive one. Whether you use Pinterest to create mood boards, write down your ideas in a well-detailed wedding planner, or both, doing whatever feels better for you is crucial. 
To make sure your wedding day will be wonderful and unique, you may want to keep an eye on these five wedding trends that are expected in 2022:
Hanging Florals and Unique Arrangements
The balloon arch is definitely out in 2022. As much as this was an adorable wedding arrangement, it was about time the arch made of balloons was voted out, given it isn't necessarily one of the wedding or party decorations considered timeless. Instead, we welcome the hanging florals – arches and walls full of vibrant-colored flowers will definitely bring your wedding day to life. Plus, it will look as if the entire scene was taken from a fairytale – and there is no doubt that this is the desired effect. 
Apart from hanging florals and other such installations, 2022 is the year of various unique arrangements that will surely take everyone's breath away. Many art-inspired designs are making their way into many future wedding days. This goes hand in hand with many couples' desire to customize the entire room and make it a cohesive experience. 
For example, a couple will choose a theme and stick to it, from large arrangements to the smallest of details. So, from having artists paint the couple dancing or holding hands, to adding various artistic branding details throughout the wedding, like attaching small artwork to guest tags, finished with wired ribbon details. 
Vibrant Colors to Replace Muted Color Schemes
Indeed, the pastel color palette is truly timeless. Color tones of white, off-white, ivory, pastel green, blue, and violet are, and will remain, fabulous and an excellent way of bringing a fairytale to life. This being said, it can be noticed that a splash of color is much needed with the new year. For this reason, a more vibrant color palette will replace this scheme of muted yet beautiful colors. 
This change can be seen even in the bride and groom attire, with black and white not being the go-to combination anymore. Or, the traditional white of the wedding dress will have colorful details to match the color palette the couple has chosen. 
One of the color schemes to be an emerging trend in 2022 is technicolor. More and more couples want to create an environment full of life, with hanging florals and lights, ribbons and multiple specialty bars, and even themed parties. Everything that is "loud" from an aesthetic point of view is trending in 2022. 
The Wedding Day Becomes the Wedding Weekend
You might have heard about a destination wedding. While this used to be an incredibly popular trend for weddings, especially in a pre-pandemic world, couples now choose to have their wedding closer to home. However, this doesn't mean that they don't want to make a weekend getaway out of it. 
Therefore, from the traditional wedding day followed by the reception and a night of partying, it has now become a long wedding weekend. During this time, which usually extends to three or four days, the guests will have the chance to participate in various activities and events, such as a welcome party and rehearsal dinner. So, if your budget is generous and allows you to go this extra mile, you may want to book a resort with everything – the venue, accommodation, and catering. Undoubtedly, it will be a very difficult wedding to forget. 
The Wedding Location of The Year Has No Walls
What this means is that the preferred location for a wedding will continue to be out in the open, with a high-quality wedding tent installed. For the last two years, people have been struggling with a pandemic that has disrupted their lives in many ways. Couples were forced to postpone their weddings and considerably limit the guest list. 
As a result, many individuals choose not to hold their wedding day in a restaurant or an enclosed space, no matter how large. Instead, they want their much-awaited day to take place in open-air environments that feel closer to nature and the outside. And with a high-end tent and excellent decorations, and hanging floral arrangements, your wedding will surely be beautiful!
Personalized Activities Are More And More Favored 
Being more in control is a theme that continues to be popular in 2022, replacing older or standard traditions. For example, sticking to the same traditional wedding schedule is no longer preferred. Couples prefer doing things their own way, so they may want to have the cocktail hour first and the ceremony after, followed by the party. So, there are no more rules as to how someone should plan their wedding. 
Personalized activities are gaining popularity, with many couples wanting to change how weddings are seen. Instead of having a menu with multiple courses at given hours, why not have a food truck for the appetizers and starters? From 2022, you and your partner can personalize your wedding as much as you want so that it genuinely shows both of your personalities.