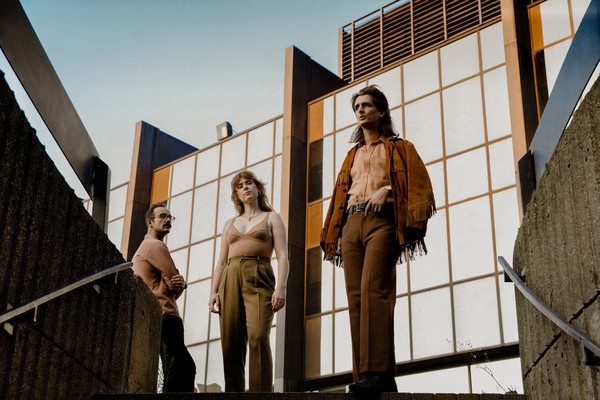 @skopemag news – monday – april 11, 2022 @ 3 ​pm est
@skopemag HQ – http://smarturl.it/skope
Grammy-nominated artist Tuvaband releases new indie gem 'Rejuvenate'
Tuvaband is the wildly eclectic brainchild of fearless songwriter, producer, multi-instrumentalist, and producer Tuva Hellum Marschhäuser. Tuva previously earned a Norwegian Grammy nomination. Tuvaband have received support from the likes of The Line of Best Fit, Wonderland, Gigwise, Dork and Atwood Magazine to name a few.
DONKEY KID Reveals Animated Video For New Single 'Necklace' Out Now
After completely selling out his first two solo headline shows in Berlin within 72 hours, fast-rising bedroom producer DONKEY KID is pleased to reveal the animated video for his new single 'Necklace' is out now on all good digital service providers.
The video was made by close friend, 20-year old Bruno Giannori, also born and raised in Berlin, who studies at the art school in Berlin Weißensee, and is a rising talent in his field.
DECLAN WELSH & THE DECADENT WEST announce new EP with lead single 'Impermanency' | out April 11th
Scottish indie exports Declan Welsh & The Decadent West share intoxicating new cut 'Impermanency', set for release April 11th.
Taken from their upcoming EP of the same name, the group's newest effort heralds the next stage in their thrilling development, acting as bridge between the charged indie rock of debut LP 'Cheaply Bought, Expensively Sold', and their as yet untitled second record, slated to arrive in 2023.
SONS OF SOUNDS Release 'Let It Go' Music Video
German progressive heavy rock band, SONS OF SOUNDS, have released a music video for 'Let It Go', the song is takentaken from their album 'Soundphonia', wich was released via El Puerto Records. The video was recorded along the European Tour with Geoff Tate (Queensryche) in March 2022. View the YouTube video here:
Reminder: Karl Wolf's new single "No Privacy" is out
Our phones have become an extension of who we are. We're addicted and as a consequence of tech we are losing our privacy. Our digital identity is not the chip implanted as many theorized would/could happen.. they're already tracking us. This song is an adaptation of Rockwell's 1984 classic "Somebody's Watching Me", seems like it was a window into our present as many today feel that their freedoms are being compromised. The decentralized world and the "Metaverse" are signs of this inevitability.
Skope video submission: Austin Galante, "Cocoa ft Young Buck" Young Buck meets The Muppets
Originally the front man of the band Bad Fathers, Austin has been working more on hip-hop and EDM music and video solo projects. Austin had this to say this about working with Young Buc on the single: "In finding some overlap in song subject matter with Young Buck, dope happened to be one area we both had some relation to."
CountryTrio Flat River Band Release Video Feat. The McCrary Sisters in Support of New Radio Single, "Shining Through My Window"
Country Trio Flat River Band has released a video featuring The McCrary Sisters, in support of their new radio single, "Shining Through My Window," which charted in top three of the PlayMPE Christian Top 20 Streaming Chart on April 10. The trio of brothers, Chad, Andy and Dennijo Sitze, have a wealth of musical talent and experience, having played and toured with their family's band since they were very young. "Shining Through My Window," penned by Chad Sitze, has a cheerful theme, laden with the band's stunning harmonies. The video, directed by Mark Nicolosi is available on YouTube:
GREYLOTUS Premiere Music Video for "Azure Rain" via Metal Injection
Baltimore progressive tech-death metal quintet GREYLOTUS have unveiled the first single from their new album! The band has partnered with Metal Injection to premiere the music video for "Azure Rain", which can be seen here.
Arichussettes And Dollaz Da Barba Tell A Savage Tale With New Visual "Do-Or-Die"
Arichussettes and Dollaz Da Barba return with a new visual Do-Or-Die off their latest album That Gaas (Godz And Apes Society) that tells the savage tale of dealing with fake guys. "We wanted to make a video that was more like a movie so we chose to have a theme where we actually kidnapped a fake dude trying to step in the hood" says Dollaz. "Sometimes people try to portray themselves to be something they're not and get caught up in the process" says Arichussettes. Check it out now on YouTube and your preferred digital streaming provider.
Benny Bizzie releases R&B single 'Forever'
BENNY BIZZIE takes us on an epic adventure of desire in this punchy, falsetto-infused, trail of escapism and wonder with his latest single, 'Forever', out now on all music digital platforms.
Featuring a hard-hitting drum pattern and melodic nuances produced by heavyweight Cee Figz – who has also produced for the likes of Wretch 32, Fredo, and Popcaan – 'Forever' is an emotive adventure worth exploring, as it seems the British-Nigerian R&B singer and songwriter is at a transformative stage of his artistry and we are in for a taste of evolution…
Don't Miss JUNCTION 28 Official Video For "Don't Say"
Ellevator share "Party Trick" / Chris Walla-produced debut album out May 6 (ffo Metric, Arcade Fire)
The Hamilton, Ontario-based trio, Ellevator are today sharing their new single, "Party Trick" which arrives as the final advance track to be lifted from their forthcoming Chris Walla-produced debut album, The Words You Spoke Still Move Me – out May 6 via Arts & Crafts. The new single arrives following earlier tips from NPR, Consequence, The Needle Drop, Exclaim, FLOOD, The Line of Best Fit, Under the Radar, CBC and more. The band, who have just wrapped up a run of US dates including a stint at SXSW will support the release of the new record with Canadian dates this May with support coming from Pleasure Craft (Toronto) and Deanna Petcoff (London, Hamilton).
The Scum – Unveil New Single "Burial"
Today, Colombian Death Metal band The Scum stream their new single "Burial". The song is taken from The Hunger, band's second highly anticipated album, set for the international release date on April 18th, 2022 via Wild Noise Productions and Satanath Records.
Rising electronica act shares visually striking music video
Alt-Pop Artist 'Aridonis' Releases Latest Single 'Hard Mode'
'Hard Mode' is about the feeling of thinking you're never good enough, Aridonis explains further "we've all suffered through that you're never good enough, all the internalized capitalism, rampant consumerism, and every other gross "ism" we've become accustomed to, has left us feeling inadequate, incomplete, and burned out. So sometimes we need to just hold on for a second, and remember who we are."
SICKSEED are ready with their second single 'Book of the Dead'
Five-piece metal band SICKSEED, are gearing up for the release of their debut LP 'Goregeous' – a ten track horror movie tribute album, that will bring the listeners into a dark and gloomy place. Today they present their second single 'Book of the Dead' which features Sofia Schmidt of Ethereal Kingdoms – watch the accompanying music video:
SOCIETY 1 "I Never Saw You" Official Music Video
Written by Matt Zane, "I Never Saw You" is off of the band's final album with the late bassist DV "Dirt" Karloff "Black Level Six" (out now).
SWALLOW THE SUN Releases New Music Video For "This House Has No Home"
Finnish death doom masters, SWALLOW THE SUN release their new music video for "This House Has No Home", from their recent full-length album Moonflowers. Watch the video, which was filmed, directed and edited by Vesa Ranta & Petri Marttinen from Kaira Films, HERE.
Tatum Gale Shares New Single "Botanical Babe" Via Variance, Debut Album "Pretty Green" Out March 2023
Songwriter/producer Tatum Gale announces his debut album, Pretty Green, with the single "Botanical Babe." An infectiously fun, groovy houseplant-centered jam, "Botanical Babe" offers a glimpse of what to expect from Gale: wonderfully creative and innovative electronic art pop tracks full of life, textures, and personality.