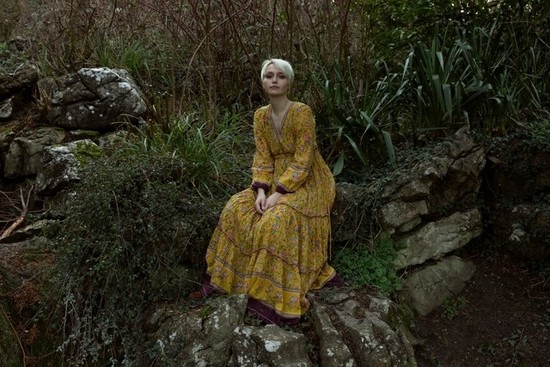 @skopemag news – wednesday – april 6, 2022 @ 4 pm est
@skopemag HQ – http://smarturl.it/skope
VENUS PRINCIPLE reveal second single 'Shut It Down'
VENUS PRINCIPLE have released the beautifully sorrow-laden new track 'Shut It Down' as the second single taken from the dark psychedelic rockers' debut full-length "Stand in Your Light", which has been scheduled for release on May 27. Biographical information and all details about the British-Swedish outfit's first album can be viewed below.
The obviously pandemic inspired song 'Shut It Down' again features a stunning duet between between Daisy Chapman and Daniel Änghede, and is now available for immediate publication via this link:
Cola (ex-Ought/US Girls) named Rolling Stone Band You Need To Know/Share "Water Table"
In February, Cola, the new project from former Ought members Tim Darcy and Ben Stidworthy and US Girls/The Weather Station drummer Evan Cartwright, announced their debut LP. Entitled Deep In View, the album is due out May 20th on Fire Talk Records (Dehd, Mamalarky, Mandy Indiana) and has generated a great deal of excitement already, earning praise from outlets like Pitchfork, NPR, FADER, Stereogum, Uproxx, Paste, BrooklynVegan, Consequence, Clash, NME and Rolling Stone who described their sound as being "like a streamlined version of Ought" and highlighted the track's "gorgeously obsessive guitar groove." Today, the band have given their first interview as a band, speaking to Rolling Stone about their new LP in an Artist You Need To Know feature where the album is described as "one of the year's most thrilling rock statements so far," and are sharing a new single from the LP, a track called "Water Table".
'Brutal Whimsy' and the Cost of Living: Cola Are Here To Dance You Through Dystopia
COSMIC PUTREFACTION: Italian Death Metal Entity Presents "Sol's Upheaval Debris" As Crepuscular Dirge For The Blessed Ones LP Nears Release Through Profound Lore Records
Crepuscular Dirge For The Blessed Ones sees sole mastermind Gabriele Garmaglia continue the COSMIC PUTREFACTION narrative begun on the previous album, The Horizons Towards Which Splendour Withers, where the only survivor from an apocalyptic annihilation of a dying planet walks towards its withered horizons. On Crepuscular Dirge Fo
r The Blessed Ones, this character ultimately finds an even more sorrowful truth at the end of his journey; one that shows the empyrean fall of man through the metaphysical world and the gods who inhabit it.
POUTYFACE RELEASES NEW MUSIC VIDEO FOR "CHERRY PICKING"
The alt-pop, angsty track depicts the push & pull of turbulent relationships while featuring anthemic vocals and distorted guitar riffs. "Cherry Picking" is an ode to 2000's pop punk in the best, most refreshing way. Of the track, poutyface shares: "'Cherry Picking' is about being used by someone for their own personal validation. I've had relationships and friendships where I gave way too much. This song feels like spinning out. It's about losing your mind trying to keep someone around who isn't concerned with anyone but themselves… the ones who pick off your energy whenever the fruit looks ripe enough to feed them."
Susie Suh Channels The "Divine Feminine" In Video For "Invisible Love"
Today, singer-songwriter Susie Suh reveals the music video for "Invisible Love," the ethereal and uplifting title track of her latest album, which will receive a special vinyl release on May 27th. An anthem of self-love and empowerment, "'Invisible Love' is a song about the divine nature within all of us," Suh told Parade Magazine this week. "Love permeates throughout even though you might not see it. We are all sacred and we are all beautiful."
REPENTANCE Release Brand New Music Video for "Down In The Water"!
Reema
London born singer/songwriter Reema returns with a brand new EP 'Rooftops & Riversides', released on April 22nd 2022 via Berlin label junk-E-tracks.
Working once again with long term collaborator and friend Stefan Baumann, a talented musician and arranger from Germany, the follow up to Reema's 2020 debut EP 'Lioness', 'Rooftops & Riversides' was put together during lockdown, Reema writing while staying with her mother in England, Stefan working on arrangements in Berlin. Sound designer and engineer Constantin Carstens was the final piece of the puzzle, contributing subtle textures and soundscapes to the final mixes.
Ebunctions Release Music Video for Third Single "She Don't Love Me"
One microphone, a Wurtlizer electric piano, and the acoustics of Lucy's Meat Market were all Jeff Babko (keys) and Woody Mankowski (vocals, saxophone) needed to record and film Ebunctions' new single "She Don't Love Me" (out now). The studio just happens to be run by the band's longtime friend and engineer Pete Min, who mixed their upcoming debut This Just In right in house.
VIDEO PREMIERE: All-star Soul Outfit Ebunctions Let Wurlitzer Electric Piano Shine on "She Don't Love Me"
New Ryan Pollie Single :)
Cade Hoppe Premieres "Morphine" Music Video
"Morphine" is a tender and stunningly intimate track that meditates on coping with the weight of life's expectations. For the accompanying music video, which was self-directed, Cade riffs off one of his favorite lyrics from the song: "the coffee's out so the nurse brought me lemonade / I'm scared to death because they taste the same." He elaborates: "Somehow that line says everything I wanted to say in the song with such a simple metaphor, and I really wanted to expand on that both visually and thematically in the video by literally making lemonade in a coffee pot."
PAGAN METAL PIONEERS HELSOTT UNVEIL MUSIC VIDEO FOR "INDEPENDENCE NIGHT"
HELSOTT – America's leading pagan metal band – has unveiled the music video for "Independence Night," the new single featuring guest vocals from Tim "Ripper" Owens, from their upcoming concept album, "Will and The Witch." The group's newest album will be released by M-Theory Audio on Friday, May 20th. Pre-orders for CD, limited-edition gold double vinyl, and digital editions of "Will and The Witch" are available now at http://smarturl.com/helsott. The visualizer video, created by Raf Ortega (Ayreon, Subterranean Masquerade) for "Independence Night" can be viewed at –
Courting Share New Single "Tennis" || Out now on PIAS
Today, Liverpool four-piece Courting return with a new single titled "Tennis". The track comes alongside the announcement that the band have signed to [PIAS], as well as details of a new run of UK tour dates which are set to take place in Sept / Oct 2022. The new single comes on the heels of the band's 2021 EP Grand National, which saw them earn plaudits across a wide array of media including landing two singles on the BBC Radio 6 Music Playlist (including an A list), as well as coverage in multiple end of year lists including NME 100, Dork Hype List 2022, Daily Star Ones To Watch 2021 & DIY Hello 2021, and further coverage across The Needle Drop, CRACK, Dork, DIY NME, CLASH, and London Evening Standard.
RISING ARTIST/SONGWRITER SCOTTY LVX LINKS WITH RICK ROSS RELEASES MUSIC VIDEO TO NEW SINGLE "RECEIPTS"
Find "Love or Dreams" in Brenda Cay's New Heartfelt Music Video
"Chasing my dreams is easier because I have a partner who loves and supports me, but that in turn makes it harder when I have to leave him behind to follow my dream. The "Love or Dreams" video captures the struggle of choosing between my two loves. I wanted this song and video to portray a strong woman who can have her career and love. I think the line in the song that sums it up best is, "I've walked miles in my own shoes, still it's a muddy path I choose"." – Brenda Cay
Liv Slingerland Single + Video "An Entire Lifetime" Via Hollywood Life, "An Entire Lifetime" Out Now via Ani DiFranco's Righteous Babe Records
Notable guitarist/singer songwriter Liv Slingerland (guitar for Olivia Rodrigo, Halsey) shares "An Entire Lifetime," an explosive, riff-heavy, grooving indie rock number that sees Slingerland explore a personal reckoning with identity, a feeling overwhelmingly brought on by learning in her early twenties that she was adopted as a newborn. Her smashing debut single, "An Entire Lifetime" is a perfect glimpse at what to expect from Slingerland solo's work: powerful indie rock anthems that channel emotions into bold and catchy tracks that pack a punch, emotionally and sonically.
Liv Slingerland Processes 'An Entire Lifetime's Worth Of 'Feelings' In Her New Indie Rock Jam
Lil Gotit Brings the Hocus Pocus into Focus on "She Know It"
With spring coming into full bloom, the weather's not the only thing getting warmed up as Atlanta's "real hood baby," Lil Gotit, has been cooking up potions and commotion. Today, Gotit returns to walk us through the wizarding world of Zone 3 with his new single, "She Know It," from his forthcoming project The Cheater, arriving this spring. Anchored by an equally ominous and angelic instrumental courtesy of Boominati Worldwide producer Topp, "She Know It" is Lil Gotit's unapologetic player anthem. Dripping with all the sonic sensibilities of Atlanta trap that make Gotit a staple of the city, Gotit makes his own waves while showing love to a hometown hero, rapping, "Forgiatos, Moscato, that's just what I'm on/That money the motto, come f*** with a Don/Thugger Thugger living, 'So Much Fun.'"