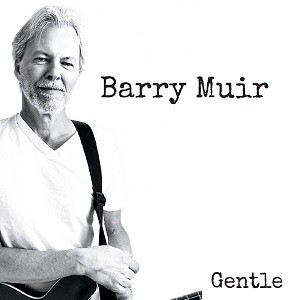 Between the chiming strings of "Baby, You're My Weakness" and the lusty harmonies that cling to a rock-inspired rhythm in "A Girl Like You," Barry Muir is covering a lot of aesthetical ground in his latest album Gentle, much of which is summed up in the record's lead single "She's a Little Wildflower." Artistically speaking, Gentle unites the lyrical subject matter of 2010's California with some of the more bucolic themes of This Guitar and I, but I wouldn't call this LP a direct sequel to either. This is definitely an evolved Barry Muir, and he's looking to show us just how much he's grown as a player. 
INSTAGRAM: https://www.instagram.com/barrymuir/?hl=en
While I like "Weathered the Storm" as a single, I don't know that it has anymore a radio-ready framing than "Holding My Own" or "Where the Warm Breezes Blow" would, especially when taking into account how all three of these songs are essentially crafted around the same kind of a premise. The point I'm getting at is that Gentle doesn't sport the filler content that a lot of similar pop efforts would just out of a songwriter's need to complete the tracklist; Muir actually has a lot to say here, and he's using every verse in this album to get his statements across. 
"It Wasn't Easy" and "Mistakes I've Made" touch on a simplicity that contrasts significantly with that of the title track and aforementioned "She's a Little Wildflower," but I appreciate the rebellious strain of minimalism this artist is experimenting with. He's not ascribing to the larger trend we're hearing more and more out of in the American and Canadian undergrounds lately, but instead putting his own spin on the black and white efficiencies that have seen indulgence purged from the greater scope of alternative music in the 2020s. 
Aside from the video for "She's a Little Wildflower," which I found to be a really fair depiction not only of the song's subject but the artistry through which Muir is presenting it to us, I would love to see a similar visualizer for "Church at the Hollywood," "Knocking the Walls Down" or maybe even "Better Together." The imagistic lyrics in all of this material make each one of these tracks prime fodder for a music video, and with the charisma that we know Barry Muir is able to bring to the screen and the stage the same, it would be a shame for him to leave certain corners of this album's emotional core under-promoted. 
APPLE MUSIC: https://music.apple.com/us/album/gentle/1589335065
Gentle is a fascinatingly personal record that doesn't sting with an egomaniacal aftertaste that so many singer/songwriter affairs tend to, especially when they're on the intimate side of the compositional spectrum, and of its key tracks, I think you can't go wrong with "She's a Little Wildflower" and "Weathered the Storm" in particular. This is definitely an artist who didn't need to prove anything else to us after the numerous releases of intrigue he's added to his discography through the years, but to me, Barry Muir simply outdoes himself here. 
Gwen Waggoner