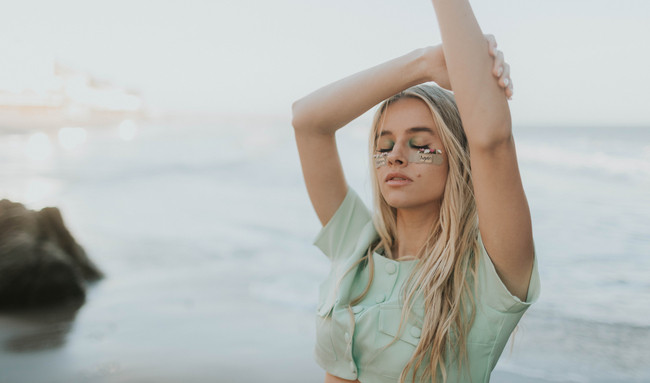 @skopemag news – monday – april 4, 2022 @ 2 pm est
@skopemag HQ – http://smarturl.it/skope
Introspective 'Wild Weeds' from Toronto hybrid creator Jaz Valentino is out today
The introspective track sees Jaz in life-affirming mode speaking for young people like him that are battling through demons, just trying to make it and rebuild their lives. Creatively, Jaz fuses elements of melodic rap, R&B and indie pop to excellent effect.
CITIES OF MARS: reach new galaxies with "A Dawn Of No Light"
Swedish doom cosmonauts CITIES OF MARS team up with Metal Injection to present the second single taken from their new album 'Cities of Mars', due out May 20th on Ripple Music. Get into the heaviest space opera ever with their new track "A Dawn Of No Light (Chthon)"!
CITIES OF MARS Brings The Riffs With "A Dawn Of No Light (Chthon)"
Rockshots Records – OUTSHINE Unveil "Our Misery" Off Upcoming Album "The Awakening" Out May 2022
Swedish goth rock/metal band Outshine will be presenting their fifth full-length "The Awakening" this coming May 2022 via Rockshots Records. The album follows their four previous LPs since forming in 2007. With a vision of darkness and melancholy in a visual landscape, their forthcoming album is all about what has happened in the world during pandemic times.
Josephine Philip releases fragile and poetic new single 'Little Boy'!
Little Boy fragile and poetic song about breaking free of the heavy chains of lost love. Releasing yourself from the sedated state of delusion. The composition reflects this state of mind; sometimes on the verge of collapse, returning with intention and hope, shuffling drums, hazy vocals, distorted guitars, and lyrics like a mantra for release.
Teenage Fanclub share new song and video "I Left A Light On" ahead of European tourdates
About to embark on an extensive UK and European tour in support of last year's acclaimed album Endless Arcade, Teenage Fanclub share a characteristically gorgeous new song today titled "I Left A Light On". With its yearning melody and uplifting lyrics about finding hope in dark times, "I Left A Light On" is vintage Teenage Fanclub and comes accompanied by a video shot by Ryan Eddleston in Rockfield Studios where the song was recorded.
ISLAND POP VIRAL SUPERSTAR CONKARAH RELEASES LONG-AWAITED 'DESTINATION UNKNOWN' EP
Jamaican Pop sensation Conkarah has released his long-awaited Destination Unknown EP via BMG.
Featuring the 3x Diamond-certified global smash "Banana," the Destination Unknown EP includes electric and uplifting songs such as "Papaya," "Everybody Switch (Fatty Fatty)," "Every Day" (feat. Romain Virgo, Fiji), "Love Me The Same," plus the brand new single "Millonario" featuring Latin GRAMMY® Award winning global Latin superstar Pedro Capó.
Roscoe Roscoe – "Secret Underwater Love"
Roscoe Roscoe met at The Brit School (following in the footsteps of Black Midi, who also formed there) and came together through a shared love of 60s counterculture and psychedelia. Rather than sheerly revivalist, however, their music comes from being part of a generation who have been able to take non-specific and widely drawn sources via the infinite bank of the internet. Other influences the band have cited include avant-pop groups Stereolab and Broadcast, along with evident echoes of Wand, Tame Impala, and Crumb in their music as well.
KONTINUUM Releases New Song, "Hafið Logar"
[Visualizer] Lord Willin & John Solinas ft. Pounds448 – State to State prod. by John Solinas
EVOLUTION EMPIRE Premiere Official Music Video for Single "Under The Gun"
EVOLUTION EMPIRE has released the official music video for their single "Under the Gun." The band is currently on tour supporting the "BROTHERS IN ARMS TOUR" w/ ILL NIÑO, DROWNING POOL and HED PE.
London-Based Dream-Pop Musician Ilja Alexander Unveils 'Nature' Video [FFO: The Beatles, Queen, Weyes Blood and Porches]
RIGHTEOUS FOOL: new single "The Overblown" streaming!
Raleigh-based rockers RIGHTEOUS FOOL — formed by Corrosion Of Conformity's Mike Dean and late Reed Mullin plus guitarist Jason Browning — are set to release their anticipated debut full-length 'Righteous Fool' this July 1st on Ripple Music. Listen to the first official single "The Overblown" now!
Martha Elisa – I'm Not Perfect
Martha Elisa is the new face of Christian R&B music and is best known for her ability to capture the inner struggles of Christian living through her song writing. Her latest single, "I'm Not Perfect" addresses the challenges of sin and self-condemnation. Martha states, "I write about real life issues as a believer in Christ! I want to minister to those who are broken and in need of hope. I want them to know I struggle too! We are all a work in progress!" However, Martha also offers listeners encouragement through her music to help build their faith, remind them that they are not alone, and that with God, ALL things are possible.
Cultus Black Releases New Single "Killing The Beautiful" + Official Music Video
Cultus Black is a dramatic death core/ nu-metal crossover featuring members of other national acts masked to protect their identity. "Killing The Beautiful" is the second release off of their debut album produced by multi time Gold record recording artist James Wisner (Underoath). This track is both heavy and melodic, being sited by those close to the band, as their favorite of all the bands offerings. With the stunning visuals video producer Jaiden Frost brought to the table, this single and accompanying music video will be one to remember.
International Prog Duo ATHEMON Drop New Lyric Video "Different From What Was Missing"
"Different From What Was Missing" is a song taken from ATHEMON's self-titled album "Athemon" out via Wormholedeath / Aural Music Group worldwide.
GUNNA JOINS T-SHYNE FOR "STILL AIN'T FINISHED OFFICIAL MUSIC VIDEO — T-SHYNE'S NEW PROJECT 'CONFETTI NIGHTS' OUT NOW
T-Shyne returns with a star-studded effort where he displays his distinctive, unique style. Dripped in heavy-hitting, potent production from the likes of Supah Mario, Marzi, Wheezy, Confetti Nights soars with T-Shyne's sonically rich hooks, sneakily infectious charisma as the world receives a more in-depth sense of his story. Hailing from New York, by way of Grenada, T-Shyne has been coined as a promising artist from Young Thug's Young Stoner Life Records for his vivid lyrical caliber and his undeniable ability to stand out on any track he's up against—regardless of any other players he is placed with. Confetti Nights exemplifies these sentiments to a magnitude as listeners receive a masterful project that attests T-Shyne is a star whenever he is placed on the court.
Emily Wells embarks on North America tour for Spring 2022, dates with Son Lux, Abby Dear, Tombus, Arthur Moon + more; 'In Regards to the End' LP out now
Composer, producer, and video artist Emily Wells is embarking on an extensive North America tour for Spring 2022 in support of her new LP 'Regards to the End' . Wells will be hitting cities: Atlanta, Dallas, Austin, Los Angeles, Oakland, Portland, Seattle, Denver and more with Son Lux, Abby Dear, Tombus, Arthur Moon & more.
Kel Adore's Mystical & Melancholy Musical Journey
"In my life I have left (metaphorical) claw marks on everything and everyone I have ever loved," states the LA-based pop artist and model. "No one tells you how hard it is to let go, and it is something that can only be learned through experience. If you are someone who struggles with letting go I hope this song gives you permission to release what is hurting you."
EVERCLEAR Announces 30th Anniversary Tour With Special Guests Fastball and The Nixons
Everclear, one of the leading alternative rock bands to emerge from the '90s, is celebrating 30 years as a band in 2022 and to mark this major milestone, the quartet — led by vocalist, guitarist and founder Art Alexakis — has announced a 25+ date North American 30th Anniversary Tour featuring special guests Fastball and The Nixons. The setlist for this year's tour dates will run the gamut of Everclear's career including songs from their currently out-of-print full-length debut, 1993's World of Noise, which the band has announced will be remastered and made available for the first time on all digital music streaming platforms on Friday, June 10th.
SYLVAINE Shares New Song Collaboration with CARPENTER BRUT
SYLVAINE comments on the collaboration: "Working with Carpenter Brut was a very inspiring collaborative experience, allowing me to explore some musical territories I hadn't been much within before. Having a lot of creative freedom on the track, I decided to work with the duality between very legato, almost ghostly sounding vocal lines, along with more rhythmic, strict background vocals towards the end. I had so much fun working on this track, both lyrically and vocally speaking, and feel very grateful to have been part of such a killer project, alongside so many incredible musicians. Do yourself a favour and give this record a spin"