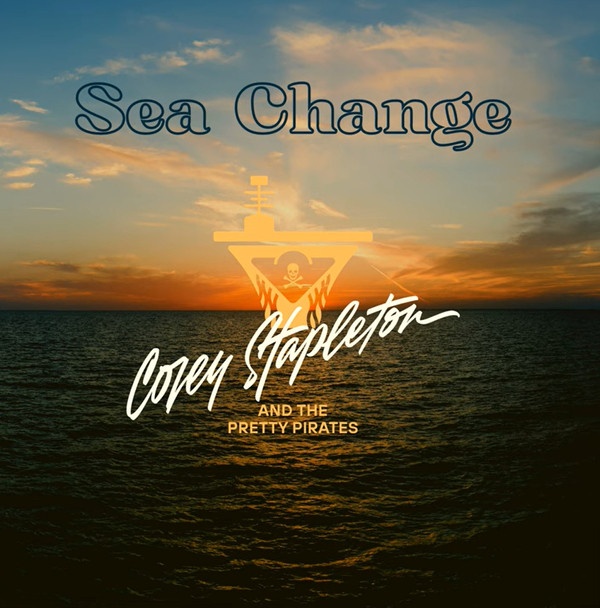 What music do you turn to for an escape? Are you looking only to find a song that matches what you are feeling at that exact moment, or would you rather expand your horizons and brave new waters and territory? Take a chance on the riveting Sea Change from Corey Stapleton And The Pretty Pirates. The wonderful 12-track collection of Americana/country woven tuns have dalliances into the gospel-like lyricism. Sea Change is buoyant yet pierces the listener's soul and heart.
TWITTER: https://twitter.com/Stapleton_MT

Stapleton, a former Naval Officer based in Montana, brings a liberating sound. The minimalist guitar work casts a wider tone and feel, mixed over a modest rhythm section. What takes front and center, besides the engaging storytelling, is Stapleton's tenor. He has a woodsy tone in his voice, but not the deep baritone you might expect. He leaves a wide open space for interpretation. On one hand it's very sensitive-sounding. Endearing if you will. On the other hand, when you hear the first stanza in the title song (which is also track one), you sort of go under his spell as if he were gripping you, encouraging you along in a patriarchal sort of way. 
Of the 12 tracks on Sea Change, I had a few favorites that stood out right away. The title track, which is also the first single, is a must-listen. What gave way to an enjoyable experience is the immediacy of the rhythms in this tune. I think to me why this song also stands out is because it's the introduction and it sets the tone for the rest of the album. You immediately find out what kind of artist Stapleton is and what you've gotten yourself into. He's not fake and you get what you get – all from this first track. 
I also really enjoyed the second track, "Western Son". Yet again Stapleton stakes a claim for who he is as an artist and as a man. From this song, I could glean that his compass isn't any different than ours, but he feels confident because of his upbringing. He's proud of his past. At this juncture, even though I was only two tracks in, I had this wonderful imagery to draw from and be immersed into.  One doesn't have to take the songs literally to feel that strong connection – just listening to the music makes you feel safe and comforted. 
https://open.spotify.com/album/7nkxM5lXdgDAkfqY38QgAi
Interestingly enough my other two favorite tracks are the final two: "As The Crow Flies" and "New Me". That isn't to say that the middle songs are filler – quite the contrary. I just happened to find the bookends to be the most compelling. I might have felt differently on a different day. "As the Crow Flies" took me to a place in the heart completely unexpected. And the final track, "New Me" came across as both inspiring and showcased Stapleton's artistic and lyrical growth from the first track. Sea Change, as an album, really felt complete in the way he had these songs ordered.
Gwen Waggoner