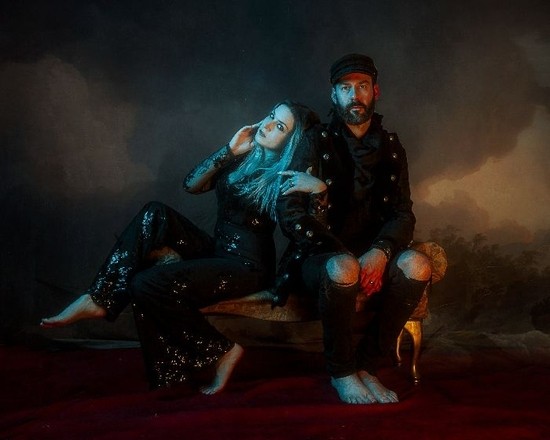 @skopemag news – wednesday – march 30, 2022 @ 5 pm est
@skopemag HQ – http://smarturl.it/skope
Katrina Ford (Celebration) Announces New Solo EP, Shares "Gleaming the Cube" Single + Video via FLOOD | Self-Titled EP Out June 24 via Violin Films
Today, singer-songwriter Katrina Ford (of Celebration and Mt Royal) announces her debut solo EP, due June 24 via Violin Films. To commemorate the announcement, she has also shared the EP's second single, "Gleaming The Cube," along with an accompanying video.
George Perris Releases Third Full-Length English Album "No Armor"
"Going back to your roots is a pause to really understand who you are and where you've been, so that the path forward is enlightened. These songs have filled a void in my heart over the years and have been my steady companions," shares Perris. "Far from being personal to me only, I wanted to show you how universal their emotion is through my country's colorful sound palette. Stripped of any shield, "No Armor" is my most honest portrait so far."
UK's first Fields Of Fantasy festival announces artist
Set just a short drive from Bristol city centre, Fields Of Fantasy is one of the UK's newest festivals. Promising three days of blissful hedonism set in an untouched location the festival is proving its intentions by booking some of the biggest names in electronic music for the first event. Over the course of the weekend, there'll be over 100 artists performing at the camping festival who'll be attended by up to 10,000 people. Running from Friday 29th July to Sunday 31st July, Fields Of Fantasy promises escapism, incredible music, and unique experiences only to be found within our secret fields. Tickets start as little as £110 for a full weekend and can be secured with a £20.00 deposit.
Diane Coffee Shares New Single/Video "The Great Escape," New LP 'With People' Out 4/29 (Polyvinyl), May/June U.S. Tour Dates
With People is both new territory for Diane Coffee, as well as a full-circle return to their roots. Fleming's fourth album is their most intimate and personal to date, a collection of diaristic ruminations and contemplative observations of the people in their life, yet also feels universal in impact. Combining the breezy wistfulness of classic folk-rock with orchestral pop's broad sweep, With People marks an exciting new era for Diane Coffee, chronicling an artist's revisitation of their upbringing as they look at the horizon for what's ahead.
Zaucy shares new single + video "La Canción" on Boom.Records // Zaucy comparte su nuevo sencillo + video "La Canción" en Boom.Records
"La Cancion" was previously teased on TikTok and has amassed over 1.3 M views and 190K+ likes. It arrives hot on the heels of last year's singles "Verte", "911", "Mysterio", "Relajao", and "Miami Girl," which have helped catapult the young artist within the Latin urban music space and have resulted in over 2.3M streams on Spotify alone. It's only the beginning for the newcomer and a brief glimpse of what's to come from the rising young talent. Stream and watch "La Canción" below and stay tuned for more news to follow soon.
NOSO – Announces Debut Album 'Stay Proud Of Me' [out 8th July, via Partisan]
LA-based, non-binary, Korean-American artist NoSo (real name: Abby Hwong) has detailed their anticipated debut album – Stay Proud Of Me – out July 8th via Partisan Records. NoSo has also confirmed their first-ever UK performances this summer at Bluedot Festival in Cheshire, as well as a July 20th headline show at The Waiting Room in London, tickets are on sale Friday 1st April.
Cody Frost Releases New Single 'Chaos.' Announces New Mixtape, 'Teeth.'
'CHAOS' is as wild and weird as you'd expect from its title, but it's still informed by the kind of addictive hooks that Cody delivers even in her darkest moments. It unfolds like a hyperpop fever dream, jumping from its trance-like intro to heavy industrial riffs as Cody's voice jolts from sweet to savage.
Rising Retro Prog-Rockers HÄLLAS Release New Single "Elusion's Gate"
Rising Swedish "Adventure Rock" stars HÄLLAS return with an evocative, feel-good blend of nostalgic 70's hard rock, prog, proto-metal, folk and psychedelic influences on their anticipated upcoming third studio album, Isle Of Wisdom, out April 8, 2022.
LOYAL REVEAL STUNNING NEW OFFERING, 'FLOORS' // LISTEN HERE
Brighton based collective LOYAL continue to make impressive inroads into 2022 with the reveal of stunning new offering, Floors. A sprawling electronic alt-pop cut showcasing LOYAL's ability to create warehouse ready beats and pair them beautifully with ethereal vocals, the track serves as a stellar taste of what is to come from them for the rest of the year. Returning after a hiatus, the group are set to build upon the sound which saw them pick up acclaim from areas such as Pigeons & Planes, Stereogum and more.
MAGGIE ROGERS ANNOUNCES NEW ALBUM, SURRENDER, OUT JULY 29
In early 2020 – after multiple sold-out headline tours and major festival performances in support of Heard It in a Past Life – Rogers began the process of winding down and restoring her equilibrium, just as the world was thrown into upheaval. Longing to retreat to more remote surroundings, she relocated to the coast of Maine and completely cut herself off from the noise of the outside world. She spent most of her time reading and resting and walking along the jagged cliffs, compelled by the fierce and unforgiving nature of the North Atlantic Ocean. As she immersed herself in deliberate stillness, Rogers eventually felt called to create music with the same sense of playful, open exploration and internal discovery that made her fall in love with writing and producing music back in high school. Channeling the ocean's unruly energy, she soon arrived at the controlled chaos and ecstatic physicality that would come to define Surrender.
Totally Enormous Extinct Dinosaurs Releases New Single 'Blood In The Snow' Ahead of Grammy nomination, Announces Upcoming Album 'When the Lights Go'
Today Grammy nominated artist Totally Enormous Extinct Dinosaurs releases a somber yet tantalizing new single 'Blood In The Snow', his first original release of 2022. The track marks a new chapter for the dynamic artist who has also announced his first album in a decade, 'When the Lights Go', due out later this year on his own label imprint Nice Age.
Dark Pop Duo Esoterik Brew An Introspective Elixir With New LP, 'Alchemy'
Dark pop / pagan synth duo, Esoterik have unveiled their new full-length LP, Alchemy.
The concept of Alchemy has many different forms and interpretations but the analogy holds true for any artist in that we take elements or ingredients, which on their own have a certain character and then take on a transformation into something that didn't exist before.
Superorganism Team Up With Stephan Malkmus On New Song "It's Raining"
Having announced their return earlier this month with news of their long awaited second album – World Wide Pop, due July 15th – Superorganism now deliver the second song from the upcoming record and another slice of irresistible pop.
STRABE Share Debut Single "Life On Pause" || Out Now on PIAS Recordings
STRABE introduce themselves with the dazzling debut single, "Life on Pause," out now on [PIAS] Recordings. It's the mysterious band's first music since signing to [PIAS] and follows the success of viral (and subsequently, prophetic) track "Best Worst Year" which is approaching 7 million streams. STRABE's debut project will follow this summer.
HARRY STYLES NEW SINGLE "AS IT WAS" TO BE RELEASED APRIL 1
Today, GRAMMY Award®-winning global superstar Harry Styles has announced his new song "As It Was," to be released at midnight BST on April 1. "As It Was" serves as the first official single from Harry's highly anticipated upcoming 13-track album, Harry's House released globally May 20th.
Bestfriend Announces Sister EP, 'places i've left', Shares Lead Single "Someplace Else"
Canadian bedroom pop duo Bestfriend are back. After their wildly successful EP, places i've lived, the duo announce a sister EP, places i've left, and share the lead single "Someplace Else," a dreamy bedroom pop bop. Nostalgic, romantic, and sugary sweet, "Someplace Else" is all about crushing on someone, and frankly, "It might be the most purely happy song we have ever written, really," the band notes.
THE BLSSM SHARES "NOT TODAY" + ANNOUNCES SOPHOMORE EP PURE ENERGY
"'NOT TODAY' echoes both my day-to-day triumphs and anguish," THE BLSSM explained. "It was written about the small nuances of joy I thieve, collect, and steal to keep in my pocket to get me through an ever rat-race agenda of wanting more, wanting everything and wishing. Sonically, it captures my influences retold and revived into my own sonic palette."
Night Court Announces New LP on Snappy Little Numbers and Debt Offensive Records
Night Court have announced a new album called "Nervous Birds Too" on Snappy Little Numbers and Debt Offensive Records today. You can check out the video for the first single, "Titanic", now (see Punknews.org debut)…
"The original idea was for the song to be about the titanic without any explicit reference to the name 'titanic' – a real one minute, 15 second mystery – but then we somehow ended up just naming the song "titanic" and thought that was stupid and funny so we went with it." say Dave Paterson from the band, adding "This has the added benefit of ensuring it isn't confused with the Edmund Fitzgerald or the S.S. Minnow."
LUCHY DR X ALCOVER ESTRENAN EL TEMA POP URBANO "DIME LA VERDAD"
Luchy DR sigue creando éxitos en el estudio, y en esta ocasión al lado de uno de los productores/cantantes mas cotizados de la industria, Alcover. Luchy DR x Alcover lanzan "Dime La Verdad", una canción pop urbana que habla de las preguntas entre parejas cuando aun la relación no esta definida, y no sabes lo que en realidad quieren contigo. Luchy DR X Alcover han trabajado en el estudio anteriormente, pero ahora llego el momento de crear un exito.