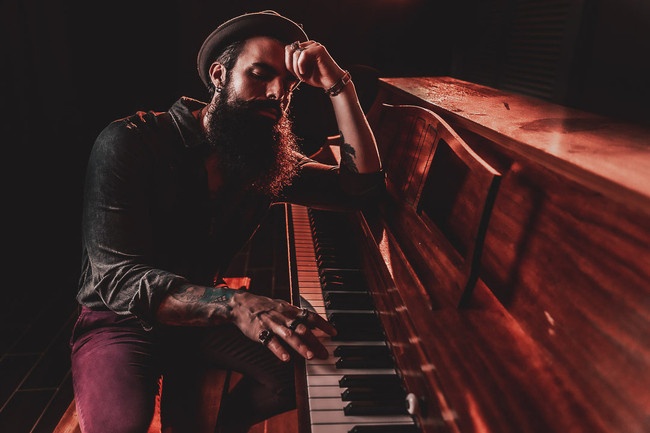 @skopemag – When did you find your love and passion for music and did your friends/family support you?
I actually sang in talent shows as a small child, so my parents were always supportive. I really fell in love with songwriting more than anything. I was writing songs as soon as I could play a few chords on guitar. I still don't consider myself a great guitarist, but I have a passion for putting interesting chords, melodies, and lyrics together.
Most of my friends have probably been wondering why it took so long for me to put out new music. I've been patiently building something very special.
@skopemag – Is Paul Noir your real name and how did you decide to use that alias as your music name?
Paul is my real first name. I was looking for a name to accentuate and embody the feeling I was creating with this project. I've always been in bands, so I think of a name as an extension of the music itself.
The word 'Noir' translates to 'Black' in French. But it's also a genre of film and books that depicts the darker or strange sides of society. I think people will find a balance to my collection of songs, but this particular name will tie it all together.
@skopemag: Between promo and making music, how much time per week do you put into your craft?
I spend countless hours on music and the music business. I actually work with many other talented bands as well. That experience has been imperative to keeping up with the demands of the new industry. As you know, there's so much more to being a musician than writing, recording, and performing. Like it or not, some of those online skills are just as essential these days.
@skopemag: Your awesome video 'Odd Experiments' is out  now. How did you know you wanted to invest in that single and who helped with the video?
I can't believe how incredible the response has been to this debut video. I'll be investing in all the singles from the forthcoming album, as well as some covers and extras along the way. I don't want to give too much away.
But "Odd Experiments" was a fun one. Before my writing partner Nathan Elliott even had the mastered version finished, I flew to Florida to shoot the video. That meant we would have to keep the demo vocals.
My friend Super Dave McFadden shot the entire video in his green screen room. I had to have faith that he would work his magic. We went back and forth with different ideas, but eventually it just all came together for him. I couldn't be happier with it.
@skopemag – How does the video for 'Odd Experiments' portray the message in the song?
We went quite literal with the video. The song has a dual meaning for me. But at its core the lyrics portray a fiction about a 19th century scientist defending his misunderstood work and creations.
When describing this on my blog I wrote… "We often have the best intentions and then lose ourselves somewhere along the way…" I wanted this song to affect people in different ways. Some taking the side of the protagonist, and others wondering if he's struggling with the morality of his dubious ways.
@skopemag – You have a new video / single 'Near But Far' coming out soon. What can fans expect from that new song?
"Near But Far" is a bit different from the rest of the collection. It's hopeful, and a breath of fresh air. I wanted to release it second to show the versatility of what's to come. The video is very different as well, and its own little piece of art. I'm excited for everyone to hear and see it.
@skopemag – When you are not making music what else do you enjoy doing?
When I began putting this project together, I started growing a beard. Something else I started at the same time was working out by lifting weights. It's almost become a meditative thing for me, and I enjoy the process of transforming my body. Besides that, I adore the arts and have endless related interests. I'm a big reader of fiction and it influences my writing.
@skopemag – What kind of mood and environment do you feel most creative?
I don't need to be in a certain mood or space to write music. It just comes to me constantly. Lyrics are a bit different for me. I've heard this is common with artists, but I definitely write lyrics in spurts. It's almost like my body and mind are gathering and storing up concepts. Then lyrics to multiple songs will pour out at once. I can usually identify when this will be, and I'll spend a series of days in a row on lyrics.
I rarely have had the luxury of putting myself in ideal writing environments. But I hope to do that more in the future.
@skopemag – What is the most rewarding and also challenging thing about being a musician in 2022?
It's amazing that you can reach so many people from all over the world so quickly in this digital age. It's really rewarding to put new art into the world and instantly get praise and meaningful comments. But the challenge is to stay consistent, continuing to create and share quality content. New artists don't have the luxury of turning off their social media to go dive into their art. They also need to keep up on everything, while balancing creating and everyday life.
@skopemag – Where can we stream and follow you online and what are you excited for coming up in 2022?
You can find everything from my official website artofpaulnoir.com. I have a linktree account where you can get to my videos, steaming pages, and social pages. My handle on all social pages is @artofpaulnoir
What am I excited for in 2022? Well, the release of my full-length album will be the culmination of all the work my writing partner and I have put into this project. I think my best songs will be released after that, but the order isn't set in stone. I'm waiting to see the response to everything. Then I'll direct some final moves, and hopefully have another cool interview with SkopeMag! Thank you very much for this ~