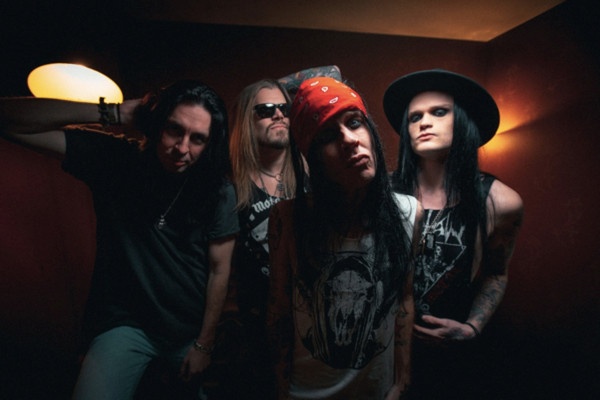 @skopemag news – tuesday – march 22, 2022 @ 5 pm est
@skopemag HQ – http://smarturl.it/skope
Mary Lattimore & Paul Sukeena announce West Kensington – Out May 20th on Three Lobed Recordings, listen to "Altar of Tammy" now
It is shocking what your mind will choose to forget. Almost always it needs a tear, a clean dash, a straight passage into what you've already known. Looking back, West Kensington has achieved that very goal: creating a landscape for memory, an imprint of that horizon, suspended in the cosmos.
Swiss post-doom trio Kalkas premiered new official music video "Au milieu du feu, il est leur guide"
Naturalistic Post-doom – including stoner and psych-rock elements – trio from Lausane and emerging from the amazing Swiss scene in 2019, Kalkas is about to release its debut full-length album called 'Envoûtante sève' and planned on LP & Digital on April 8th through Table Basse Records.
Fresh & Funky New Single from China Based Duo
Intro to Music Theory is the project of musicians, DJs, and producers Matt Waters and Matthew Busch. The Southern-California born and Hainan-based duo have racked up a plethora of experience in a multitude of genres- first in the classical, jazz and freelance world in the United States, and later as electronic artists and producers in China. They first performed together in Pacific Crest Drum and Bugle Corps as teenagers. The two reunited almost a decade later in 2017, when they simultaneously moved to Hainan, China to teach university-level music.
BELUSHI SPEED BALL Announces Album Release On Nintendo 64, Reveal First Track
The Louisville, KY, based thrash metal outfit, BELUSHI SPEED BALL, are preparing to unleash their new single "Tattletale Strangler" on April 8th, 2022. Taken from the upcoming album What us, Worry?, the band's wild antics are being transported from the theatrics of the stage onto the beloved Nintendo 64.
Wistful Queer Parisian Love Story
New York City, singer, songwriter, Jake Lancer encapsulates the art of storytelling, the nostalgia of pop music, and the vitality of the New York City club kid scene in his debut EP as a solo artist.
Dark Pop Artist, Lia Hide Sends An Invitation To "Dinner" With New Single & Video
Dark Pop artist Lia Hide returns with her new single, "Dinner" taken from the upcoming, fourth studio album, The Missing Fourth Guest. The follow-up to the first single, "Proposal", "Dinner" continues where Lia left off, giving another exciting insight into the upcoming album.
Colourful Pop Artist Beth Keeping // New Visuals
Beth Keeping is a UK based singer/songwriter with a captivating voice and eloquent flair for storytelling. With colourful pop melodies and empowering themes, her honest and wistful songwriting has connected with people around the world, with self-worth and sincerity being at the forefront of her music.
LA's AFN Peso Releases "Can't Stop The Rain" Video Today
The Real Thing II, is a 15-song offering where Peso's skill and versatility are on full display. The Real Thing II includes features from Bay-area's Larry June, Detroit's Icewear Vezzo, and LA's Gary Chose; and is available everywhere now.
LORDE DROPS VIDEO FOR "SECRETS FROM A GIRL (WHO'S SEEN IT ALL)"FROM CRITICALLY ACCLAIMED THIRD STUDIO ALBUM SOLAR POWER
Of the "Secrets from a Girl (Who's Seen It All)" video, LORDE says, "…this song is me in communication with another version of me, trying to send along the wisdom I've started to gather along the way. When we were plotting the video, Joel brought up some old film/TV tropes about groupings of women. It inspired me to identify three distinct parts of myself, and imagine what would happen if these parts were able to meet… the Child in her purple lipstick and silver jewelry, big curls thrown over to one side, skipping and bouncing like I did as a six year old; the Lover, a baby woman in red with a little diamanté eye, waking up hungover and divine; and the Gardener, me at my wisest and most crunchy, dressed in my own clothes… I hope you love it."
Laura Jinn Shares "Gasp" Via Wonderland, New Single Out Now On All DSPs
Soulful and percussive verses suddenly drop into a chorus of crashing waves and shimmering synths as Jinn witnesses her heart bend and break. Stalking around a crowded room, Jinn addresses a rival with desperation and desire balanced on the knife-edge of pain and pleasure, seeking release. For fans of Glass Animals, Passion Pit, and Gorillaz, "Gasp" sees Laura Jinn stepping wholeheartedly into the electronic arena, cementing herself as a force to be reckoned with.
Kingdom Collapse Releases Official Music Video for Single "Save Me From Myself"!
"We're fortunate to have such a supportive fanbase as well as the help from our friends at Octane to really make a statement outside of the traditional record deal" says Jonathan Norris.
The Cruel Intentions unleash "Reapercussion"
The Cruel Intentions – "The bastard child of Guns N Roses and Hanoi Rocks" according to Firework Magazine – are dangerously skilled and always out to have a great time! In 2022 the band is back in full, and ready to bring on a full rock'n'roll circus of havoc, fun and glory. Their music is a breath of fresh and greasy air in a music scene where rock has grown to be more about melodramatic nostalgia than good vibes and great times.