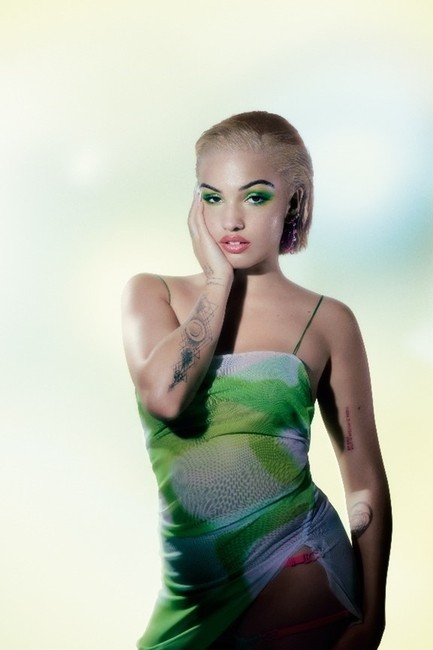 @skopemag news – friday – march 18, 2022 @ 12 pm est
@skopemag HQ – http://smarturl.it/skope
Nox Holloway Release New Song "Draw The Line"
About the song, the band says, "'Draw The Line' is an ode to the ones that we can never seem to leave out of our lives, regardless of whether or not it's in our best interest. We wanted the song to feel upbeat and jumpy, but the lyrics to be read as a perpetual struggle between what we desire and what's good for us."
Snøw Drops New Lo-Fi Single "Helpless" Today Ahead Of His Debut LP
Salem artist Snøw has unveiled his new single titled "Helpless" today. The track arrives ahead of his upcoming debut album I Smoke To Cope, which will be released on Friday, March 25th via Amuse. Soaring over the effervescent soundscape, the track throbs with a laidback cadence that leaves its listeners floating in an emotional suspense filled with heartache and acceptance.
JAKE SCOTT RELEASES HEARTFELT NEW SINGLE "TEXAS GIRL"
"I grew up in Arkansas where an imaginary rivalry between Texas and us was a tale as old as time. Naturally, I never thought I'd end up with the enemy, a Texas girl. And then I met a girl named Rachel from Dallas, and I think anyone who knows anything about me knows the rest of the story – I fell head over heels for her instantly," explained Jake. "This song is about the magic of that feeling. It's the first single I've released in partnership with Elektra Records and the first of many upcoming releases this year. I hope you love it!"
DREAMER BOY HITS THE CLUB ON NEW SINGLE/VIDEO "OVER EVERYTHING"
Latin American rising star ALUS has released 'Money Dance'
Mabel, Jax Jones & Galantis drop brand new single, 'Good Luck'
'Good Luck', says Mabel, "is the empowering song you need when getting ready to go out: when you're feeling low about someone, and your friends will take you out to get that person off your mind."
Inspiration for 'Good Luck' ran deeper for Mabel than the imagined dancefloor: she avidly watched and re-watched 'Paris Is Burning', 'Pose' and 'Drag Race' between writing songs, reflecting on how dance music became a generational hub for expression, liberation and inclusion.
MILES SHARES NEW SINGLE "MISS INDEPENDENT"
Lucy Tun Shares New Single "314" || Out on Different Recordings / PIAS
With the release of last year's single "Monarchy," the artist formerly known as LCYTN reintroduces herself as Lucy Tun. Reflecting a more personal tone by telling real-life stories that touch the soul on a relatable level, the British-Burmese vocalist, producer, songwriter and DJ has opened herself up within her new sound, allowing listeners to get to know her via her output. Following on from the "kawaii-trap" of "Monarchy," today Lucy Tun unveils a new chapter of her story with new single, "314."
Bad Neighbors share new single + video "ADMiT iT"
New Music: LI'L ANDY unveils The Complete Recordings Of Hezekiah Procter (1925-1930) :: "I See Jesus Comin' Down The Road" premieres at Tinnitist
The Complete Recordings of Hezekiah Procter (1925-1930) is at once music, history, fiction, biography and recorded performance art. A two-disc, 29-song box set also including a 150-page novel telling the story of Hezekiah Procter, the tracks were painstakingly recorded on both analogue tape, and using pre-electric, 1920s technology. Overall, it is another stunning example of Li'l Andy's boundless artistic goals and pure love of early North American roots music.
Li'l Andy | I See Jesus Comin' Down The Road: Exclusive Video Premiere
Pardyalone Drops Compelling New Video for "Cupid"
Hip-hop cultivator Pardyalone's video for Cupid is the perfect visualization of the song as it shows how the trials and tribulations of heartbreak can feel. The buoyant track is fused with heartbreak over finding old memories and dealing with the emotions they bring. He brilliantly depicts those feelings of pain, lust, and confusion to create a relatable, captivating video with a message that many can apply to their own lives.
DAMPF Has Arrived – Listen To New Single "The Other Side"
"What is DAMPF?" you may ask. "Who and what is behind the huge riffs, brutal metal, and catchy choruses?"
DAMPF is a supergroup of heavy metal royalty led by the almighty A-tron, whom you may know from his career as Martin "E-Type" Erikson.
SAM VARGA RELEASES NEW SINGLE "IF I'M GONNA STAY"
With over one million streams on Spotify and over one million likes on TikTok, Sam Varga is quickly becoming a viral internet sensation.
Ruth Koleva New Single 'Kiss My Attitude' Out Today
SASHA ALEX SLOAN RELEASES "WTF" + ANNOUNCES NEW ALBUM 'I BLAME THE WORLD' OUT MAY 13
The follow-up to her 2020 critically praised debut, Only Child, I Blame The World finds Sasha embracing the weary apathy of the world around her and ushering in a bold new era of musicality. Sasha describes the new album as an "honest, non-hopeful" collection of work, distinctly encapsulating the all-too-relatable emotions of despondency and isolation through unflinching and insightfully nuanced lyricism and a razor-sharp sensibility.
Gemaine embraces Conditional Love in new song and video
Jessie Ware-esque Jazz-infused Indie-pop New EP
Talkless & Marwang Invite Us Into A Mental Labyrinth In New Pop-Punk Single & Video "Mind Games" – OUT TODAY
Rosie Darling Shares "Always Almost" Video; Watch Here 
Rosie Darling is making a name in the indie-pop scene with a remarkable collection of intimately moving and beautifully empowering songs. Following last year's debut EP Coping, Rosie returns with "Always Almost." The first track from a forthcoming 2022 EP, "Always Almost," is raw and radiant, transcending pain into song. "This song channels that frustration about being in a relationship where it's almost working but isn't – and how one person can put that blame on themselves," she says.