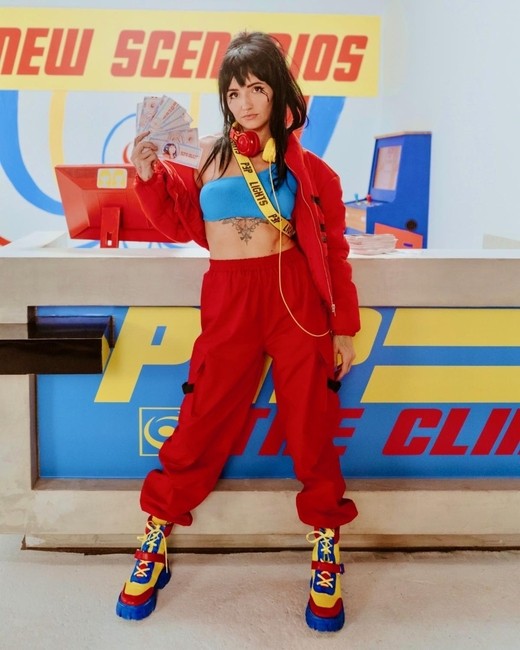 @skopemag news – thursday – march 17, 2022 @ 1 pm est
@skopemag HQ – http://smarturl.it/skope
Watch: Dutch/Moroccan producer EAUXMAR and London artist Tahir collab on bold video for 'Vexed into Bliss'
Amsterdam producer and visual artist, EAUXMAR and London artist TAHIR have released the visual for 'Vexed into Bliss', directed by Bior Elliott (DAZED). 'Vexed into Bliss' (along with supporting track, 'Tethered Heads') is part of an exhilarating two-track collaboration released by the duo.
Math-Pop Trio FES Return With New Single 'Force Feed'
UK math-pop trio FES have today released their new single 'Force Feed', their latest offering from their upcoming debut album With Regards From Home, which will be released through Small Pond Records on 29th April 2022.
CROSSPLANE – Make Beer Not War
CROSSPLANE release second single – "Make Beer Not War".
Sometimes reality catches up with a planned release and a song that has already been written gets an unexpectedly topical reference. "Make Beer Not War" is just such a song.
ALICE SK drops art-pop gem 'Sweet Like Honey' and announces EP release!
"Sweet Like Honey" is about all consuming affection. The instantly infectious track accelerates in its chorus with a Strokes-esque fuzzy lead guitar and an art pop style recalling perhaps Liz Lawrence or Bat For Lashes, with Alice's own guarded charm coming through in her softly yearning vocals.
UK Dream-pop Musician Ilja Alexander Releases 'Nature' [FFO: The Beatles, Queen, Weyes Blood and Porches]
TONES AND I RETURNS WITH NEW SINGLE "EYES DON'T LIE"
ICYMI: Tenderhost share debut single 'My House" + announce new EP "The Tin" | Out 29th April | Free entry headline show at the Sebright Arms, London on 24th March
North London sextet Tenderhost have revealed their new single titled "My House". The track follows their recent song "The Descent" and is accompanied by the announcement of their debut EP, "The Tin", which is out 29th April 2022.
SARAH MAE CHILTON RELEASES "GO AWAY GHOST"
With chilling lyrics like I ain't wasting no more time on someone who to me has died, "Go Away Ghost" tells a haunting story about an ended relationship that is sure to resonate with listeners.
WYATT E. premiere new album "āl bēlūti dārû" via Cvlt Nation
Belgium-based oriental doom and drone instrumentalists WYATT E. reveal the magic of their sophomore album 'āl bēlūti dārû' through an exclusive stream on Cvlt Nation. It will be available this March 18th on Stolen Body Records, and performed in its entirety at Roadburn Festival as part of their European tour with Messa next month. Feel the magic…
Enter the Scorching Drone Landscape of WYATT E. āl bēlūti dārû Album Premiere
Le Big Zero share new song and video "Coda"
GRAVE NEXT DOOR Stream New Album Sanctified Heathen At The Ripple Effect
Stoner metal band GRAVE NEXT DOOR are streaming the entirety of their new album Sanctified Heathen over at The Ripple Effect. The album will be released on CC and digital formats tomorrow via Black Doomba Records.
Electric Monolith: rocking new single "Nightmares" available!
The fourth chapter of the 'Turned to Stone' split series on Ripple Music features Barcelona rock stalwarts Saturna and Electric Monolith. 'Turned To Stone Chapter 4: Higher Selves' will be released worldwide on April 15th, so kick out the jams with new track "Nightmares" now!
NASHVILLE ARTIST SOPHIA SCOTT OPENS UP ABOUT GROWTH, LOVE, HEARTBREAK AND HOPE IN PERSONAL NEW SINGLE "ONE OF THESE DAYS"
Known for her soulful storytelling and powerhouse vocals, EMPIRE's SOPHIA SCOTT is blazing a permanent trail for herself in Nashville and beyond with her newest single "One Of These Days," available today. Painting a poignant visual from her parents' struggling marriage, Sophia illustrates how she defined her own perspectives on love, offering a candid glimpse into her own personal story and emphasizing the mantra: 'everything's meant to be.' Penned with Tiggs (Nathan Fertig) of Ross Golan's Unknown Music, "One Of These Days" is where vulnerability meets hope… "I wanna live like I'm dying, I want to laugh till I'm crying but my heart still breaks, I hope it falls into place, maybe one of these days," Scott sings.
HEALTH & EKKSTACY Release "STILL BREATHING" From 'DISCO4 :: PART II' Out 4/08 Via Loma Vista Recordings
HEALTH today released "STILL BREATHING," a collaboration with teenage post-punk experimentalist EKKSTACY, from the band's forthcoming album DISCO4 :: PART II, due out on April 8th via Loma Vista Recordings. The taut and simmering track demonstrates the breadth of HEALTH's sonic palette and follows "COLD BLOOD," HEALTH's thunderous first collaboration with metal titans Lamb of God.
STEELO BRIM RELEASES DEBUT MUSIC PROJECT ELDORADO EXCURSIONS
Today comedian/producer/writer/actor/musician Steelo Brim independently releases his debut music project Eldorado Excursions via Stem. Eldorado Excursions is the progression of Steelo coming from the heart of Chicago's Westside & ending up in the LA lights to pursue his young dream of working in music. The 13-track project includes features from Fabolous, Buddy, Arin Ray, BJ The Chicago Kid, Chuck Inglish, Dej Loaf, Leon Thomas, Vic Mensa, Problem, Nomad P and more.
Singer/Songwriter Fritz Michel Announces Debut EP, 'On The Rocks,' Out 6/17
Arriving on the heels of his latest single "Look Out" – which the critics called "warm and alluring," boasting "a cinematic sound – singer/songwriter Fritz Michel is taking his next step with the release of his debut EP, 'On the Rocks,' out June 17th. While it finds him taking a bold step forward in his emerging music career, 'On the Rocks' also draws distinct references to his bilingual roots and a multi-faceted creative history that constantly mines new avenues of expression and exploration.
The Happy Fits release whimsical and sincere single + video, "Changes," today; on tour now
BLXST RELEASES CINEMATIC VIDEO FOR NEW SINGLE "SOMETIMES" FT. ZACARI
LIGHTS SHARES NEW SINGLE AND VIDEO "IN MY HEAD (FT. JOSH DUN)"
Lights expanded on the single, "'In My Head' in a few words is about tuning out the chaos and the thousand voices telling us how to feel and act and look, and just doing things your way. The "In My Head" video is visually and conceptually the culmination of the previous three songs that I released leading up. The color scheme of PƎP is primary, so the first PƎP video ('Prodigal Daughter') was thematically red, 'Real Thing (featuring Elohim)' was blue, and 'Salt and Vinegar' was yellow. 'In My Head' was always meant to be all three, and it sums up the series conceptually as well."
JOETOWN (Ft. Matt Star of Ace Frehley) Releases New 9 min. Prog Rock Epic Titled "Nero", Includes Tribute & Nod to Late Composer Ennio Morricone
Electronic Producer sweeep To Release Witch House Single [FFO: oOoOO, Clams Casino, Holy Other and Lorn]
The Vaccines' keyboardist T Truman releases new EP 'Luxury Star' – out now 17th March
T Truman, the solo project and alter ego of The Vaccines' keyboardist Timothy Lanham, today releases his new EP 'Luxury Star'.
Co-produced and written with frequent collaborator Geoff Roberts, 'Luxury Star' finds Truman flexing his songwriting muscles, moving from bustling retro-pop to 70's tinged piano ballads, and synth and sax laden piano pop stompers – all with the ease and clarity of a artist who's undoubtedly on the path to much bigger things.