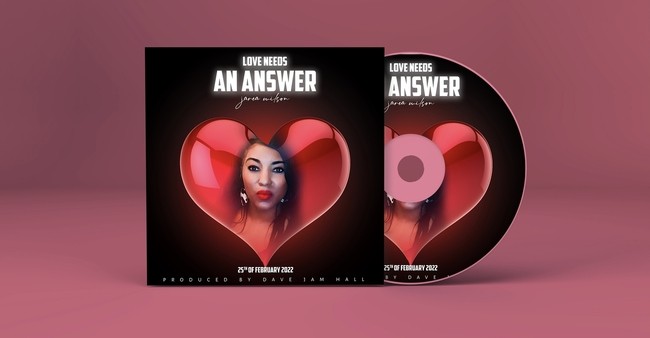 Jarea Wilson's voice rings fine and true on the confessional "Love Needs An Answer". The minimalism of the sound gives it a dreamy-eyed presence. Firmly rooted in the R&B tradition, the song gets plenty of room to roam. A futuristic gloss adorns the entirety of the piece, for hers is a sound akin to newer groups like Klein, Rhye, and the Weeknd to name a few. Economical beats guide the way for there is a grandeur to the unfolding of the atmospheric tenor of the textures. Quite stunning to behold it is easy to get sucked into the well-defined world she crafts with ease.
Percussion starts things off with sheer gusto. From there the rest of the track forms a deep groove, one that runs through everything. Her voice features a lushness to it, silky-smooth with a sensual hint. By allowing this to be the very core of the track the rest of it revolves around her clever, thought-provoking lyricism. Sung with a romantic cadence the yearning, the pining, has a realness to it one that becomes quite beautiful at times. Never needing to raise her voice the way the track works is by having small yet significant shifts in the sound to further accentuate the very power of her message giving it that extra soul.
"Love Needs An Answer" puts Jarea Wilson's honeyed lyricism on full display with a narrative that lingers on in the mind long after the track has ended.
Connect with Jarea Wilson:
https://linktr.ee/Jarea_thebossbabe