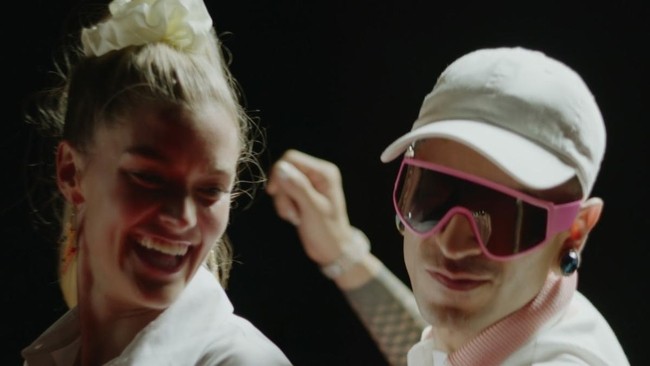 The Pirate tends to stand out from what's considered trending these days. His latest track, Suavecito Mami is definitely a track everyone can feel and relate to. The Pirate mixes his sharp sensible lyrics alongside the melodies to create the perfect track to vibe.
• 74,000+ streams on Spotify!
• 84,000+ views on VEVO!
Powered by GUM Studios: GUM Studios is the only female-owned film soundstage in NYC! GUM created this record label specifically for Pirate. GUM Studios has been home to many music videos including JLO & Maluma, Miley Cyrus & Dua Lipa, Bad Bunny, J Balvin, Snoop Dog, Megan the Stallion and Halsey. www.gumstudios.nyc
GUM Records (a new division of GUM Studios) signed The Pirate in 2021. Working with his long-time music producer Hugo Martinez, The Pirate released his EP "I Am The Party," including singles Suavecito Mami and Rolling. He has new music coming out later this year and in 2022, including Sunday Funday, Freedom, Dopamina and TikTok.
Alessandro Lopez Soza, known professionally as The Pirate (also known as El Pirata or The Pirate NYC), is a Nicaraguan singer, songwriter and actor. Musically, The Pirate's music has been described as urban latin, rumba and reggaeton. He also incorporates other genres such as rumba-flamenco, dancehall, electronic and reggae. He is also known for his striking fashion style. Pirate was the principal singer and composer of the band "La Furgoneta Gitana," which was known for their fusion of different music from around the world.
Born and raised in Nicaragua, his father Luis Lopez Martinez is indigenous. His mother, Ivania Soza Maltez, is of Italian descent and raised in Nicaragua. She is an agricultural and environmental engineer and is now a US Citizen.
When he was little, and the war was ending in Nicaragua, his parents gave him a Walkman to listen to music. Resources were scarce in a war-torn country, and not everyone had access to such things. He was a happy child but escaped the sounds of gunshots and demonstrations by listening to music with his brother Dariel. Some of his favorite musicians he listened to growing up include: Hector Lavoe, Bob Marley, Ruben Blades, Luis Enrique, Peter Tosh, Camarón de la Isla, Paco de Lucia, Madonna, Ricky Martin, El General, Reggaemania, El Chombo, Tego Calderon and Daddy Yankee. He said in his last interview, "My parents did their best. They gave me music."
Best known for his Rumba-Reggae style, Pirate has traveled to different countries around the world sharing his music as an independent artist. London, Holland, Switzerland, Belgium, Germany, Portugal, France, Spain and several Latin American countries to name a few. He shared the stage with many international artists at festivals and on television programs. In 2014 he recorded his first international album in Barcelona titled "Black Feet," in honor of the gypsy culture of the world. He lived 10 years in Milan, Italy where he fused his Latin-reggae music with flamenco and electronic music. He then returned to Nicaragua to follow his dream of winning his first Latin Grammy.
Pirate is always innovating and creating music and art. But due to the complex political situation in 2018, the Nicaraguan government and police began to assassinate young people who demonstrated and expressed themselves in the country. A war was about to break out, and that's when he migrated from Nicaragua to the United States with his guitar in 2019, settling in New York City.
At the beginning of 2020, he was diagnosed by doctors with post-traumatic stress (P.T.S.D.). He escaped the dictatorship of his country, traveling for more than 5 days without stopping, crossing borders and enduring harsh situations, until he reached New York City. It is there where he became inspired by pop, electronic and American rap music. This new landscape influenced his musical style, and he's now working on new music and film projects. His desire to make music became stronger and his P.T.S.D did not stop him from following his dreams.