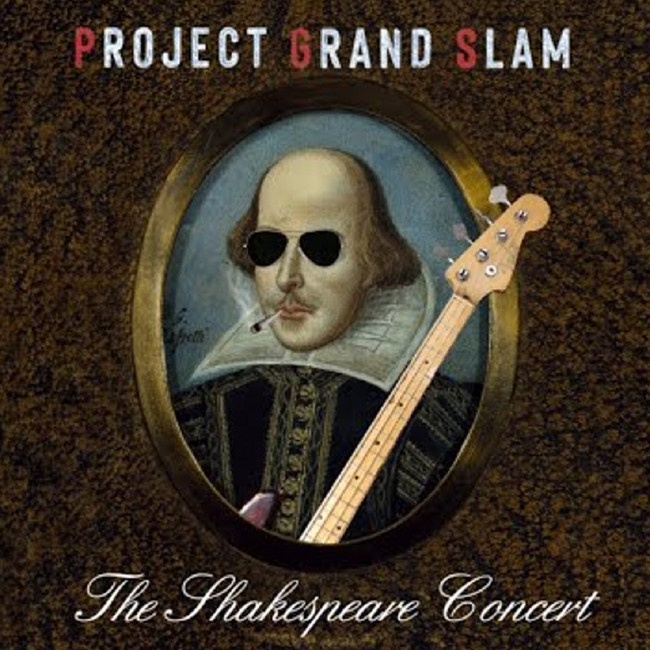 A lot has been said about Robert Miller's lauded Project Grand Slam through the years, but in the new studio-recorded version of their live setlist, The Shakespeare Concert, vocal harmonies take such a starring role that it's difficult to lead off a review of the tracklist without noting their importance. Where past arrangements of "I'm Falling Off of the World" and "Constable on Patrol" felt a little more instrument-centric, the opposite is true here, as our singer weaves together melodic ribbonry with as much of a commanding presence as Miller does behind his trademark bass guitar. 
WIKIPEDIA: https://en.wikipedia.org/wiki/Project_Grand_Slam
The flow in this record is absolutely stylish, and I love how well songs tend to run into each other without sounding cramped in the arrangement of the tracks. The trio of "My Baby," "Lament," and "New York City Groove" gave me chills right out of the box, and although there's a lot of tension in each of these songs, it comes apart under the cathartic pressure of the band's play flawlessly, every time. I don't know how those unfamiliar with PGS are going to appreciate the depth in this piece, but anyone who has been listening to their music in the past four years is going to be as impressed as I was with the marvelous reshaping of iconic material. 
"Juliet Dances," "Stockbridge Fanfare," "Fire" (a cover of Jimi Hendrix), and "Redemption Road" see harmonies catalyzing a rich climactic focus from this group of musicians that is almost as powerful as something we would witness in concert, and I think it's more than a little obvious that this is exactly what Miller was going for with this release. He wants to bring us all of the precision of the stage show without any of the bombastic elements that often invade a live record's margins, and his efforts turn in one heck of a thrill ride here.
The structures of "Lament," "It Is a Miracle to Me," "Aches and Pains," as well as "Yeah Yeah" feel a little different than I would have initially expected them to, but this is perhaps the greatest appeal of a live album, even if it's one that was recorded under unorthodox circumstances. We're still getting that wild, fearless presentation of an emotional narrative in the music as opposed to a recreation of material we've already listened to one hundred times over, which is everything I want in this kind of an offering. 
https://open.spotify.com/artist/04BdGdJszDD8WtAFXc9skW?autoplay=true
You can't miss The Shakespeare Concert if you're a fan of Robert Miller's work and really anything that has to do with quality jazz/rock and straightforward fusion in 2022. Project Grand Slam has become one of my favorite indie follows over the last few years, and if you give any one of the fifteen songs in this tracklist a listen, I think you're going to understand why. It's a critical masterpiece by my account, and certainly an extension of the brooding passion that I have now come to find in everything this unit has put together thus far. 
Gwen Waggoner