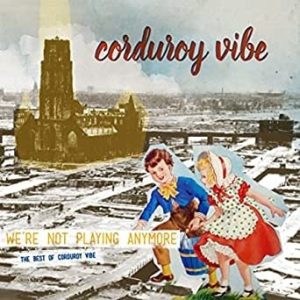 The first thing that comes to mind when I hear the name Corduroy Vibe is clothing. With preference to Corduroy pants, shirts and jackets, I'm thinking this band has a certain style or taste that coincides with their overall Vibe. Now, I have no idea if the group name comes from a love for Corduroy clothes, in general, but I do know that the Vibe is stylish.
Corduroy Vibe is made up of three members: Jim Farley on bass, Ed Matthews on guitar & vocals and Craig Harmon on drums. 'We're Not Playing Anymore' is a fitting title because this three-man band is no longer active but they have supplied the audience with some of their best songs recorded between 1998-2002. Corduroy Vibe has selected 10 of their top shelf tracks on 'We're Not Playing Anymore' and I have to say that this group has good taste in music.
The record kicks off with "It's OK" where the listener will receive an uptempo, rock-nasty vibe that sucks you in immediately. On the next song, "Emmaus Walk (Remaster)", a Pink Floyd influence & tempo is heard to go along with striking guitar chords. On track three, "Car Keys", I sense a garage band effect and easy going melody that is appealing beyond belief. These "Car Keys" are in the ignition and once this engine is revved up, you are in store for one chill, joy ride. Corduroy Vibe decides to take things a bit deeper on "An Offering" where the musicians are laying it all out on the table and offering serious, thought-provoking material to its audience. Track five, "6:23", is mellow and spiritual in nature while track six, "Love Song #88" offers up a lively mix of hard-hitting notes. I am simply loving the guitar and drums on "Farley's Jig" and this musical trio puts together one hell of a jam session here. Moving along, the listeners will experience a good times feel & love song with a rockin' twist on "Gracie & TT". On track nine, "I'm My Own Stranger (Twang)", one will get hit with a vast sound and then Corduroy Vibe ends it all with a fan-friendly finish for the ages on "Elijah". The closing number has a welcoming tone to it where "Elijah" seems to come to life and pull you in right away.
I have to say that all three members sounded terrific on this album and are able to produce a BIG sound for just being a trio. Jim Farley kept a tight rhythm on bass, Ed Matthews killed it on guitar & vocals and Craig Harmon kept the beat like a true champ. All the pieces fit together nicely on 'We're Not Playing Anymore' where Corduroy Vibe has all the right medicine for the consumers. With an original set and style, Corduroy Vibe has something for everyone on this record and honestly wish this band would play some more. The Vibe is REAL and Corduroy is IN!
You can SKOPE out Corduroy Vibe's 'We're Not Playing Anymore; The Best of Corduroy Vibe' on Apple Music: https://music.apple.com/us/artist/corduroy-vibe/1368074365
and
Spotify: https://open.spotify.com/artist/1Xla7QJtZGR6kw2azuEo13.
Only thing left to say now is I think it's time to get the gang back together for a well-deserved reunion Corduroy Vibe!
By Jimmy Rae (https://skopemag.com/?s=Jimmy+Rae)