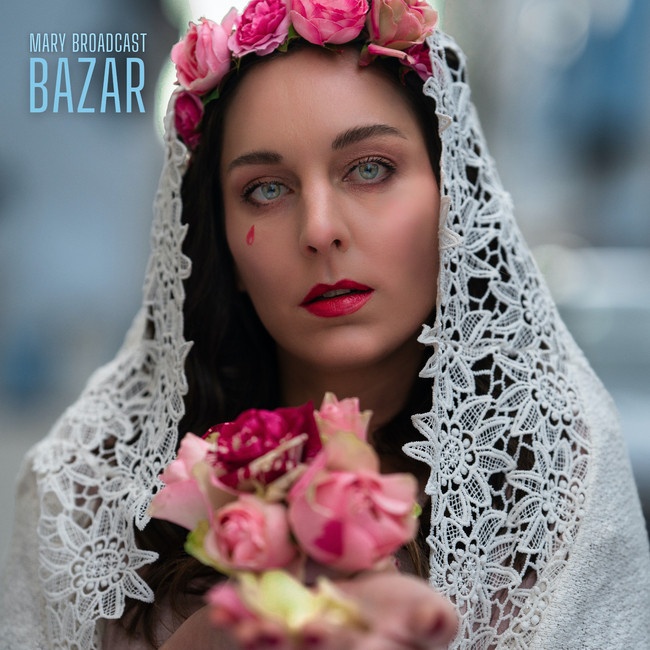 It seems only fitting that her name is Mary Broadcast. Innovative and intensely authentic, the new EP Panic from Broadcast is proof why sometimes singers and songwriters combine additional media to deliver their oh-so-compelling art. Broadcast, who is based in Austria, has created a concept EP that features six-accompanying music videos to each track. The pairing is ideal – like a perfect vino with an elegant meal. Still, if you were to only listen to the songs, the story is just as powerful. Panic is truly a masterpiece. 
Facebook: https://www.facebook.com/marybroadcast
It almost begs to weigh my options here – do I focus on the lush, cinematic gifts the music videos portray, or do I spend my words describing the equally grand and far-reaching sonic blends that Broadcast and her band bestows? I believe Broadcast's intent is for the audience to gobble up both simultaneously. For the purpose of this review, and for a broad stroke synopsis, let's just say the six music videos reflect the song's storylines in a way that is just not being done by other artists. The acting (Clara Diem and Klemens Dellacher are the featured players) is continuous and outstanding. All I have to say is bravo!
Now, back to the actual music. Right out of the gate, the title track sets the stage for a sophisticated indie rock sound. I'm not saying it's austere or exclusive, but there is something so thrilling and ultra-cool that Broadcast and her band weave into this music base. As a listener, I was struck by the song's optimism. I was expecting something drilling and surreal. What I got was a wonderful waterfall of radiating movement and electricity. Broadcast sings as though a veil has been lifted, the covers have been ripped off. The music arrangement is full of excitement and the percussion soldiers on much like a troop. When I closed my eyes and listened, it was like a daydream.
Of the remaining five tracks, "Zone 4" and "Bastille" were my favorite. "Zone 4" communicated to me a yearning to be accepted, a desire to be seen in the world. Broadcast focuses her lyrics on 'naked' and I felt like the song (and literally done in the music video) mirrors the emotional reliance of social media. The music and Broadcast's voice are sprightly, and modern. I'm impressed by her voice and the way it can sound so sweet and airy yet be confident and matter-of-fact. She is the ultimate 'carry a big stick and speak softly' candidate. She's rightfully confident and oozes power. In "Bastille" I felt like the song empowered the listener even more so. The way relationships playout – there is always a sense that a couple can take on the world. You have each other's back. I really dug the comparison to the armory. 
The final song, "Aver" is worth more than a mention. In her press materials, Broadcast notes the song has her taking on an alter ego – Aver and she explores the idea of surrendering. Broadcast suffered a miscarriage during the pandemic and this unfathomable loss is presented with grace and dignity. That's the thing about Panic – it takes you to emotional places you might not want to visit, but you're sure glad you did.  
Gwen Waggoner