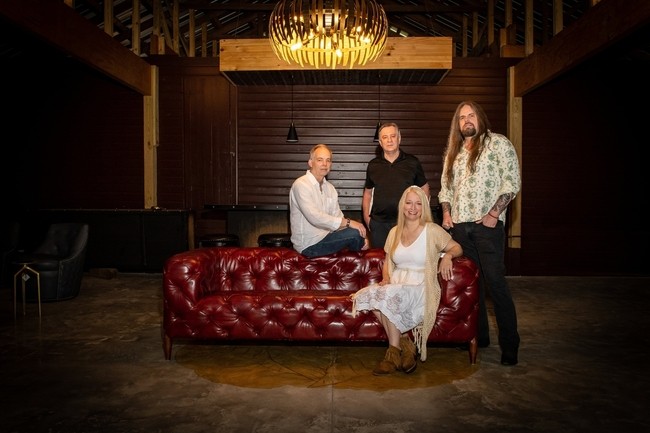 We are so excited to kick off a new week with an interview with Saylor Dollar. This band from Tallahassee, Florida is gearing up to make 2022 a big one and so we had to get the inside scoop. Join us today as Dale and Lisa get us all caught up!
@skopemag – Where we are we talking from today and how is 2022 so far?
SD – We coming to you from beautiful, sunny Tallahassee, Florida. Our 2022 is rocking so far!
@skopemag – There are four members in the group. How did you all come to together and what special traits does each member bring to the music?
SD – Lisa and Dale met through a mutual friend to play cover tunes for a birthday party. We were amazed by each other and wanted to collaborate. Lisa knew our drummer, David Marsh, from playing around Tallahassee. Marsh had played with bassist David Schrenk in the past and brought him to the group. The first night Schrenk showed up, Dale realized he had known him for years. Schrenk had been the owner of Dale's favorite music store here in Tallahassee. Dale brings amazing writing skills to the group. Lisa brings vocals and fiddle/violin. Schrenk invents amazing and creative bass lines. Marsh holds it all together.
@skopemag: How much time per week do you get to work on the music and how do you manage that around Covid-19?
SD – Lisa and Dale work on music all the time. It's really nice to get to live together and write and play music together. Being together through Covid-19 gave us even more time to write our music. Since we couldn't perform live in venues, we had to get creative with ways to get our music to the public. We started recording what we had written live on Facebook or posting videos to YouTube. We went into the studio and recorded our second and third albums. "Music: A Love Story" is an acoustic album with just Lisa and Dale, and "Relentless" is with the full band.
@skopemag: How would you say that coming out of Tallahassee, Florida has influenced your sound and tell us about any good live music venues in town?
SD – Our sound has really been influenced by music that we love – southern rock, country, and blues. From The Blue Tavern, an intimate listening room for our acoustic music, to the huge stage of the Warrior on the River, we are fortunate to have good live music venues here in Tallahassee.
@skopemag – Your album 'Relentless' is out now. What can music lovers who have yet to hear you expect and name two tracks that they should check out? –
SD – Music lovers can expect to hear music that has a southern rock/ modern blues feel with lyrics that tell stories from our hearts. We hope you check out "Relentless" and "Into You".
@skopemag: How long were you working on the album and where did you record the songs?
SD – We worked on the music for "Relentless" for a couple of years. Some of the songs were written at the very beginning of our time together and some were new. We recorded with the amazing Kris Kolp at Log Cabin Studios here in Tallahassee.
@skopemag: If you were to make a music video off the album, what song would you choose and how would that look?
SD – We would love to make a music video of "Colored Water Sunshine" using the beautiful sinks we have here in Tallahassee as the setting. They inspired the lyrics for this song.
@skopemag: When you are not making music, what else do you enjoy to do?
SD – When we aren't making music, we are listening to music, going to concerts, and hiking the beautiful trails here in Tallahassee.
@skopemag – So what is coming up for Saylor Dollar and where can we follow + stream your music?
SD – We plan to record another album soon featuring our electric and acoustic music. You can follow us on Spotify and stream from most all streaming platforms including Apple Music.