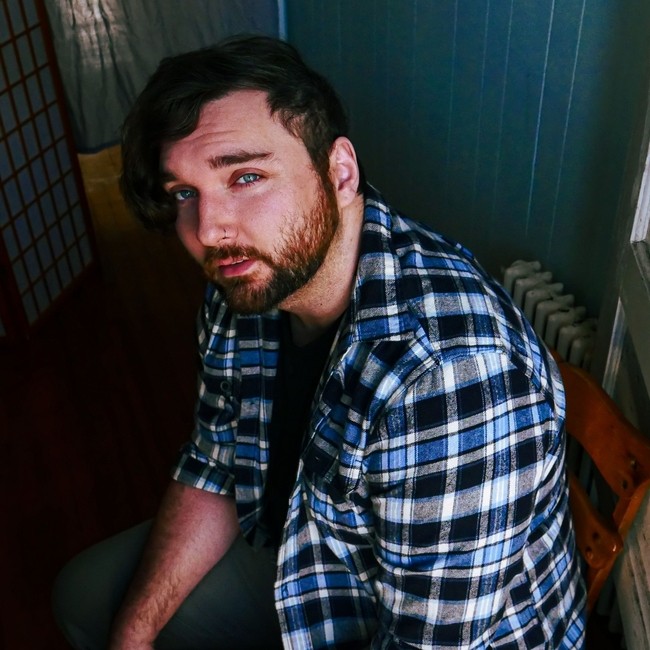 Singer/songwriter Rory D'Lasnow plies his trade in familiar territory but with panache and individuality. It is often said that there's nothing new under the sun, but there's always a new way to say it. The New Jersey native's EP Songs from an Empty Room is brimming with idiosyncratic turns of phrase and imagery mixed in a way all his own. It likewise sets the bar high for future releases, but there's scant evidence for D'Lasnow not being up to the challenge.
INSTAGRAM: https://www.instagram.com/rorydlasnow/
Another of D'Lasnow's idiosyncrasies setting him apart is his wont for playing his guitar upside down. The habit began in his youth and persisted throughout his formative years playing the instrument; he's made it work for him, however, and it has become a distinctive part of his live presentation. He's appeared in many of the East Coast's best venues. Long Island's Revolution Music Hall, the Knitting Factory, and the Bowery Electric, among many others, are frequent hosts for D'Lasnow and he's opened for a diverse range of acts such as former Dead Daises and Motley Crue lead vocalist John Corabi, American Idol winner Lee DeWyze, and actor/musician Drake Bell.
The hallmarks of his success are present in every track. "Where You Belong" mixes first person vulnerability and familiarity to enchant listeners. His musical arrangement for the cut is lush and colorful without ever sounding gaudy. D'Lasnow demonstrates a talent for marrying such arrangements with compelling vocal melodies in the EP's later songs and elsewhere. It's an obvious sign the young Jersey born songwriter has potential staying power rather than glutting the world with more fleeting entertainments. We have plenty of those. 
"Forgotten" has a minimalist first half musically reliant on light keyboards and wiry guitar. The latter crackles with a small charge in each line. It is soon apparent, however, that D'Lasnow is building the song into something more than a slightly artsy alternative pop rock track. There's nothing in any of these songs conclusively establishing they are autobiographical, but D'Lasnow pours himself into "Forgotten". The second half, in particular, overflows with passion.
There's always a guiding sense of artistic restraint, however. It never ventures deep, if at all, into overwrought territory. "I Won't Do Anything" mixes the template from "Forgotten", ramps up the tempo a little, and adopts a muscular rock edge lacking in its predecessor. Songs from an Empty Room's penultimate cut "Power of My Love" packs a lot of energy but he never lets things get carried away. It has the exultant step of a survivor and features some of his most mature songwriting despite the pop echoes in its title.
https://open.spotify.com/album/3oShTc6hn0ALqG9a4n0kMq?autoplay=true
"Happy" is a 180 degree turn from the style of the four preceding songs. He sets the electric guitars and keyboards aside in favor of harmonica, acoustic guitar, and simple percussion. It concludes the EP on an unexpectedly graceful note, but there's precious little bombast present during the entirety of this release. Rory D'Lasnow's Songs from an Empty Room will undoubtedly establish his name as a force to be reckoned with, now and in the future. 
Gwen Waggoner